At least six people were killed by attackers near London Bridge on Saturday (local time), police said.
Police said three attackers drove a vehicle into pedestrians on London Bridge and then stabbed people in Borough Market.
"Armed response officers then responded very quickly and bravely and confronted the three male suspects who were shot and killed on Borough Market," Mark Rowley, Britain's top anti-terrorism officer, said.
"Sadly, six people have died in addition to the three attackers shot by police," he said.
"The suspects had been confronted and shot by police within eight minutes of the first call. The suspects were wearing what looked like explosive vests but these were later established to be hoaxes," he said. 
British Prime Minister Theresa May said that the incident in London was being treated as a potential act of terrorism.
"Following updates from police and security officials, I can confirm that the terrible incident in London is being treated as a potential act of terrorism," May said just over four days before voting is due to begin in a June 8 national election.
"This is a fast moving investigation," May said. "I want to express my huge gratitude to the police and emergency services who are on the scene. Our thoughts are with those who are caught up in these dreadful events." 
Police sent out security advice to Londoners on Twitter saying "run, hide, tell" if they were caught in an attack. The BBC cited police as saying there had been more than one fatality.
The attacks come less than two weeks after a suicide bomber killed 22 people at a pop concert by US singer Ariana Grande in Manchester in northern England. There was no immediate claim of responsibility for the attacks.
"A van came from London Bridge itself, went between the traffic light system and rammed it towards the steps," a taxi driver told the BBC. "It knocked loads of people down.
"Then three men got out with long blades, 12 inches long and went randomly along Borough High Street stabbing people at random."
Prime Minister Theresa May had been informed and was being kept updated, her office said, while US President Donald Trump had also been briefed by his national security team, the White House said.
One woman told Reuters she saw what appeared to be three people with knife wounds and possibly their throats cut at London Bridge at the Thames river. Reuters was unable to immediately verify her account.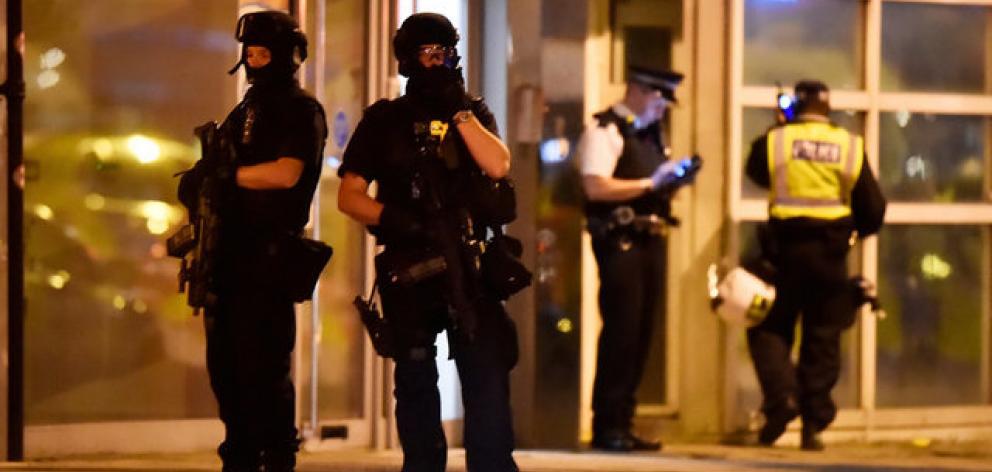 STABBINGS ON THE STREET
Police said they fired shots after reports of stabbings in the nearby Borough Market area, and that they were also responding to an incident in the Vauxhall area further west which was a separate stabbing in the Vauxhall area and was unrelated.
Streets in the area would have been busy with people on a Saturday night out. BBC showed dozens of people, evidently having been caught up in the attack, being escorted through a police cordon with their hands on their heads.
British Transport Police said casualties were reported after an incident that may have involved a van and a knife attack, while the London Ambulance Service said it was sending multiple resources to the incident near London Bridge.
One witness told the BBC she saw a speeding white van veering into pedestrians at London Bridge. That witness said the van hit five to six people. Reuters television pictures showed dozens of emergency vehicles in the area around London Bridge.
Several witnesses also reported hearing gunshots.
"We were in an Uber (taxi) going towards London Bridge and suddenly we saw people running. The Uber stopped, we asked people what was going on – people said there was shooting," said Yoann Belmere (40) a French banker living in London.
"Now the area is completely closed with police cars going one way and ambulances going the other," he told Reuters.
The incident bore similarities to a March attack on Westminster Bridge, west of London Bridge, in which a man killed five people after driving into a crowd of pedestrians before stabbing a police officer in the grounds of parliament.
A witness told CNN two men had entered a restaurant in the Borough Market area near London Bridge and stabbed two people inside. He said a waitress was stabbed in the throat and a man was stabbed in the back.
The Manchester bombing on May 22 was the deadliest attack in Britain since July 2005, when four British Muslim suicide bombers killed 52 people in coordinated attacks on London's transport network.