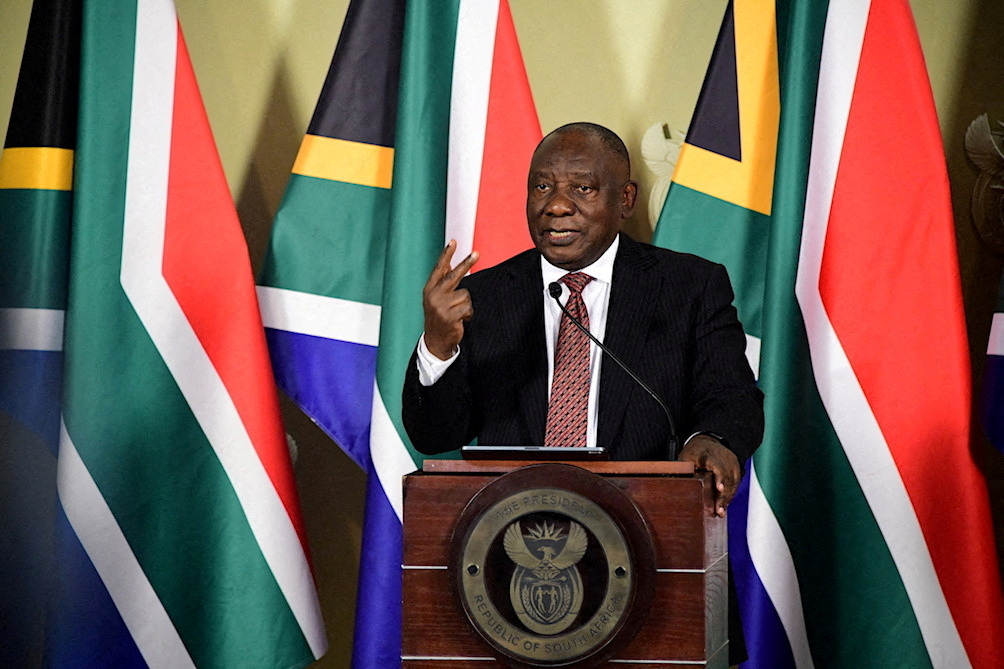 New Zealand needs to consider the growing influence of the Brics grouping, Geoffrey Miller writes.
Johhanesburg will this week host the 15th annual summit of Brics, an acronym for Brazil, Russia, India, China and South Africa.
The loose grouping may be about to become tighter — and bigger. Some 40 countries have expressed interest in joining the Brics, which already represent over 40% of the world's population and 30% of global GDP when measured using purchasing power parity (PPP).
Potential new Brics members span the globe, from Africa to Asia and Latin America.
Candidates and formal applicants include Argentina, Egypt, Indonesia, Saudi Arabia and the United Arab Emirates.
The timing of the surge in interest might seem surprising.
After all, Russia's invasion of Ukraine has seen Vladimir Putin become a pariah in the West — and problematic even elsewhere, thanks to the arrest warrant for the Russian president issued by the International Criminal Court (ICC) in March.
South Africa and the ICC's 122 other member states are obliged to enforce the warrant — which explains why it was decided "by mutual agreement" that Putin would attend this week's summit only virtually.
This does not mean the Global South wants to completely isolate Russia. Heads of state from 17 African countries — including South Africa's Cyril Ramaphosa and Egypt's Abdel Fattah el-Sisi — attended a Russia-Africa summit in Moscow last month.
Ramaphosa is among those working the diplomatic track to try to find a pathway to peace in Ukraine. He is not the only one: early this month, Saudi Arabia also hosted talks in Jeddah that included representatives from more than 40 countries — including China, India, the United States and Ukraine itself.
On that occasion at least, Russia was not invited.
It remains to be seen whether the Brics can — or want to — transform themselves into a larger grouping of Global South countries.
For New Zealand, the potential for an enlarged Brics poses something of a dilemma.
Until now, Brics has been mainly an informal grouping.
There is no Brics secretariat.
However, if the Brics decide to expand their club and adopt more formal structures, New Zealand would almost certainly rule out engagement because of Russia's involvement.
At the leader level, a June visit to China by New Zealand Prime Minister Chris Hipkins has been the exception that proves the rule. The travel patterns of Mr Hipkins and his predecessor, Jacinda Ardern, have heavily favoured Western destinations. Only a handful of trips have been to countries considered part of the Global South.
The picture looks a little different when it comes to the travel schedule for Nanaia Mahuta, New Zealand's foreign minister.
This year, Ms Mahuta has visited three of the Brics countries — India, China and South Africa. She has also visited Indonesia — for Asean meetings — and, in the Pacific, Fiji and Vanuatu.
To be fair, these destinations have been part of a wider travel schedule this year that has also included Brussels for a Nato foreign ministers' meeting, as well as stops in Japan and Singapore. Ms Mahuta also recently met US Secretary of State Antony Blinken when he visited Wellington.
Still, there might be something to the notion Ms Mahuta might be more "Brics-friendly" than other ministers in the Labour cabinet.
This includes the more pro-Western Hipkins and Ardern, and the government's notably hawkish Defence Minister Andrew Little.
For example, Ms Mahuta has attempted to put the brakes on New Zealand joining Pillar II of Aukus. During Mr Blinken's visit, she told media "I'll be really clear, we're not contemplating joining Aukus", at odds with her own prime minister's line that New Zealand was "open to conversations" on the matter.
And in June, Ms Mahuta gave a speech to the New Zealand Institute of International Affairs conference in which she rejected "binary choices" and said New Zealand's "global partnerships are not exclusively with those mirroring our views".
Of course, rhetoric is one thing — and actions quite another.
Ms Mahuta has yet to visit Latin America, for instance. In fact, aside from John Key's attendance at an Apec summit in Peru in 2016, no New Zealand prime minister has made an official visit to Latin America since 2013.
Moreover, the government recently announced that funding for the Latin America Centre of Asia-Pacific Excellence (Cape) — New Zealand's only real centre of government capability for engagement with the continent — would be cut entirely from mid-2024.
Given the opportunities, the decision appears perplexing at best.
New Zealand's engagement with the Middle East is also worth considering.
Ms Mahuta visited the UAE and Qatar as part of her inaugural foreign trip in November 2021, while Damien O'Connor, the trade minister, quietly visited Riyadh last year to chair the first meetings of New Zealand's Joint Ministerial Commission with Saudi Arabia since 2018.
On the other hand, New Zealand prime ministers generally prefer to change planes in the Gulf on their way to Europe without a stopover. The last leader to visit the region was Mr Key in 2015.
Further west, Helen Clark was the last prime minister to visit Egypt — which has officially applied to join the Brics — in 2007, when she opened New Zealand's embassy in Cairo.
Morocco has also been suggested as a potential Brics member, although a report at the weekend rejected earlier suggestions that Rabat had made an official application. The country is home to Africa's largest port, while Marrakech is hosting the annual meetings of the World Bank and International Monetary Fund in October.
The Brics contenders are clearly still hedging their bets.
After all, the biggest achievement of Brics so far has been financial in nature: the Brics-backed New Development Bank (NDB) was launched in 2015 and has provided loans of more than $US30 billion ($NZ50.6 billion) to date.
This is still small when compared with the World Bank, but the NDB is growing and could become an important player in climate finance.
There are parallels with China's Asia Infrastructure Investment Bank that counts New Zealand as a members.
The Brics want to issue more loans in local currencies, circumventing the US dollar that currently underpins much of the international system. A common Brics currency could be an ultimate end goal.
It is unlikely New Zealand would be a fan of every Brics aspiration — and Russia's inclusion perhaps makes Brics too hot to handle for now.
But Brics could yet turn into something akin to Apec, an economic-focused bloc of countries big and small, from different continents. This could entail all manner of meetings and summits — an outcome that could provide valuable and more effective face-time opportunities for Wellington.
As things stand, New Zealand is too small for the G7 or G20. It is in the wrong region to join a geographically-focused bloc such as Asean or the European Union.
And Apec — while having laudable aims — has lost momentum as geopolitical tensions between its members continue to build.
One thing is clear: 15 years on, Brics is not going away.
New Zealand needs to think more about them.
 - Geoffrey Miller is the Democracy Project's geopolitical analyst and writes on New Zealand foreign policy and related geopolitical issues.