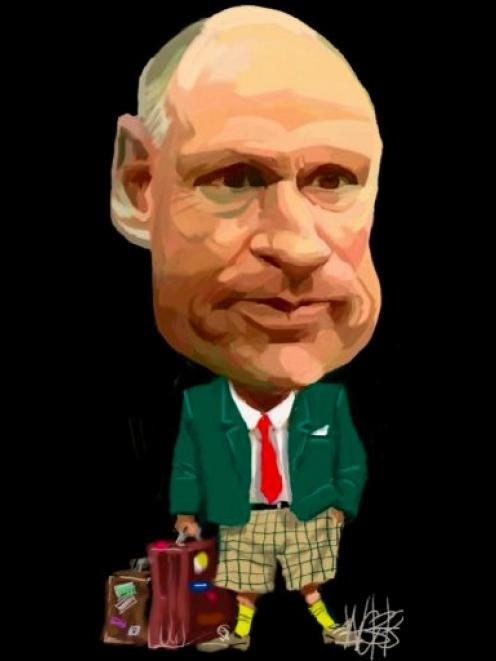 Labour Party leader Phil Goff should have learned a harsh lesson about authority from the tragicomic events of the past 48 hours: when the knives are out, leaders must strike first.
He should be regretting that, when Chris Carter's reluctant apology over the expenses rort finally emerged, rather than merely demoting him he did not suspend him outright, allowing him back only with the lowest rank in the caucus.
National's similarly erratic MP and present Minister, Maurice Williamson, was correctly dealt with by his then leader, Bill English, after his constant criticism, in private and in public, of Mr English's ability.
He was duly suspended and sent to the back benches, only to be reinstated upon a change of party leadership.
Messrs Williamson and Carter have one perceived fatal characteristic in common: petulance.
In the latter's case, it has been a most obvious deficiency for some weeks.
For instance, he has again been found to have taken an overseas trip without his leader's authority.
The flaws in his character - most evident in his attitude towards expenses and domination - have surely been confirmed.
On that basis alone he is not the kind of member of Parliament worthy of the Labour Party which, however tenuously these days, still purports to represent the less-well off in the community.
The party will be well rid of him.
He claims his motive for delivering an unsigned letter to media representatives seeking to foment a coup against his leader was simply because of his belief that Mr Goff could not lift Labour to victory in next year's election.
He also believed a majority of the caucus privately held the same opinion.
But he was unable - or unwilling - to nominate an alternative leader, or even one who might command a majority, if a vote in the caucus was taken.
The MP whose name is most bandied about is David Cunliffe, who has categorically denied the ambition.
There are others, but none is thought to be prepared to challenge Mr Goff until after the election.
The most likely outcome of this week's events, therefore, is the exact opposite of Mr Carter's presumed hopes: Mr Goff will find himself with a clear path to the election - but with his political opponents, especially the National Party, making the most of his former colleague's disloyalty and its discomforting consequences.
As for Mr Carter himself, he seems to have recognised that his actions have ended a political career.
It is to be wondered whether, subconsciously, this was his desire all along.
He was first elected to the Te Atatu seat in 1993, failed to win re-election (to Waipareira) in 1996 but stayed high enough on the list, then won an expanded Te Atatu in 1999.
He was a devoted supporter of Helen Clark and she reciprocated by making him a minister.
But the descent from cabinet minister to the powerless ranks of Opposition can be a very difficult fall to accept by some ambitious individuals, and after so many years in Parliament within the government, it is obvious Mr Carter felt the change in his circumstances to be less than tolerable.
In both government and opposition, he was and is a prolific spender on overseas trips, often with his partner, Peter Kaiser, and as recently as Thursday night still appeared resentful at having to justify this continuing extravagance.
He has in the past implied that he was being "picked on" for being a homosexual, a clue, perhaps, to the state of his sensitivities.
He has provided plenty of reasons for the Labour Party's ruling council to expel him when it next meets, and if it does so, it seems likely Mr Carter will remain in Parliament as an independent MP until the next election.
He won a majority in 2008 of 5298 and Labour will be reluctant to see that safety margin eroded - National, after all, topped the party vote in the seat- so it will try to select a strong and well-known candidate.
Here, another difficulty for the party may arise, for Mr Kaiser is the Te Atatu electorate committee chairman and heads a team which has been acutely supportive of his partner.
In broader terms, Labour faces a similar problem as it did in the post-Mike Moore era, where both Michael Cullen and Helen Clark sought the leadership in an atmosphere of "any alternative will do - things are so bad".
While the caucus may be satisfied with Mr Goff for now - assuming Mr Carter's treachery is his alone - he has only a few months to try to lift Labour's support out of the trough of 30% or thereabouts in which it is mired.
His former colleague's poisonous pen has made that task much more difficult - probably Mr Carter's real desire.