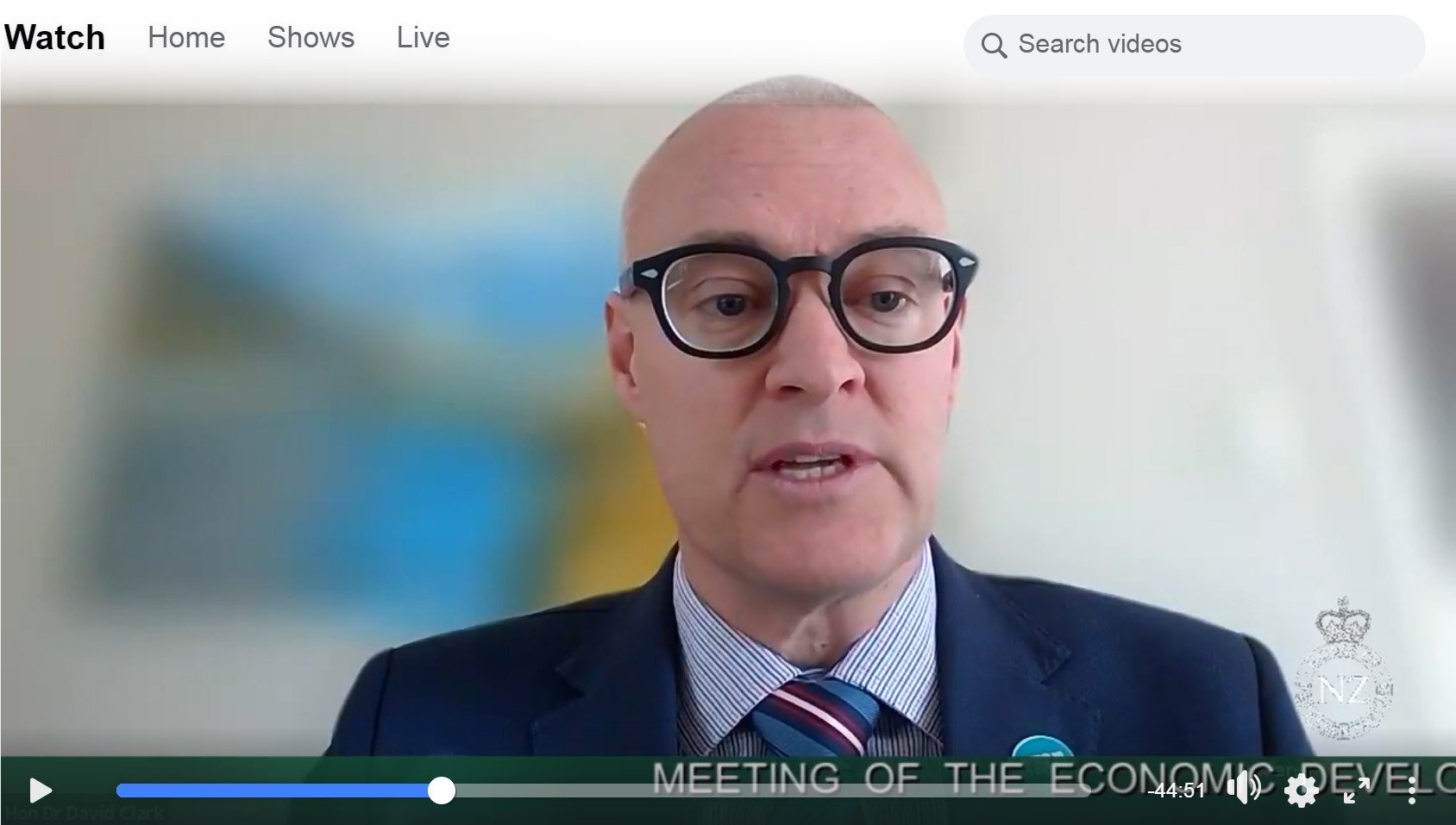 As the saying has it, what goes around comes around.
And so it is with Covid-19, which is going around again, and hence lockdown came around again, too.
Politicians, if not Parliament itself, have reverted to doing business digitally, and a range of select committees altered their agenda this week to allow for in-person Covid-19 related briefings from the relevant ministers.
So, once again, Dunedin MP Dr David Clark had to front up to a select committee to explain just what he has been up to.
Thankfully for Dr Clark though, this time around it was a far less fraught exercise given — as he informed the economic development, science and innovation select committee, possibly with a wry smile — he no longer holds a frontline health portfolio.
Back during the last lockdown Dr Clark had to endure a painful examination and make multiple sincere apologies for his unwarranted peregrinations at Alert Level 4, which was a considerable distraction for Prime Minister Jacinda Ardern and which ultimately cost Dr Clark his job.
Now rehabilitated, Dr Clark was appearing before the select committee as the commerce, consumer affairs and digital economy minister, although he did retain one keepsake of his time as health minister — the ''Need To Talk? Call 1737'' badge on his lapel which he is seldom without.
The scope of his new portfolios is certainly wide — Dr Clark fielded questions about butcher shops in Rotorua, firewood sales in the South Island, and how Wellington flatmates working from home at the same dining room table should maintain cyber security.
The scope of the issues are wide too: those questions concerned what businesses should — and should not — open at Level 4, how contactless delivery and travel for shipping purposes should be managed, and both security of confidential information and cybersecurity.
For Dr Clark, his stewardship has not thus far involved developing wide-ranging policies in many of these areas: rather he has ''refined settings'' as Alert Level 4 and the emergence of the Delta strain have required.
Those tweaks raise questions though, such as why in this Alert Level 4 people can now walk into a petrol station but still cannot walk into the aforementioned butcher shop or a green grocer.
''The nature of things is that we are in a major lockdown — Level 4 lockdown — and we are trying reduce the points of contact,'' Dr Clark said.
''People are making sacrifices around the country, and I don't want to minimise that, that is part of the team of fivemillion response, and that will mean that people will at times be inconvenienced. I just think we have to acknowledge that.''
On a more positive note, especially for those wiling away their lockdown time in cyberspace, Dr Clark evinced confidence that the internet was not going to stop working any time soon.
''To date, there haven't been capacity constraints on the network, and we're monitoring it closely,'' he said.
''Obviously, rural comes up often as an area where there have been capacity constraints, we have a programme of works to address capacity constraints; that is ongoing, and so we're not seeing the same constraints that we have seen previously.''
The digital sphere is a large, borderless section of Dr Clark's responsibilities.
While IT sounds like it is just the one thing, it actually pervades almost every aspect of the Government's work programme, and any policy initiatives Dr Clark instigates can affect a half dozen or more other portfolios.
Most importantly though, he has to ensure that the country's IT infrastructure is running properly, something all the more important for the fact that thousands of dedicated health professionals are using it to combat a pandemic.
The next time Dr Clark goes around with the select committee he may well be there in person while many MPs remain in their northern bubbles.
As Level 4 grinds on, especially in the country's largest city, keeping those people engaged and productive will become an increasingly difficult challenge for the Government.
Vale
Longtime Dunedin MP and former deputy prime minister Sir Michael Cullen, who died last week, was one of the few MPs in recent times that if they were speaking in the House you wanted to tune in.
New Zealand First leader Winston Peters, who paid Sir Michael a warm tribute, was another such MP.
Here are a few zinging examples of Sir Michael's razor-sharp wit, taken from his 2009 valedictory speech.
''Such a speech represents an opportunity denied to most mortals — that is, to deliver one's own funeral oration, or, at least, a progress report thereon.''
''The belief of those who promoted MMP — that there would be some kind of beautiful consensus style of politics in this place — was at best a delusion, and, perhaps, a complete falsehood to try to convince the public to vote for the change.
''We simply changed from a simple, straightforward boxing match to a tag-wrestling match where sometimes people seem to change their shorts between each team as they move along.''
''The biggest speeding fine I ever got was driving back from Whakatane to Wellington in January 1990 when I heard a report on the news claiming that Geoffrey Palmer was thinking of reinstating Roger Douglas as Minister of Finance. I hit 134 kilometres an hour before a firm but polite traffic cop restored me to my senses.''
''To the Greens, good luck, but loosen up a bit. Saving the planet needs to sound less like punishment for our sins if it is going to succeed.''