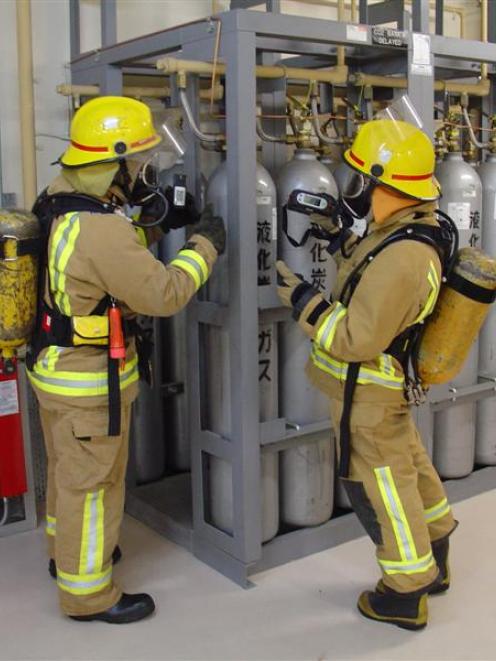 Clyde and Alexandra fire crews were faced with a relatively unknown situation at 9am yesterday, after a large bank of CO2 cylinders activated at the Clyde dam.
The cylinders, which are part of an automated system designed to smother any electrical fire in the huge generators at the dam were inadvertently triggered by maintenance workers setting off fire alarms, Contact Energy's Clyde dam manager Graham Quinn said.
One appliance from Clyde and two from Alexandra were dispatched to the scene.
"CO2 is designed to displace oxygen and breathing apparatus (BA) gear is a must for anyone going near the affected the area. We sent crews down in BA gear with gas detectors and they confirmed the system had been activated," Clyde Chief Fire Officer Richard Davidson said.
The generator was not running at the time and had not caught fire.
"If a generator goes on fire you can't pour water into it, as it is generating huge amounts of electricity, so you flood it with CO2, and there were large banks of CO2 cylinders there including a second set of spares," Mr Davidson said.
Extractor fans designed to remove the CO2 immediately activated, but because the system had never been used or tested no-one knew how long it would take to clear the CO2 from the area, he said.
CO2 is heavy and the residue would be collecting in the drains way below the dam.
Firefighters wearing BA gear had to go down into the bowels of the dam yesterday afternoon to make sure all the CO2 had dispersed.
If there was any gas remaining, they would keep checking every few hours until it was all clear, he said.
Electricity generation was not affected by the incident.
Contact Energy has been spilling water from the dam over the past few weeks to help reduce a glut in the supply of electricity after one of the main potlines at the Tiwai Point aluminium smelter was shut down due to damage to a transformer.
Contact energy communications manager Jonathan Hill said Contact was not able to send the excess electricity out of the area as transmission lines were constrained.
Mr Hill said it highlighted the critical importance of investment in the transmission system.
Tiwai uses about 15% of the country's electricity and Contact had been forced to spill up to 7GWh (gigawatt hours) worth of water from Lake Roxburgh and Lake Dunstan over the past few weeks.
That figure has dropped to 2GWh over the past couple of days.