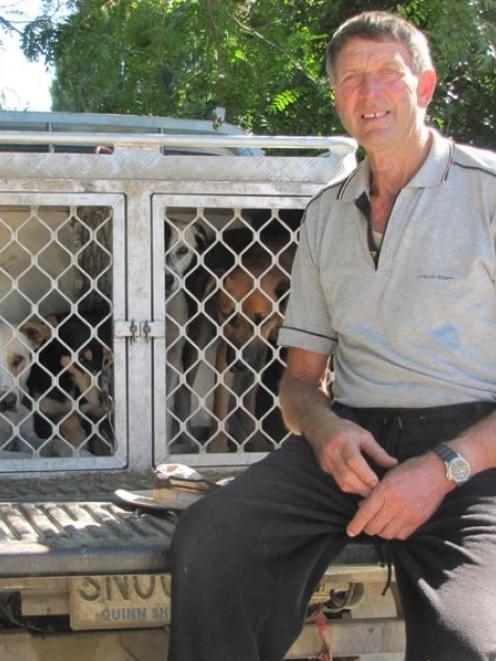 When Brian "Snow" Quinn needs to shear his flock of about 400 ewes, he does most of the hard work himself, although he admits getting in some help when it is needed.
At 70, there is nothing wrong with that, he reckons.
In his heyday, of course, Mr Quinn was a champion shearer - a world champion at one stage - and today he is still hugely respected for his legacy, having won the Golden Shears competition in 1965, 1967, 1968, 1970, 1971 and 1972.
"He was the shearer of his time. And then to come back out of retirement and win the world championship in 1980 was just incredible," John Fagan, chairman of shearing Sports New Zealand said.
Mr Quinn is a little more humble about his achievements, describing shearing as "the only job I ever had. I just seemed to enjoy it."
He was born in New Plymouth in 1941. His father was a dairy farmer in the area.
The family soon moved to Otorohanga, where Mr Quinn's first memories are based.
He was given the moniker "Snow" because when he was young he had white hair.
"It gradually got darker. I'm waiting for it to go white again."
He started shearing as a 16-year-old, although his first opportunity was unexpected, as he was working as a rouseabout.
"I was working for one of the local shearers, doing the wool. One shearer didn't show up, so they asked me if I wanted to have a go. I rousied for most of that first year though and began shearing the next.
"The first job I ever had was for a friend of my father, whose son was away doing compulsory military training. I dagged 1500 ewes and then he said I might as well start on shearing them."
The following year he started shearing fulltime.
In 1963 he married and moved to Central Otago. He and his wife Lyn have four children, two boys and two girls.
Although he worked for other shearers, Mr Quinn ran his own business for "27 or 28" years, preferring to employ only a handful of people.
"I like to keep it small. I never employed more than eight and I preferred if it was only five. Any more than that and you could not shear yourself," he said, due to the time it would take to organise and supervise his team.
They worked mainly in Central Otago and Southland.
"In the summer there was a lot of work in Southland. Around the lakes we shore a lot of merino wethers. That would take six weeks. We'd go in by boat. Shearing was different then."
Mr Quinn gave up professional shearing five years ago.
"I do miss the company, working with young people keeps you stay young."
He also enjoyed the camaraderie.
"I still socialise with a few."
However, he does not miss the long hours and extensive travelling that comes with being a shearer.
It could also be tough on the body.
"It was hard work if you made it hard work. You had to stay fit. I had one or two minor problems but I've been relatively injury-free, that's why I stayed shearing for so long. We had a good physio though, to keep us on the boil."
On top of his Golden Shears titles and more than 50 other titles around the North and South Islands, he has also tasted success on his own patch, having won the New Zealand Merino Shears Championship, in Alexandra, three times, as well as being runner-up three times.
He also once held the world record for lamb shearing.
Although his birthday is today, he celebrated the milestone last weekend with a barbecue attended by about 100 people.
It was held a week early so family members could fly home to Fiji.
Mr Quinn has been recognised for his contribution to shearing in a number of ways.
In 1981 he was awarded the MBE for services to shearing, he was one of the first people to be given the status of Master Shearer by Shearing Sports New Zealand, and he was also the inspiration behind the name of champion pacer Young Quinn.