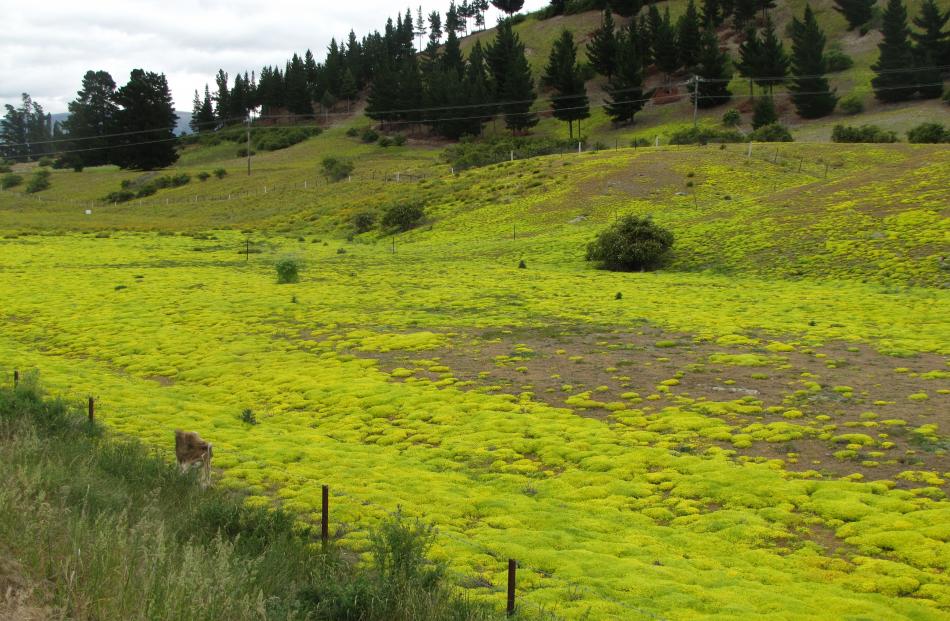 Some people consider it a decorative plant, others a weed, but regardless of its classification, stonecrop has been taking over Central Otago, turning hillsides, roadsides, paddocks and anything else it can grow on a brlliant shade of yellow.
Sedum acre, or stonecrop as it is commonly known, is an introduced succulent, native to Europe.
According to the New Zealand Plant Conservation Network website, it was "naturalised" in 1904, meaning that was when it was recognised as a plant that had "escaped cultivation" and could reproduce in the wild without human assistance.
It is a ground-hugging perennial plant with simple five-petalled yellow flowers held above smooth, chunky, pale-green foliage.
It thrives in dry sandy or rocky areas, making the Central Otago countryside an almost perfect habitat.
Otago Polytechnic Cromwell campus senior horticulture lecturer Jo Wakelin describedit as a "very drought-tolerant species" but the high rainfall during spring was "probably responsible for the plant looking more dramatic".
She said it could establish from seed but also from small fragments such as those spread by rabbit diggings.
Though it is not clear how widespread stonecrop is, the Department of Conservation's (Doc) website says it is a category C invasive weed, meaning it is "potentially troublesome and should not be spread around" and people should "remove small infestations".
The ecosystems it threatens are "grassland, cliffs and riverbed, which may include a shrub component", and "coastal dunes or banks".
Other plants in this category include Australian bidibidi, kiwifruit, hawthorn, macrocarpa, jasmine, tree lupin, Douglas fir, elderberry and gorse.
Despite its weed classification, Doc ranger Craig Wilson said the only area in Central Otago where the department was trying to control it was on top of Old Man Range, as the quantity there was manageable.
Although it spreads easily, the plant is easy to remove because it has a short root system, and because it is low-growing, taller plants beat it to the sun.
The plant can be found in many gardens throughout the country. Its striking colour and low need for maintenance mean it is an easy, decorative plant.
It is also used in living walls and roofs, especially in countries such as Germany, where a living roof is a legal requirement for flat-roofed buildings in some cities.
The Rolls-Royce Motor Cars plant in Goodwood, England reportedly has a 22,500sq m roof covered in plants of the sedum family.