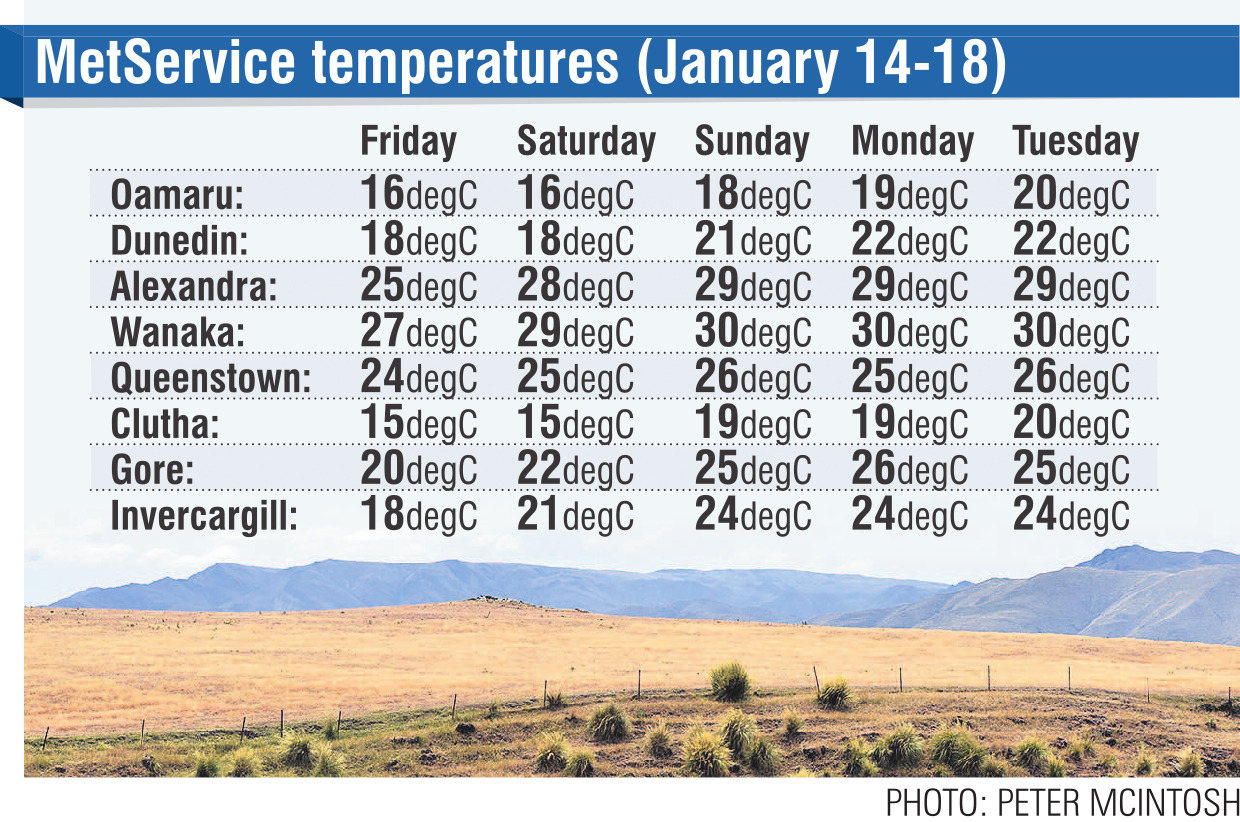 Temperatures in parts of Central Otago could hit 30degC for up to three successive days over the next seven days, exacerbating the area's already tinder dry conditions.
MetService forecasts show temperatures in Alexandra and Wanaka will be 25degC and 27degC respectively tomorrow, and will continue to rise towards 30degC on Saturday, where they are forecast to remain until next Tuesday.
MetService meteorologist Alwyn Bakker said the particularly high temperatures were the result of a ridge of high pressure forecast to spread across much of the country over the weekend.
"That will be bringing pretty clear skies which can contribute to a lot of day-time heating. So that is what will be causing these particularly high temperatures.
"It is still reasonably far out, so those numbers may change as we get closer in.
"In terms of whether we are likely to break 30degC, it's hard to say at this point, but it is definitely possible."
He said the hottest temperatures would be inland, in Central Otago.
Because the ground conditions were so hot and dry, Central Otago residents and visitors had been advised to be careful cooking outdoors and observe the lakes zone fire restrictions that came into effect this week.
Mr Bakker said coastal areas would be comparatively cooler over the same timeframe because the ocean was "a huge heat sink".
"It can take in huge amounts of energy from the sun and not really increase its temperature at all.
"Also, if you are closer to the coast, you'll be getting a constant cooling sea breeze."
Having said that, temperatures would sit in the low 20s in Dunedin, and in the mid-20s in Invercargill.
"The South Island is definitely the place to be over the weekend and early next week."
He advised making the most of it because rain would return to the southern region mid-way through next week.