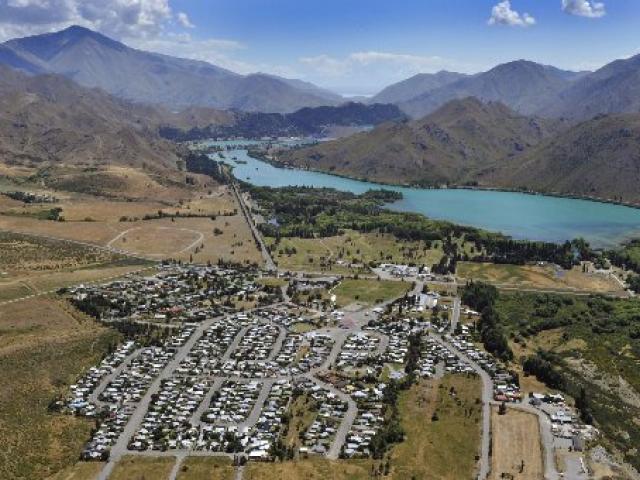 Masterplan projects for Omarama and Otematata (above, right), the resurgent Oamaru Airport and for what has been described as a ''jewel in the crown'' for the district — Oamaru Harbour (below) have been progressed this term. PHOTOS: ODT FILES
What do the candidates in the 2019 local body election stand for? The Otago Daily Times gave nominees for the Waitaki District Council the opportunity to answer some questions.
1   Waitaki's population is predicted to increase by 8% over the next 25 years. What does the council need to do to keep up with the demands of a growing population?
2   What are your goals and what should the priorities be for your council?

EUGEN DUPU
No response received by publication deadline.

BILL KINGAN
Council: Waitaki District Council.
Ward: Corriedale.
Age: 70.
Occupation: Retired.
Question 1:
The main thing the council needs to do is to keep improving all infrastructure, right across the district, to cope with a growing population. This has to be affordable so that our businesses, whether they be urban or rural, can flourish. Our district will remain very much a food producer growing, probably, different crops to now. The council needs to make the most of the challenges of an ageing population, climate change and even more sophisticated technology.
Question 2:
If elected this would be my third term as Corriedale's councillor. It has been a privilege. I would continue to give a rural voice when need be. I am happy with the direction that the council has been taking of late but there are, and always will be, challenges to take care of. Roads that weren't made to carry today's loads, dealing with our rubbish and our social responsibilities are all priorities to address.
GUY PERCIVAL
No response received by publication deadline.

EDEN BRADFIELD
Council: Waitaki District Council.
Ward: Oamaru.
Age: 27.
Occupation: Oamaru Licencing Trust marketing manager.
Question 1:
We need to commit to enhancing our core services so our infrastructure can cope with the increase in population, and plan how we build new neighbourhoods and subdivisions carefully. Good urban planning should involve community and green spaces, which are so integral to Oamaru's charm and character.
Question 2:
1) Rethinking our waste management system; looking at embracing green bins and a more circular and reusable recycling system.
2) Revitalising the main street and keeping the harbour a tranquil area for all to enjoy.
3) Focusing on core services - making sure these services are efficient and serve the district well.

LIZ CADOGAN
Council: Waitaki.
Ward: Oamaru.
Age: 66.
Occupation: Photographer, smoking cessation coach/mental health support worker.
Question 1:
The council needs to be proactive now! Looking to alternative, sustainable options to become more self-sufficient by 2045.
Ensure core infrastructures are resilient, coastal communities are protected from erosion and increase affordable housing developments ready for future population growth, which may exceed predictions.
Invest in cutting-edge technology ensuring waste management stays local and recycling becomes productive. Inspire new business opportunities to grow Waitaki's unique assets. It's imperative to keep Oamaru hospital services for future generations.
Question 2:
I'm focusing on physical and mental wellbeing for the Waitaki-wide community with an emphasis on "people matter''. A robust society functions at a higher level. The council to support all health providers and police, while retaining Oamaru Hospital services with possible future expansion.
Clean air, water, toxic-free sustainable practices are essential. Infrastructure investment, protection from coastal erosion, affordable housing, safe roads and an indoor sports complex to keep people engaged, fit and healthy.

IAIN CLARK
Council: Waitaki District Council.
Ward: Oamaru.
Age: 58.
Occupation: Manufacturing jeweller and tour guide.
Question 1:
Provide robust, practical developmental infrastructure encouraging smart land use by meeting changing demands of people's housing needs and ensuring the rising demands on infrastructure are meeting our growing needs. Consideration of how changing climate conditions may adversely affect our community. Recycling management and rubbish disposal involving community education for better household waste disposal exploring practical options for plastic recycling into reusable resources that can be district/province-owned.
Question 2:
Community/emergency housing for our most vulnerable and those in most need; this is a basic human response. Increasing awareness of urgent need of our personal involvement in reduction and control of recyclable products from purchase to disposal. Clarification of procedure and regulations of the council to ensure and achieve good customer outcomes. Create viable tourism, business and education opportunities around the Unesco Geopark; this is an incredible opportunity on a world level.

DEVIN FAMILTON
Council: Waitaki District Council.
Ward: Oamaru.
Age: 21.
Occupation: Owner of Barkers grooming
Question 1:
The council will need to ensure that our roading and footpaths are a top priority, especially joining into the outer suburbs where there is a lot of development happening. The district's rubbish disposal and recycling needs to be sorted as the demand will be getting much higher. Accommodating for different age brackets and ethnic backgrounds with activities and projects in town.
Question 2:
My goals are to represent the younger generation and bring fresh new ideas into the council. I would love to see a vibrant town that enhances our heritage and is a fun, clean place to live. We have a beautiful harbour area with so much potential. I would love Oamaru to become a destination and not just a place you drive through.

DEREK GOLDING
Council: Waitaki District Council.
Ward: Oamaru.
Age: 51.
Occupation: Photographer.
Question 1:
Affordable housing is a serious issue with house prices in Waitaki rising 48.3% since 2015. Gaining entry into the housing market is extremely difficult.
I think the the council should look at working with building owners within the CBD to convert some of the properties to flats. Small homes are gaining popularity within New Zealand - let's look at current regulations and work with builders to provide smaller homes for those starting on the housing ladder.
Question 2:
My goals will be communication and education. I'd look at how the the council can communicate better with its community.
Waitaki can become a centre of education, from school camps within the Geopark, to apprenticeships on farms and within the trades. Let's educate and support new initiatives on waste management. We need to minimise, repurpose or recycle. A business that can diversify can survive. Let's look at how to provide the tools needed to strengthen our community.

HANA HALALELE
Council: Waitaki District Council.
Ward: Oamaru.
Age: 40.
Occupation: Social work lecturer at the University of Otago, co-ordinator of Talanga a Waitaki Powerup Flexi Plus, president of the Oamaru Pacific Island Community Group Inc, mentor at Waitaki Girls' High School.
Question 1:
Effective inter-agency collaboration and co-ordination to achieve the best outcomes for our community, recognising the rapidly growing trends in the cultural diversity of our young population. Schools in the Oamaru ward pupil figures for Pasifika, Maori and Asian pupil population totalled 30.2% (Ministry of Education, 2017). There is a large Pasifika workforce at Alliance. The council need to be forward thinking in cultural responsiveness, strategic planning of services, establish best practice for knowledge-sharing processes.
Question 2:
• Ensure inclusive representation and change management. Need collaborative, diverse governance that reflects the ever-changing demographic needs of our community.
• Address the housing shortage. Develop a co-ordinated wrap-around housing system that caters to the diverse community needs. Develop collaborative initiatives for affordable, equitable, sustainable housing.
• Create sustainable employment and educational opportunities. Set up community-led Digital Technology Institution and STEM Academy to build capacity for our community to prepare for the changing economic and employment environment.

JEREMY HOLDING
Council: Waitaki District Council.
Ward: Oamaru.
Age: 39.
Occupation: Councillor, business owner.
Question 1:
With the current demand it is acknowledged that a housing shortage could already exist within the Waitaki district. The council needs to address this now and conduct further research to gain a clearer understanding of the market and changing demographics. Core issues need to be identified so strategies can be put in place to meet the community's long-term housing needs.
Question 2:
For Waitaki to keep building on the profile it's attained through investment in its natural, cultural and built heritage. Development in the harbour area that aligns with community values that balance recreation and wildlife while still enabling business opportunities.
Reimagining some of our public spaces across the district to enhance the people-place connection.
The council's priority should be to engage more effectively with stakeholders to improve the potential of social and economic initiatives.

JIM HOPKINS
Council: Waitaki District Council.
Ward: Oamaru.
Age: 72.
Occupation: Councillor, self-employed writer, speaker and broadcaster.
Question 1:
This prediction's quite optimistic, others less so. But whatever growth happens, one key to meeting demands is laying good foundations. That means good core facilities; roads, footpaths, water supplies, stormwater and sewer systems. They're essential. We couldn't live modern lives without them. Or grow. Another key is rules that allow growth; good plans create good opportunities. Growth's not a dirty word. So, good basics, good plans: that's where the council begins delivering for a growing population.
Question 2:
Speaking of plans, we're creating a new district plan, setting out what goes where and making rules for years ahead. This term, I've chaired our district plan review committee. I'd love to see the project through. The council's priority will be controlling costs. It's easy to spend other people's money, better to save it. Tighter times means putting affordability first and making some hard choices about what's nice to have and what we've got to have.
WEE JOCK HOWIE
No response received by publication deadline.

PETER McLELLAN
Council: Waitaki District Council.
Ward: Oamaru.
Age: 65.
Occupation: Semi-retired school teacher.
Question 1:
The council needs to continue to take advantage of the tourism, agriculture and other potential opportunities in the region by supporting growth and change for the benefit of all ratepayers. It is important that there is planning for improved infrastructure along with putting pressure on central government in meeting its responsibility in providing health, education, improved roading and other services to the district.
Question 2:
If elected, I would be working within the council to ensure there is planning for the future of the district and supporting the council in its day-to-day role of providing core services to the region. I would be strong on promoting prudent growth of tourism, the diversification of agriculture in the Waitaki Valley, planning and building of a new stadium, the Geopark proposal and making sure that core services are maintained and improved when needed.

KELLI MILMINE
Council: Waitaki District Council.
Ward: Oamaru.
Age: 45.
Occupation: Real estate saleswoman.
Question 1:
I believe the council already has very good depreciation funds in place for infrastructure maintenance and replacement, but we need to ensure we have the capacity for future expansion. I would also like to see good long-term planning for recycling and rubbish disposal take place, taking into account the growth of our district, and I would like to see our town maintain its unique character and charm throughout the growth process.
Question 2:
My goals are to listen to the community's needs and desires as we go forward, and to become an effective voice and representative for the Oamaru ward as a councillor. Priorities include forethought and planning to ensure we are well placed ahead of the district's needs over the next 20-30 years.
 
JOHN SHAW
Council: Waitaki District Council.
Ward: Oamaru.
Age: 59.
Occupation: Property manager.
Question 1:
Waitaki's population is predicted to increase by 8% over the next 25 years. What does the council need to do to keep up with the demands of a growing population?
A district master plan needs to be executed from which Waitaki is a region of choice for New Zealanders to reside and many visitors spend more time and money. Outstanding natural landscape features must be reserved permanently in the district plan, while infrastructure needs must keep pace with population growth. Waste per household must be heavily reduced from current levels. A responsible ``earth care'' process must be found to dispose of our unavoidable waste.
Question 2:
It is the responsibility of the council to be accountable and ensure that the ratepayers get fair value for their annual rates. There is a greater need for an independent voice to gain greater transparency. There is an opportunity to gain greater trust by improving communication to the community. Planning and prioritising of projects appears ad hoc. The focus needs to be on what will provide the most additional value for the local community.

MELANIE TAVENDALE
Council: Waitaki District Council.
Ward: Oamaru.
Age: 38.
Occupation: Deputy mayor, Waitaki District Council.
Question 1:
We need continued investment in infrastructure to handle growth, including water, waste, roads and more. Housing supply is already an issue and will only become more so. As a community we must find smarter ways to invest in our housing stock without relying on ratepayer funds. This could be done through the council facilitating projects with demonstrable outcomes to attract government and private funding. Growth also intensifies the need for facilities i.e. a sports complex.
Question 2:
I would love your support to keep working on the big issues in front of us. We need to revisit how Waitaki deals with rubbish and recycling, investing in infrastructure to prevent flooding issues and erosion, while proactively responding to events.
I also want to continue working with the community on a shared vision for the harbour, the revitalisation of Thames St, and I will continue advocating for continuous improvement and getting the basics right.

COLIN WOLLSTEIN
Council: Waitaki District Council.
Ward: Oamaru.
Age: 70.
Occupation: Retired chartered accountant.
Question 1:
Ensure that basic services are adequate for the increasing demands for roading, drinking water, sewerage and housing land. Assist provision of adequate housing to enable residents to access suitable housing. Continue to promote and develop the district, to provide jobs and recreation for residents and visitors. Consider how best to develop important areas such as the harbour, and provision of new facilities, such as a sports stadium. Protect the coastline from erosion and inundation.
Question 2:
My goals are to continue the great progress made by the council during this term. The support of local organisations to develop infrastructure e.g. irrigation and retirement village, should continue as funds permit. The harbour master plan should be completed, to develop the harbour for enjoyment of all users. Financial scrutiny must continue, to minimise future rates rises and ensure available monies are spent to the best effect. Consider new projects, eg sports stadium and Geopark project.

PETER NEWTON
Council: Waitaki District Council.
Ward: Waihemo.
Age: 46.
Occupation: Part-time manager, community-minded volunteer.
Question 1:
The council needs to ensure that its core services are efficient and effective, showing transparency and accountability. The council will need to be able to adapt to new technologies and industry which at present do not exist, as well as mitigating harm from external factors. The council requires proactive, forward-thinking planning and subsequent implementation of infrastructure, with a view to further growth while also factoring in the needs of our ageing population, employment, industry growth and economic matters.
Question 2:
My goals include having council transparency, accountability and reporting to our communities prioritised, giving our people an effective voice on the council who represents them as their elected official to negotiate and advocate on their behalf. Council priorities should be focusing on delivering core services effectively and efficiently, within budget and on time, while keeping our communities well informed on issues which may affect them or their pocket now or in the future.

STEPHEN WESSELINGH
Council: Waitaki District Council.
Ward: Waihemo.
Age: 64.
Occupation: Self-employed.
Question 1:
An 8% population increase over 25 years is not very large. As I see it the council just needs to get on with doing what it should be doing: looking after roads, water and sewage. Many of these people are likely to be country lifestylers, which shouldn't be hard to look after; just needs some sensible people in charge who care about the community.
Question 2:
I want to see towns and all areas properly taken care of, as the council should be doing, roads that get decent repairs and care that don't need constant cheap patchups; do it once do it right; a council that looks after all citizens, that spends ratepayers money wisely, in short I want people to be able to live in communities that they are proud of.

JAN WHEELER
Council: Waitaki District Council.
Ward: Waihemo.
Age: 66.
Occupation: Farm partnership.
Question 1:
Facilitate new industries into Waitaki which will provide real long-term jobs. Diligent planning to connect new housing areas on to central sewerage, drainage and stormwater drains.
Good planning will build on our unique qualities - the food, wine, wool, farming, landscapes, lakes, rivers, sports activities and venues, festivals and events.
Growth and development will be planned and assimilate within the ambience of present landscapes and towns. Hospital and community amenities will be key assets.
Question 2:
Keeping minimum rate rises, while advocating greater transparency, good community consultation, and correct process in council decisions.
Supporting resilient local communities against climate change - upgraded key infrastructure, water, conservation and building on community-driven iniatives.
Protection of wildlife, heritage buildings and heritage parks for future generations to enjoy.
Planting trees for shelter and food for people, animals, birds and bees for long term resilience of Waitaki. Creating solutions to composting, reducing waste and recycling.