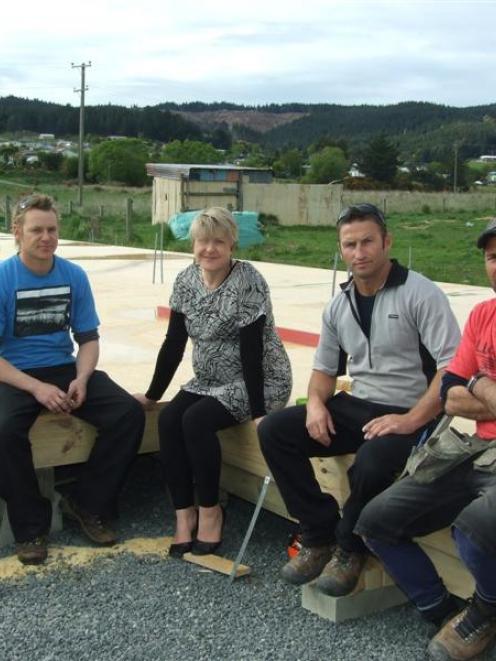 Operation Owen is well under way, with volunteers working around the clock to build a Kaitangata family a new home.
"Operation Owen" is a project to build a purpose-built home for Jodie and Terry Owen, whose two daughters, Charli (7) and Meg (3), have undiagnosed cerebella ataxia. The condition affects the girls' co-ordination and balance, and makes them tire easily. Both have walking frames they use outside the house, and for longer distances Charli has a wheelchair and Meg a buggy.
Construction of the house is taking place at the Kaitangata Rugby Grounds, beginning at 6pm yesterday.
Organiser Derek Craig, of Cromwell, arrived in Kaitangata last weekend to do some preparation work and give the building a "kick start".
He is designing the house, and the Owens have worked with him to ensure the house suits their needs.
The house design includes wider doorways so Charli and Meg can use their walking frames inside, cavity sliding doors and handrails throughout.
Since last night, builders and volunteers have been working around the clock on the house.
Mr Craig said the main event was today, and he hoped the weather would be fine for workers and those coming along to support the project.
Two bouncy castles will be at the rugby grounds all weekend. Extra family activities, including a pony and cart, face painting, a sausage sizzle and music, will be available today.
Owaka musician John Hellewell will be playing today from 2pm.
Mr Craig said it should be a good family day and he encouraged people to come to the Kaitangata Rugby Club during the long weekend to see the progress or to offer support.
The three-day effort is expected to finish up at noon on Monday, followed by a "thank you" lunch for volunteers.
Once exterior work is completed, the house will be transported to a section in the township owned by the Owens. In August and September, contractors gave their time to the project, levelling the section ready for construction and developing a driveway.
Organisers hope to gather together materials for a deck, and a smaller group would spend the following few weeks finishing off the house.
Any money left over from the project will go towards landscaping or into a trust for Charli and Meg.
Kaitangata Rugby Club, Lakeside Rd, Kaitangata, today to noon Monday.
---
Helping out
Donations: ANZ account "Operation Owen: The Community Build" 01-0914-0067076-00.
---