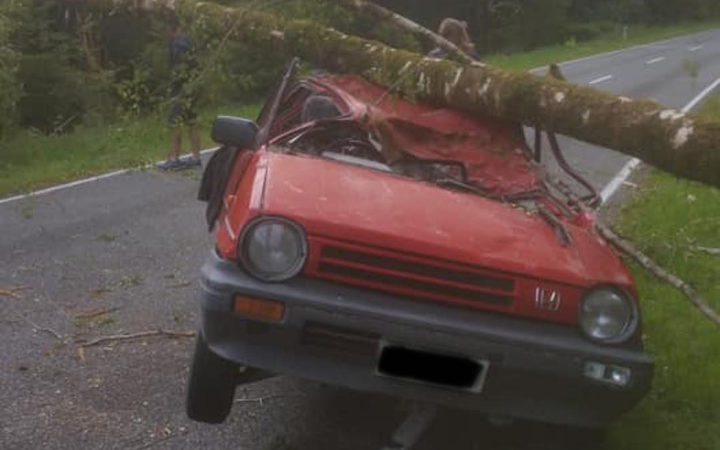 A Westport man is lucky to be alive after a tree fell and crushed his car while he was driving on State Highway 7 near Reefton.
On Sunday evening, Ryan Walsh was driving his beloved 1987 Honda City just under 100 kilometres an hour on a remote road when the tree crashed out of the Victoria Forest, bringing his tiny vehicle to a sudden stop and knocking him out.
"I was just hooning along," he said.
"I must have got knocked out because when I came around I was trapped in the floor of my car and my car is tiny."
The red Honda City was crushed from the top and Mr Walsh says he can't remember how he got out, but said he must have climbed through a window.
He said a friend happened to come by and notice, and used his ute to pull the heavy tree off the car.
Mr Walsh didn't realise he had a broken neck and six broken ribs when he started the engine up again and steered the car off the road.
"I drove it off the road and parked it on the side of the road," he said.
"It's a legend car, and it's real funny, because on Facebook I'm getting all these people, I don't know who they are... they're idiots. They've all got their comments and they think they know what happened. They're all judging and putting s*** on my car because it's just a tiny wee box.
"But I think it saved my life," he said.
"If I had have been in something with an airbag I think I'd be dead."
Mr Walsh was eventually taken to hospital where he learnt of his injuries - the broken ribs and a C2 fracture to his neck.
"I've got to stay very very still," he said.
"Twenty odd years ago I crashed my motorbike quite wickedly and broke six ribs, collapsed my lungs and stuff like that."
But despite his tough appearance and resistance to pain, Mr Walsh's biggest complaint were those keyboard warriors who had the temerity to criticise his old red Honda City.
"Man, it cost me $35 to take it to Westport - a $70 trip there and back. It's tiny, it's got 12-inch tyres that cost $60 each.
And with three days in Christchurch hospital without food and in pain, he's also feeling the pain that his car is history.
"She can't be fixed, she's absolutely rooted," he said. "She's a banana now, she's a convertible."
Mr Walsh's friend Peter Turner has started a Givealittle page to raise money to help him buy a new car.
In the meantime, he says he's lucky to be alive.
"If I had have been two seconds back, it would have hit across the windscreen or the bonnet and I would have been in trouble," he said.
"It scored me bullseye, just bam! Lined me up and took me out."