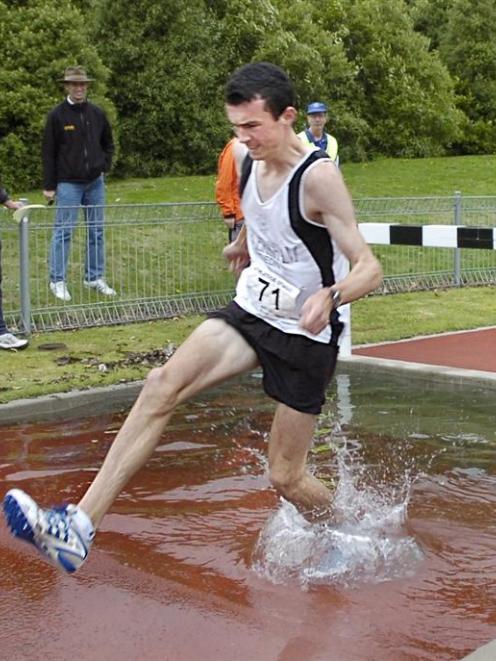 Arthur Green (Taieri) moved into national championship medal contention after a superb set of javelin throws at the Caledonian Ground on Saturday.
Green (20), a physical education student at the University of Otago, improved his personal best by 3m when he won the Otago senior men's title with 59.95m.
His sequence of throws were 59.67m, 58.59m, 59.92m and 59.95m.
He is now ranked fourth in the country and will be in contention for a bronze medal when the New Zealand championships are held in Wellington later this month.
"I was surprised," Green admitted.
"It's a relief to know that I'm finally starting to improve."
Green is coached by Beijing Olympic Games athletics team manger Raylene Bates and he worked hard to improve his core strength over the winter months and it is now paying dividends.
"I've got a different mind frame this season and I'm more confident of my throwing ability when I get on the runway," he said.
Green is from Christchurch and has worked with Bates since coming south to study in Dunedin.
He won a silver medal in the junior javelin at last year's national championships in Auckland and was fifth in the senior event.
The other throwing highlight came from Rick Davison (Canterbury) who won the masters men's hammer throw with a distance of 38.24m to beat his old rival Keith Hutton (Ariki) who threw 26.04m.
Davison (57), a Christchurch clerk, won the New Zealand junior hammer throw title when competing for Otago in 1968.
He grew up on a Mid-Canterbury farm and was a boarder at Waitaki Boys High School when he competed for Otago in the 1960s.
Hill City's Anna Smythe (30) outclassed her younger opponents when winning the women's 200m in 24.70sec from clubmate Fiona Hely (20), who was clocked at 25.87sec.
Smythe is ranked fourth in the country for the senior women's 200m behind Monique Williams (Auckland) 22.98sec.
She is within striking distance of Rebecca Wardell (Canterbury) 24.20sec and Andrea Koenen (Auckland) 24.56sec.
Smythe ran 24.65sec at the Caledonian Ground in December.
Smythe, a physical education graduate from the University of Otago, has performed impressively at national level since returning home from England five years ago.
Over the last five years she has won eight senior women's sprint medals at the national championships: one gold in the 200m in 2005, four silver and three bronze.
Hill City's Andrew Moore (24), a masters student in business at the University of Otago, is a 400m specialist who recorded the fastest time in the country this season when he clocked 46. 95sec at Invercargill last month.
He cleaned up a strong field when he powered down the last 60m to win the senior men's 200m in 21.32sec.
Moore held a slight lead around the bend but won the race when he powered away from Cory Innes (Taieri) and Matthew Robinson (Southland) in the straight.
Innes was timed at 22.01sec and Robinson 22.06sec.
Robinson won the men's aged 17 to 19 100m in 11.29sec when he pushed Todd Johnston (Ariki) into second spot.
Johnston, who competed at the Commonwealth Youth Games at Pune, India, last winter, clocked 11.45sec.
Other highlights were. -Health Science student Hayden Donnelly (Palmerston North) outsprinting James List (Ariki) to win the men's 800m in 1min 55.83sec.
Leslie Taylor (Taieri) winning the men's aged 17 to 19 400m in 51.91sec and Anna Kean (Ariki) the girls' 14 and under race in 63.68sec.
New Zealand secondary schools double hurdles champion Georgie Allison (North Canterbury) winning the senior women's 400m hurdles in 64.54sec.
Leith's Glen Ferguson (44) winning the Masters men's aged 40 to 44 1500m in 4min 21.82sec and Caversham's Geoff Anderson (52) the Masters men's aged 50 to 54 title in 4min 27.69sec.
Matthew Aitken (Hill City) winning the junior men's AWD 100m in 15.47sec and the shot put with 8.92m.