Blackjacks Jo Edwards and Val Smith made an emphatic statement in their first-round pairs game at the national championships in Dunedin yesterday, defeating defending champions Dale Rayner and Ashleigh Jeffcoat 25-13.
The defending champions got away to the best of starts. Jeffcoat's first bowl was a toucher, and their confidence was high as they jumped out to a 4-0 lead after the first three ends. But when Smith changed her hand on the fourth end, fortunes changed as she and Edwards clawed their way back to take a 6-5 lead on the seventh end.
Smith's change of hand in the lead role brought Edwards into the game in her role as skip and the eighth and 14th ends were sensational to watch.
On the eighth, Smith drew two shots close to the jack from her three lead bowls. Edwards then followed a similar line surrounding it with a further three shots. Rayner's attempts at crashing into the head went  wide, allowing  Edwards and Smith to  jump out to an 11-5 lead. However, the defending champions replied in kind with five of their own to reduce the deficit to just one at 10-11 down.
But from then on Smith and Edwards pulled away, adding five shots over the next four ends and drawing four shots at the 14th and 17th ends to clinch a 25-13 victory.
"I started off well and tried to give Dale something to work with," Jeffcoat said after the match, adding they had not been daunted by drawing their world-class opponents first up.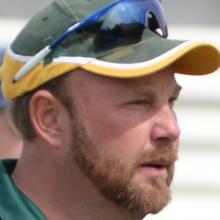 "It started off well in the first few ends, then Val came into her game and it became harder as the wind picked up."
The strengthening northeasterly proved a factor in Rayner's weight game in her attempts to counter the drawing shots of Edwards.
Smith and Edwards realised  after a roll-up the day before, it was going to be a day full of concentration. For Smith, things began to gel once she worked out the better side of the rink to play and the better hand to play.
"In my position, when you're up front, it went a bit better once I decided to change one of my hands.
"It's about looking at where you're erring and minimising that error. Changing my hand definitely helped."
Edwards was full of praise for her lead.
"Val led very well. It's so important to have your lead playing the better hand, and I think we identified it and Val changed over and away she went," she said, adding that it was really good to get a good win over a quality opposition.
For Smith and Edwards, it is a matter of playing one game at a time.
"There are players you don't know so you have to treat them like world-beaters.
"It's a one-off game every single round. We're just trying to play well and, hopefully, get the win," she added of preparing for their first round encounter with Rayner and Jeffcoat.
"They are the defending champions. They don't get that title for not being good bowlers.
"They play a good shot, we've just got to try and play a better one."
Smith and Edwards won their remaining two games of the day but were pushed to the wire on both occasions with 15-11 and 17-16 victories. Rayner and Jeffcoat hit their straps, recording 17-4 and 26-5 wins.
A feature in the men's singles was the early exit of three-time champion Ali Forsyth and the progress to post-section play of former New Zealand junior and open golf champion Brent McEwan (St Clair). Other local bowlers to safely make it through to the knockout stages included Mike Kernaghan and Andy McLean (North East Valley), Coryn Huddy (Taieri), Paul King (Andersons Bay), Max Grey (Green Island), Michael Bissenden (Balclutha) and Darren Broome (Gore).