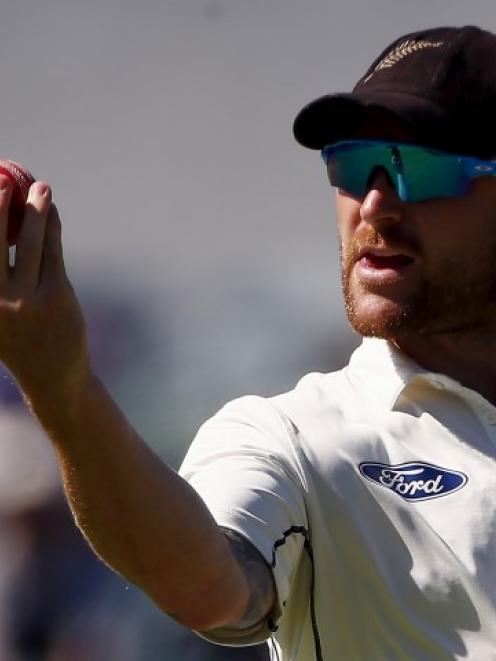 Put a ring around it. When New Zealand captain Brendon McCullum farewells test cricket at Hagley Oval this week, Mitchell Marsh will probably claim his wicket.
That's the "bunny" theory being peddled in Australia as the teams line up for the final time this summer.
Marsh has claimed McCullum's wicket five times for 27 runs in his last nine innings and the Sydney Morning Herald uses those statistics to headline their theory the NZ captain is a "walking wicket" for the Aussie all-rounder.
NZ coach Mike Hesson talked around the concept when he was quizzed about a range of topics on Radio Sport, leading into Saturday's start to the last test.
"Interesting isn't it when you have a fourth seamer generally following three pretty good ones, often that fourth seamer picks up wickets the others have earned," Hesson said.
That happened in the one-day series when NZ got a breakthrough and took advantage.
"Mitch Marsh is a good bowler, he has got genuine pace and bounce being 6' 5" or whatever, so I don't think Brendon is going to be too worried about that," Hesson added.
He leaned more towards AB de Villiers' tribute comparing McCullum to Roger Federer and the global adoration both men drew from crowds.
Hesson said the team was looking at McCullum's last test as a great chance to end the season with a flourish.
It would be a huge occasion but NZ would treat the test like any other and leave all the reflections until stumps were pulled on the final day.
Hesson hadn't seen the wicket at Hagley Oval but hoped it would seam for at least a day and a-half. Either Matt Henry or Neil Wagner will play instead of the injured Doug Bracewell.
Defeat at the Basin was the first for three years and Hesson said it was a fine line between that performance and sorting out a few issues.
"We just need to tighten up in a few areas," Hesson said. "Losing wickets to Nathan Lyon in the first innings was not good and obviously when you have guys in and set, the last few years those guys have gone on to make really big scores and we need to make sure that happens in this next test."