Finding a rhythm usually takes a few games after an extended break.
In Hayley Jensen's case, that does not seem to have been an issue.
There has been no rust evident since the all-rounder returned to the Otago Sparks two weeks ago, for the first time since November.
Jensen had been in Australia, where she lives, seeing family for the first time in five months.
She played one club game in the Canberra league, as well as having a White Ferns training camp on her return.
It is not a lot of cricket.
She said the break had been good, though, and perhaps that is showing on the field.
Since returning, Jensen has barely put a foot wrong opening the bowling for the Sparks.
That is good news for the team as it prepares to host the Auckland Hearts in a Super Smash elimination final today.
She has bowled tightly, proving difficult to score against and often beating the batters for pace outside off stump.
Alongside that, she has taken wickets, finding the edge twice early on Sunday, while coming back to break a key partnership through the middle a week earlier.
Her return of five wickets for 36 runs across the eight overs she has bowled was exceptional.
A change in approach has been key to her success.
"I guess I've changed my gameplan a bit this season," Jensen said.
"I'm just trying to bowl a lot faster and not bowling as many variations as I have in the past. Trying to take wickets by swinging the ball, which means opening up in the powerplay is nice.
"It's a bit different and a bit of a change, but I'm really enjoying it."
The first of those games back had come against the Auckland Hearts.
Jensen took three for 21 in that game, as the Sparks held the Hearts to 106 and cruised to a 10-wicket win at Eden Park.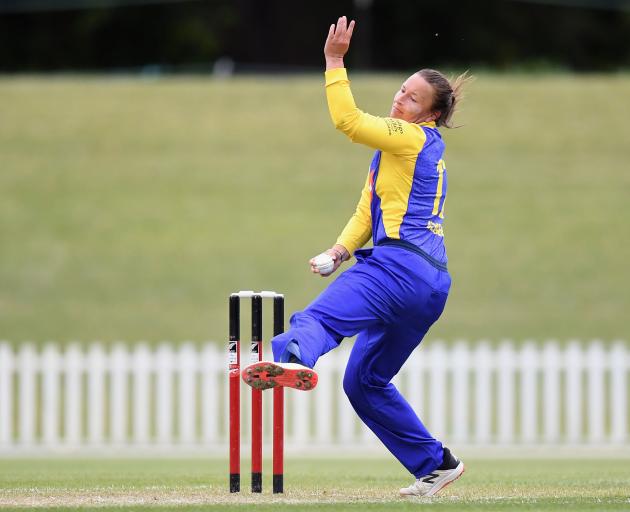 That is encouraging for the Sparks, and she said the gameplan of restricting the Hearts early would likely be key again, this time at the University Oval.
However, she said the team also knew not to read too much into the past result.
"It's really good that we had a convincing win over them up at Eden Park. But we know in T20 it can change so easily.
"It's going to be a really good game. Unfortunately there's not going to be much of a crowd, which is a shame.
"We're looking forward to trying to get the tick over them, because they beat us in the elimination final a few years ago."
Her time with the bat had been more limited, although she put together a handy 14 not out on Sunday to finish off a win over the Canterbury Magicians.
"I was kind of happy Suzie [Bates] got out at the end there, so I could get out there," she said with a laugh.
"She said it was a plan so I could get some game time in the middle.
"I was a little bit nervous, actually, before I went in, because I haven't batted for the Sparks since I went away. So it was nice to get in there and finish the game off."
Jensen will be part of an unchanged squad for today's match.
Impressive young seam bowler Molly Loe had been deemed "all but cleared" from a back injury, although remains out due to a lack of match fitness.
The Hearts will be without two experienced hands in Anna Peterson and Holly Huddleston, due to injury and work commitments respectively.
However, Fran Jonas returns after missing the past two games, while Josie Penfold and Anna Browning come into the 13-player squad.
The match will be played without a crowd due to Covid-19 protection restrictions.
Super Smash elimination final
University Oval, today, 4.10pm
Otago Sparks: Suzie Bates, Polly Inglis, Katey Martin, Kate Ebrahim, Hayley Jensen, Caitlin Blakely, Olivia Gain, Eden Carson, Emma Black, Sophie Oldershaw, Marina Lamplough, Bella James, Saffron Wilson.
Auckland Hearts: Lauren Down, Katie Perkins, Izzy Gaze, Jesse Prasad, Bella Armstrong, Arlene Kelly, Skye Bowden, Molly Penfold, Josie Penfold, Amie Hucker, Fran Jonas, Saachi Shahri, Anna Browning.