The Otago Volts know they need to do something special to make the Super Smash playoffs.
Lucky for them, one of their key players is back to help them do it.
All-rounder Nathan Smith took four wickets on his return from an abdominal injury on Monday.
It was not quite enough to earn the side a win over Central Districts.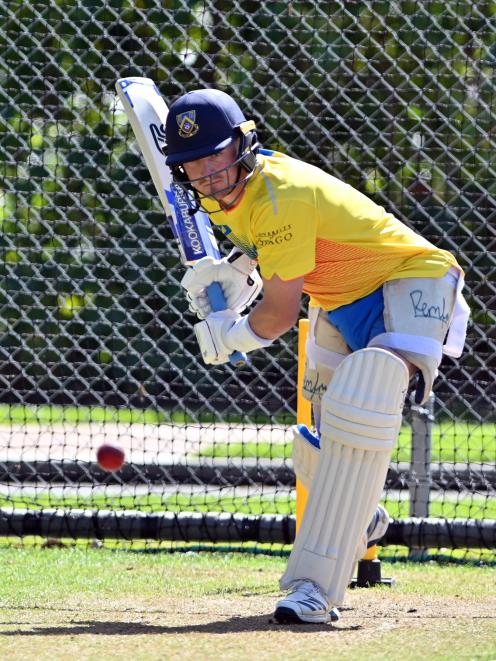 But it is an encouraging sign for the Volts as they enter their final four games, needing to win all of them to have a shot at the top three.
The first of those comes tomorrow when the side faces a quality Wellington team at the Basin Reserve.
"That was nice," Smith (22) said of his performance on return.
"It was good to be out there.
"I had pretty high fizz levels going into the game.
"I think that probably contributed to it somewhat.
"It was nice to be out there and contributing some way.
"It was a shame we didn't get the win, but it was nice to be out there."
The injury was feeling good now and Smith had been pain-free for about 12 days.
He had picked up the injury before Christmas, while playing for New Zealand A.
Fortunately, it had come towards the end of that first-class campaign, which was a successful one for Smith.
He performed well with both bat and ball, notably scoring 76 against the West Indies A and taking three for 29 against Pakistan A among other quality displays.
The experience had been a good one, particularly to immersing himself in the longer format for an extended period.
It was a good step up in level too.
He said batsmen tended to play the longer game.
Bowlers would deliver fewer bad balls, meaning batsmen had to become comfortable scoring off better deliveries.
It may be a stepping stone into the Black Caps, but that is not something Smith was thinking about.
He said the all-rounders ahead of him were doing a great job and his focus was on enjoying what he was doing.
Being back on the field after a tough few weeks watching was making that all the better.
Wellington poses a tough challenge and has already beaten the Volts once this season.
It has a quality batting line-up with an in-form Finn Allen being surrounded by the likes of Devon Conway and Rachin Ravindra.
But Smith said the team was taking plenty of confidence into the game, knowing its past two matches at the Basin Reserve had been tight thrillers.
"I think within our group there's the belief we can beat them.
"We need to win four from four now. I think the guys genuinely have the belief we could pull off something special.
"We did it last year.
"All it takes it one dropped catch to go our way or one ball to carry an extra metre over the fence to get someone on their way.
"We're looking forward to the challenge. It should be good."
The game is scheduled to start at 2.40pm tomorrow.
The Otago Sparks will also face Wellington at the Basin Reserve directly beforehand.