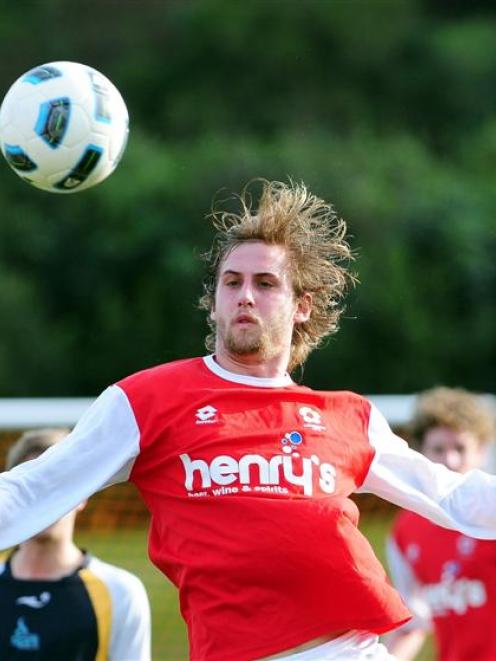 Spectators at the Caledonian Ground were treated to a high-octane 10-goal thriller as Caversham emerged a 6-4 winner over Christchurch side Coastal Spirit in a Chatham Cup match yesterday. Both sides clocked up 26 goals in three cup rounds, so Caversham and the big travelling Coastal Spirit support expected great things.
They were not disappointed. As well as goals, this was a high-pressure cup tie that included some superb technique and free-flowing action. No quarter was asked, and referee Edward Cook was untroubled except for the 57th-minute red card flashed at Coast's Paul Batesman.
Did the sending off ruin the match? On the contrary. As so often happens, Coast possibly had its best spell of play with 10 men.
It took 35 minutes before Anton Ross chipped the tall Matt Thomas, who played outfield for Otago United last year. Then, in end-to-end play, Coast hit back four minutes later when Ashley Wellbourne looked to have been forced wide but drilled an acute-angled shot in to equalise 1-1.
Caversham retaliated with a booming header by Tom Schwartz, and Darren Overton made it 3-1 early in the second half. However, jubilant Dunedin fans were silenced when goals by Tristan Nicol and Gareth Turnbull tied the score at 3-3.
Overton nosed Caversham ahead and despite having just 10 men, Turnbull superbly equalised with a diving header. At 4-4, there was as much mental warfare as physical.
Patrick Fleming then hit the goal of the match, a rasping 25m shot that alone was worth the price of admission, and two minutes later, Ant Hancock capped an industrious game with the final goal for 6-4.
Coast coach Karouch Monsef praised his side's resilience and character, and rated Caversham as "the luckiest team in the world".
An ebullient Richard Murray especially praised Jeremy Wild and Hancock on their first game back after absence through injury, but stressed it was a spirited team performance of which he was proud.
The next excitement would be the draw for the next cup round on July 23, with Caversham and Tech going in the hat together, he grinned.
On Saturday, Dunedin Technical drew deep on its reserves of experience to knock Roslyn-Wakari out of the Chatham Cup with a deserved 2-1 win at Ellis Park.
In a rare run, Blair Scoullar added his weight to a well-seasoned team that included Aaron Burgess, Richard Smith, Justin Flaws, Tim Myers and Tristan Prattley.
And the old heads cranked up enthusiastic miles, none more so than striker Richard Smith, who stamped the pitch flat and deserved air miles for the amount of headers he won.
As usual, Roslyn, too, was industrious, and played lots of patient passing sequences that stemmed from centrebacks Tim Mather and James Watson and were redistributed by Mike Cunningham in the central hub.
However, Roslyn's stylish play lacked penetration, and Technical coach Mike Fridge had his side fired up to harry and chase, hoping to force error.
In the 17th minute, Tom Connor underhit a pass. Lurking in the area, Technical's predator, Aaron Burgess, intercepted and hit a crisp angled shot past keeper Peter Evans' desperate dive to open the scoring.
Roslyn retaliated with a string of shots and headers as Damian Foster, James Govan and Mike Still launched efforts at Technical's goal, but few were on target, and the Technical keeper was underemployed for most of the game.
In contrast, Roslyn's Peter Evans was busy and efficient, his best effort being a full-length dive to palm a brilliant Smith header on to his post and away to safety.
Tech pressure told as Cunningham conceded a handball penalty that Burgess rifled in, and a good finish by James Govan narrowed the score to 2-1.
Roslyn's home crowd looked for a fiery finish but referee Jeff Clamp dampened the fightback by red carding Tom Connor, and Technical used its experience and control to cruise through to the final whistle.
The Footballsouth Premier produced a few upsets as Green Island gained its second consecutive win by beating Northern 3-2, with Taylor McCormack, Dan Rutter and Cody Robinson goals taking the Island level with Grants Braes on seven points each.
Callum O'Neill scored the only goal at the Caledonian ground for University to beat Mosgiel, and Queenstown beat Spirit 4-1 thanks to goals by Ollie James, Chris Acott, Ross Mackenzie and player-coach Steve Henderson.