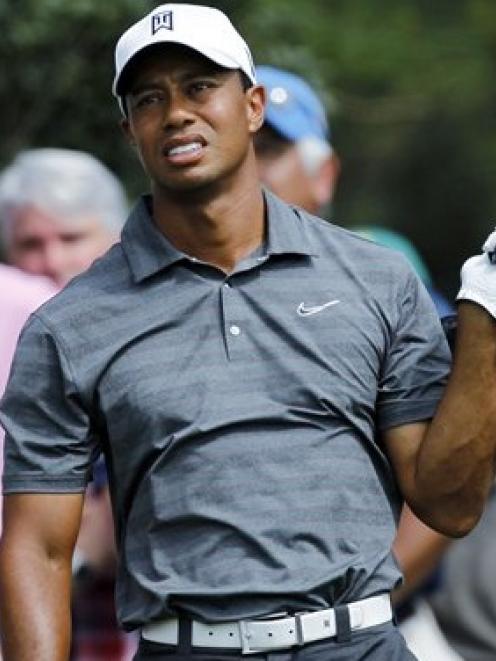 An unhappy Tiger Woods said his old swing habits returned as he bogeyed the final two holes in his opening round at the Masters, where he slipped to five shots off the pace.
Woods shot a level-par 72 on a tough day for scoring at Augusta National, but while that was far from a disaster, the bookmakers' favourite to win  said he was unhappy with his swing even on the practice range prior to his round.
"I hit some of the worst golf swings I've ever hit today, and that's all right. I just hung in there and grinded my way around the golf course and stayed very patient, stayed in the moment," Woods told reporters.
"I warmed up bad too and it continued on the golf course. I just felt my way around today. I really grinded, stayed very present. And you know, I know how to play this golf course. I think it's just understanding what I need to do."
The 14-times major winner had three birdies and three bogeys on a softer than usual course with challenging pin positions.
Woods came into the tournament riding momentum after winning his first PGA Tour event in 30 months with victory at the Arnold Palmer Invitational last month.
His return to form has been, partially at least, credited to a new swing developed by coach Sean Foley.
But the four-times Masters winner said he slipped out of the movements introduced during a long spell of rebuilding his swing.
"Same old motor patterns. Now I'm struggling with it all the way around with all the clubs. I need to go do some work," said Woods.
"Some of my old stuff from a few years ago. I've had to try and kind of work through it, and every now and again, it pops up, and today it popped up a little bit."
Woods said he got through the round by not letting his swing issues get inside his head and was glad to still be in the hunt.
"I said just stay committed. Whatever happens, just stay committed on each and every shot. I did that. I really stayed committed to what I was doing," said Woods.
"My commitment to each and every shot, what I was doing, my alignment, my setup, everything was something that I'm excited about and I can take some positives going into tomorrow about that ... at least I have something to build on."