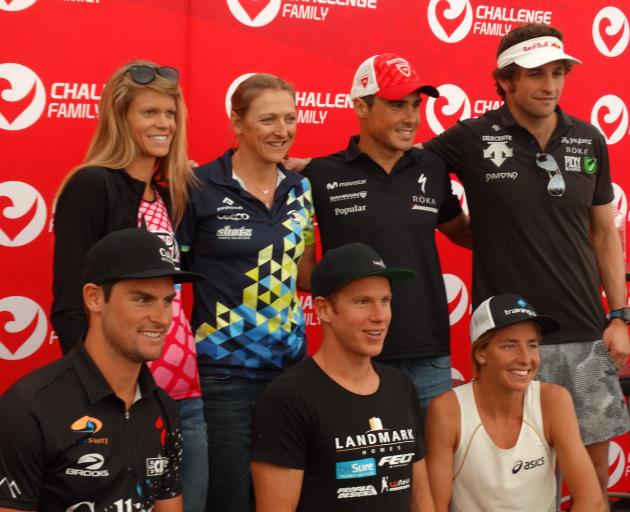 A world-class field of professional triathletes will battle it out at Challenge Wanaka today  in what are expected to be cool conditions.
For the first time in the event's 12-year history, the pros will compete in a half ironman rather than a full ironman, although amateur competitors will still compete in the latter.
A full ironman consists of a 3.8km swim, 180km bike and 42.2km run, twice as long as a half ironman.
The change from full to half was made  to allow the event to  incorporate  the Triathlon New Zealand middle-distance national championships, which will now rotate annually between the North and South Islands.
There are 29 pro athletes this year, including Olympic silver medallist Javier Gomez, course record-holder and defending champion Dougal Allan, New Zealand Olympian Tony Dodds and  national champion Amelia Watkinson.
Allan, who  in the past has said he was disappointed about the change,  changed his tune at Thursday's  press conference.
"I'm really excited to race over this different format. I've prepared differently this summer than I have previously, given it's the half distance. I don't think the way I race changes much. I just go out and go hard.
"I'm tracking really well, I feel very fit, so no excuses, really. I'm looking forward to racing a slightly different format against a really good field, and I'm backing myself to be competitive."
Three-time female runner-up Laura Siddall, of Great Britain, was pleased to be back in Wanaka and was also keen to try something new.
"As soon as you arrive in Wanaka you can't help but smile and relax; it's just an amazing feeling. I'm excited to do something a little bit different. I think it's going to be a fantastic race."
American athlete Jesse Thomas said he had been blown away by the scenery since arriving in New Zealand for the first time earlier this week.
"I'm super-psyched I made the trip because it's gorgeous. I'm the kind of guy that likes to do cool races in cool places and this is definitely on the list of events I've always wanted to do but never had the opportunity to."
About 1400 other athletes will compete in a range of individual and team events today, including a new aquabike race.
Race director Bill Roxburgh said there were  more than  50 entrants in the event, mostly by "people who've been injured ... and can't run".
Other changes included a stretch of the bike race going down Stone St rather than the adjacent McDougall St, due to safety concerns, but for the most part the event remained the same, Roxburgh said.