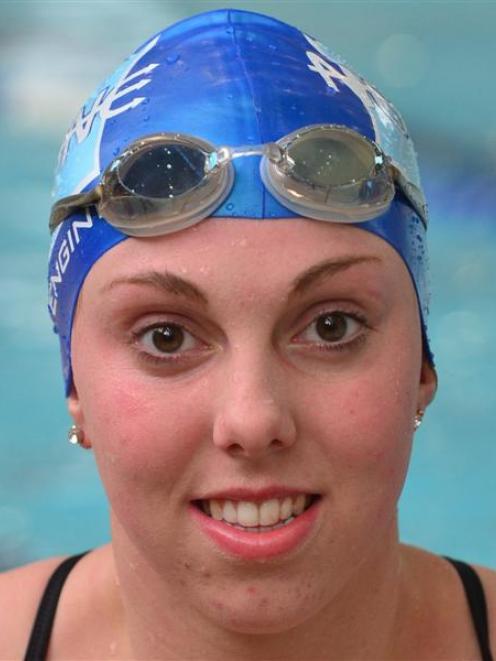 Jacquie Ruth (QE2) has been an inspiration to able-bodied swimmers at Moana Pool this week. There was loud cheering when she broke her fourth New Zealand AWD record last night.
Ruth (17), a pupil at Rangi Ruru School in Christchurch, was invited to start competitive swimming two years ago by Paralympics New Zealand.
She has now broken 21 national records in the S6 classification.
The four records she broke at the Otago and Canterbury championships this week were the 200m individual medley (4min 33.35sec), 50m freestyle (52.81sec), 400m freestyle (8min 22.88sec) and the 100m breaststroke (2min 22.79sec).
She was urged on by her team-mates and took 5sec off the breaststroke record last night.
''I don't do it to break records. I do it for fun,'' Ruth said.
''Swimming is my freedom.''
Ruth suffers from achondroplasia, a disorder that stops her arms and legs from growing.
''I have had two major operations on my spine,'' she said.
''I swim more easily in the water than I walk on land.''
She trains at the Jellie Park pool and is coached by Peter Burgon.
''Jacquie just keeps on improving,'' he said.
''She works very hard and is very diligent. That is why she gets results.''
Ruth has a mature approach to swimming.
''When I first started swimming the destination was important,'' she said.
''I have met a lot of nice people and I enjoy what I'm doing. The journey is the most important thing for me now and not the destination.''
Canterbury swimmers have joined in with the Otago championships at Moana Pool this week because the Christchurch 50m pool at QE2 was wrecked by the earthquakes.
Another impressive Canterbury swimmer this week has been Ben Anngow (Wharenui), who has dominated the boys aged 15 and 16 breaststroke events.
Anngow (16), a pupil at St Thomas School, has won the 50m (32.50sec), 100m (1min 12.22sec) and 200m (2min 40.29sec). They are all personal-best times.
Han Zang (Neptune) was the best Otago swimmer in that age-group and his times for the breaststroke events were 50m (32.71sec), 100m (1min 10.67sec) and 200m (2min 34.01sec).
Patrick Wynne (Wharenui), a law student at the University of Otago, was Canterbury's best swimmer in the men's open 50m backstroke with his time of 28.62sec.
The best Otago swimmer in that event in the open grade was Kurt Crosland (Neptune) with 26.72sec.
Caitlin Rennell (Jasi) won the Canterbury open women's title in the 200m freestyle in 2min 09.99sec, equalling her personal-best time. Kate Godfrey (Neptune) won the Otago title in the same grade in 2min 09.56sec.
Satori Dobbie (QE2) won the Canterbury boys aged 13 and 14 200m freestyle title in 2min 03.61sec and Tame Govaerts (Zenith) took the Otago title in the same age-group in 2min 04.90sec.
The Otago and Canterbury championships continue at Moana Pool over the weekend.