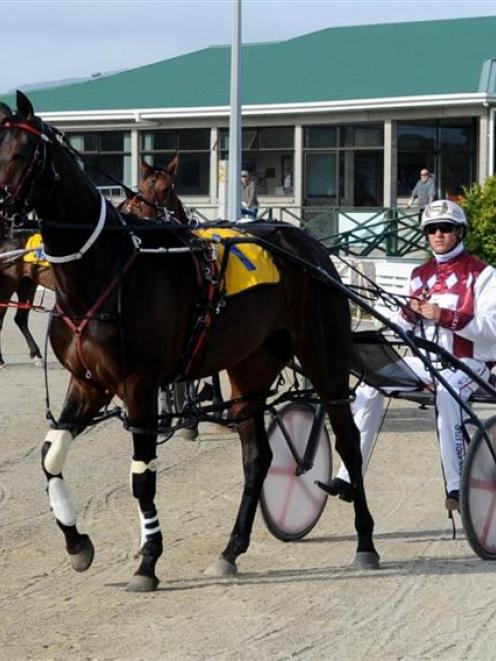 Leading driver Dexter Dunn will seek his 1000th career win in New Zealand at Addington on Friday night.
The 23-year-old reinsman is stuck on 999 wins and has been for his last two race meetings. It is not too often he has gone a couple of meetings without driving a winner but Dunn dismissed suggestions he might have a few nerves about the milestone.
"Not really," he said.
"I've only been on 999 for two meetings so it is not really a big deal. There are no jitters. There is no time limit on when I've got to do it by so when it happens, it happens. I don't feel any pressure or anything like that."
Dunn expects he will have up to eight drives at Addington, so there is a fair chance he will break what is, by his standards, a drought of sorts.
Dunn had some good drives at the two meetings he went winless, but equally he never felt he had a certainty. He drove the favourite, Optimo Denario, in race 10 in Oamaru on Saturday and led for 99% of the race but was pipped at the post.
He suffered a similar fate driving Castellina Lover in race 5 at the Banks Peninsula meeting on Sunday.
Dunn has driven winners in Australia and North America, so he has more than 1000 career wins. But it is 1000 wins in New Zealand he is chasing and when he gets there he will become just the 20th Kiwi reinsman to complete the feat, and the youngest to reach the mark.
"I'll have to have some sort of party . . . It won't be straight away but there will be something.
"It is going to be a great honour to be in the same category as some of the great drivers that are in the 1000-wins club. I've been pretty lucky to have all the support I've had to get to where I am now."
---
Ahead of Dexter
1000 winning drives in NZTony Herlihy, Maurice McKendry, Ricky May, David Butcher, Colin De Filippi, , Peter Wolfenden, Peter Ferguson, Maurice Holmes, Anthony Butt, Jim Curtin, Mark Jones, Brent Mangos, Mike De Filippi, Mark Purdon, James Stormont, David Butt, Jack Smolenski, Robert Cameron, John Hay.
Source: Harness Racing New Zealand
---