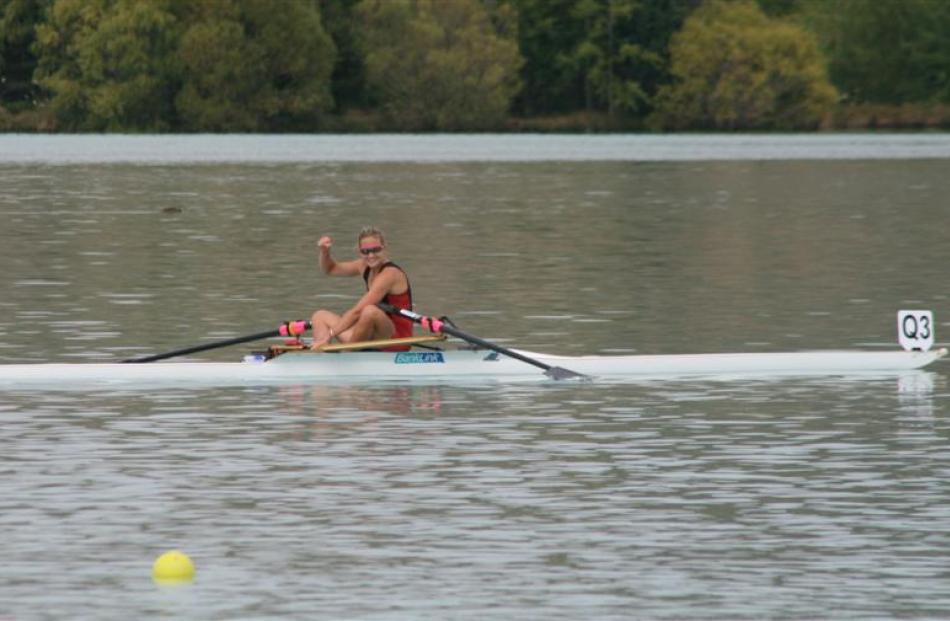 Lucy Strack (North End) is back. She regained the women's open lightweight single sculls title she surrendered last year.
Strack (23) won the gold medal at the New Zealand rowing championships at Lake Ruataniwha yesterday in a time of 7min 50.51sec. She was followed home by fellow members of Rowing New Zealand's Summer School squad Sophie Mackenzie (Central RPC, 7min 55.50sec) and Olympian Julia Edward (Waikato RPC, 7min 56.19sec).
''It was a huge relief,'' Strack said from Twizel.
''After the big disappointment at nationals and the trials last year, I had the long-term goal to get better for this season.
''I stuck with it and worked away at the small things that got me here in the end.''
Strack suffered from a back injury that kept her out of the boat for 10 weeks in 2011 and it cost her a place at the London Olympic Games. Over the last 12 months, she has concentrated on body maintenance to make sure that she had no recurrence of her back injury. The race yesterday was even to 500m but the three summer school scullers broke away over the next 500m.
''I got the lead in the third 500. In the last 500, I just had to hold my lead,'' Strack said.
Strack will be competing in the heavyweight single sculls final today and hopes to win her first red coat in the Southern RPC premier women's eight.
It was also a top performance by Zoe McBride (Otago), who finished fourth behind the elite Karapiro summer school scullers in 8min 02.47sec.
The crowning achievement for McBride yesterday was to win the gold medal in the women's under-20 single sculls.
She won by one and and a-half lengths from Claudia Hyde (Waikato RPC) in a time 8min 28.36sec. Hyde was timed at 8min 31.28sec and Donella Murphy (Waikato RPC) 8min 42.78sec.
''I was extremely happy,'' her coach, John Parnell, said.
''It was a very mature performance. Zoe said it was the hardest race she's ever been in.''
It was Parnell's 70th birthday yesterday and his team of rowers allowed him to celebrate in style. His Otago club squad contested six A finals and finished with a gold and bronze medal.
Olympic champion Hamish Bond (North End) won his fifth successive premier men's pairs title with Southland's Jade Uru, despite losing their steering at the 1000m mark.
They lost three lengths and were passed by the Auckland RPC pair of Bobby Kells and Adam Tripp.
This forced Bond and Uru to dig deep. They caught the Auckland pair with 300m left and won by 4sec in a time of 6min 40.79sec.
Bond had to be content with the silver medal when he stroked the Southern RPC premier coxless four home in 6min 07.96sec. The gold medal was won by Waikato RPC in 6min 03.02sec.
Johannah Kearney (Oamaru) won her second gold medal of the championships as a member of the Southern RPC women's under-20 coxless four. It beat Avon by 9sec, in a time of 7min 01.99sec. The other members of the crew were Kristen Froude, Sophie Singleton and Phoebe Spoors.
The same crew stepped up an age bracket to win a bronze medal in the women's premier coxless four, in 7min 02.99sec.
The Wakatipu men's novice coxed four of George Dennison, Latham Jones, Reid Long, Logan Boyd and cox Henry Matthews won a gold medal in 6min 57.95sec.
The North End men's novice double sculls of Ryan Wilson and Sam Munro held out a strong challenge from Timaru to win the silver medal in 7min 54.99sec.
The Otago women's club quadruple sculls of Hannah Duggan, Claudia Grave, Emma Winders and Anna O'Leary won bronze in a time of 7min 24.74sec.