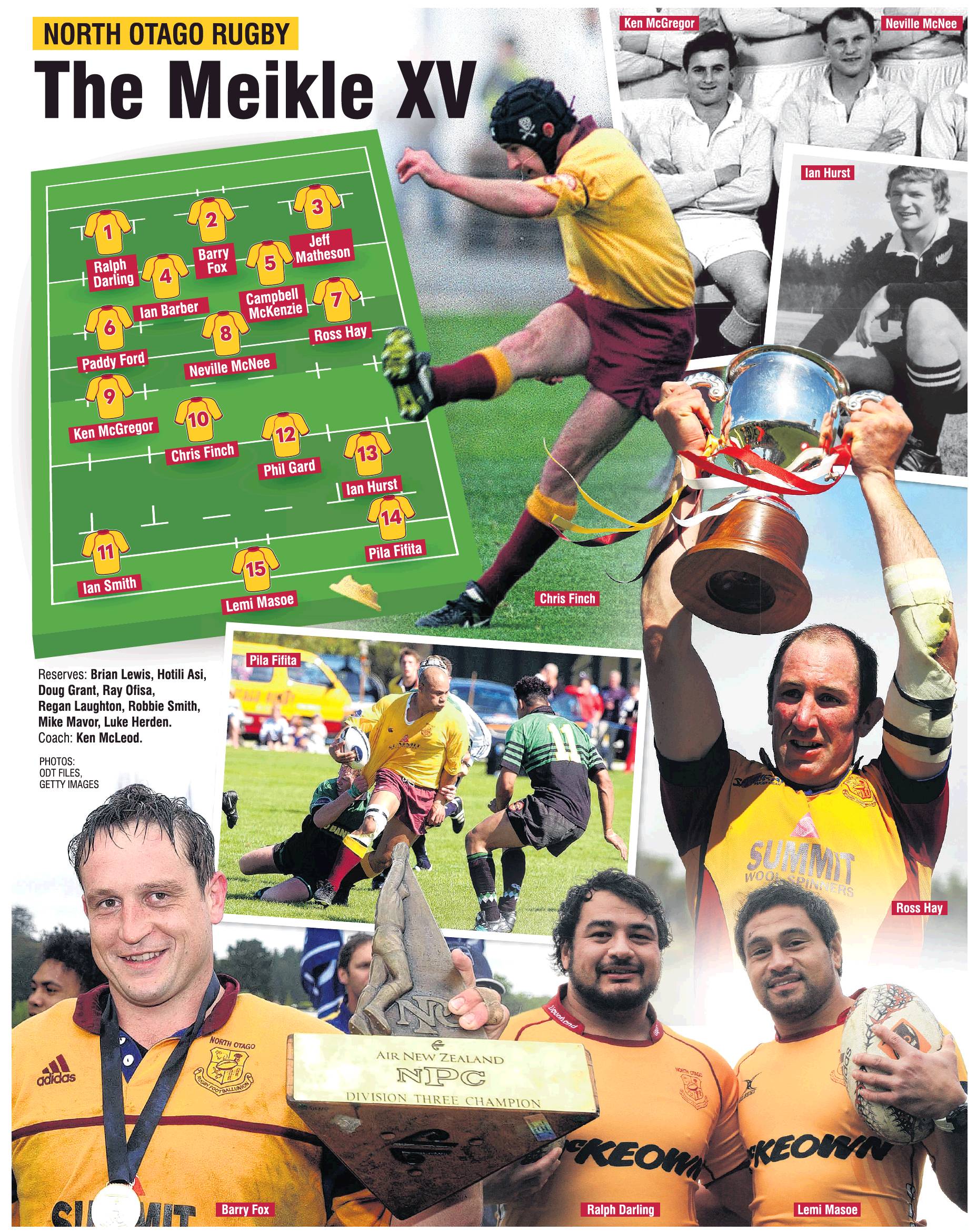 The North Otago Rugby Football Union recently enlisted the public to name a Greatest XV. Sports editor Hayden Meikle was an interested observer and, naturally, decided he could name a slightly better team.
FULLBACK
The first of several positions where there is no immediate No1 choice.
Old-timers will go straight to Jack Halvorsen, the great post-war goal-kicking star who played for Wellington B before coming to North Otago, where he was an All Black triallist.
Jim Darling had previously played for Otago before joining the Old Golds, for whom he started in the famous win over the Wallabies in 1962.
Paddy Whyte was Mr Dependable in the 1970s, Jeff Gardiner was a real talent before moving to Southland, and Bruce Trask had a brief but impressive spell in Oamaru.
The stars of the great modern era were under-rated all-rounder Grant Johnston, Luke ''Spook'' Herden, who was built like a forward but had deceptive pace and great skill, and later shifted to second five, and big-punting speedster Billy Guyton.
My pick is a wildcard - and I'm cheating a bit, as most of his 106 games for the union were on the wing or in midfield. But Lemi Masoe's last game in gold was at fullback, and he is too significant a figure in the province to be left out.
Public pick: Luke Herden.
Meikle's pick: Lemi Masoe.
WING
Mort Fountain was our early star out wide - he jointly held the record for tries in a game, four, until greedy Herden scored five against East Coast in 2010 - and he would be the first man picked based on the quality of his name.
Ian Coe was dynamite on the left wing, Doug Hurst was versatile, Brian Carlyon was influential in the early-1970s teams that came so close to winning the Ranfurly Shield, and Graeme Johnston was steady as they come.
Ian ''Spooky'' Smith, who had previously represented Otago, was at his peak in 1965-66, and he played for the All Blacks both years.
Ross Skinner was the main man in the 1990s, before the blockbusting Pila Fifita - who scored a record 39 tries in just five seasons - and the insanely fast Scott Mayhew starred on the flanks.
Smith, as one of North Otago's only two genuine All Blacks (as in, he wore the black jersey while playing for the union) demands selection. And big Pila will not be stopped.
Public picks: Ross Skinner and Pila Fifita.
Meikle's picks: Ian Smith and Pila Fifita.
MIDFIELD
Phil Gard.
This category needs to start with Phil Gard.
The original Kurow Kid (sorry, Hayden Parker). Perhaps the only genuine North Otago All Black - as in, he grew up in the province (Spooky Smith hailed from Central Otago) and represented the All Blacks while playing for the Old Golds.
If there was one glaring omission from the team picked via public vote on social media, it was the late and legendary Gard.
He played a decent amount of rugby at first five, and provides cover there in my squad, but he is the first man picked in the starting XV and he has to take the No 12 jersey.
But who will partner him in the middle of the field?
Jock Hamilton, a South Island representative and All Black triallist in the 1950s, was the first midfield maestro in gold. They say he had a touch of magic about him.
Bill Pile and Max Eckhold were the wonderful combination in the team that beat the Wallabies in 1962, Ian Hurst was exciting as a youngster and still a fine player after coming home from his All Black days in Canterbury, and the modern era was blessed with some outstanding midfielders in the form of Mike Mavor, Nathan Cunningham, Fepi Tatafu, Matt Saunders and Faaitu Tuamoheloa.
I was a massive fan of ''Big Bird'' Mavor, who could have been an All Black in another era, and it breaks my heart to push him to the reserves. But Hurst is rugby royalty.
Public picks: Nathan Cunningham and Mike Mavor.
Meikle's picks: Ian Hurst and Phil Gard.
FIRST FIVE
One of the glamour positions of New Zealand rugby yet North Otago has not really
had a history of churning out great No10s.
The jersey was handed around like a hot potato for 50 years until Peter Cook became the glamour boy in the 1980s.
Then followed a succession of largely Dunedin-based players as North Otago struck gold year after year with the likes of Chris Finch, Simon Porter, Ryan Bambry and Ben Patston.
Imports have to be eligible for this team, and for me it boils down to Finch or Porter, the former gaining my vote as he had all the tools and was the architect of the transformation of North Otago rugby.
Public pick: Ben Patston.
Meikle's pick: Chris Finch.
HALFBACK
An embarrassment of riches.
Ian Nuttall was a South Island representative, Ken McGregor was an All Black triallist and the backline general of the great 1962 team, and Gary Eckhold, Gus Morton and Simon Bloomberg were all very handy.
The modern era has been ridiculously well served by a factory line of outstanding No 9s: Justin Rawcliffe, Ryan McCarthy, Kilifi Fangupo and Robbie Smith.
Fangupo was a firecracker, and Smith just oozed class, but this spot belongs to the immortal McGregor.
Public pick: Robbie Smith.
Meikle's pick: Ken McGregor.
NO 8
Another funny position in that few players held on to the jersey for long in the early days.
The blast from the past is Neville McNee, captain of the 1962 team and a fantastic all-round player who was an All Black triallist.
Then followed some lean years - though Ron McGookin (who also played lock) was very decent.
Happily, the Old Golds have been loaded at the back of the scrum in the modern era. Regan Laughton was a colossus, Tevita Fifita a barnstormer and Joe Mamea a real talent, while Josh Clark has moved around the pack but was the Heartland player of the year in 2019 while largely playing No 8.
Tempted to go with Laughton, but McNee takes the jersey and is my captain.
Public pick: Tevita Fifita.
Meikle's pick: Neville McNee.
FLANKER
One jersey is very easy - Ross Hay wears No7, and you don't need me to tell you why.
His partner, though, is up for debate.
Stan Mosely was an All Black triallist, Paddy Ford scored a record 429 points (yes, he was a goal-kicking flanker) for the union over a decade, and Peter Johnston, Bernie Pringle, Paddy Aspros and Johnny Taieloa all played well on the flank.
The pick of the non-Hay flankers in the modern era has been the all-action Ray Ofisa, who went on to have a fine career overseas.
I'm discounting Tom Wood. He had a whale of a test career for England, but this team is based purely on performances for North Otago - and Wood was only here for a season. Likewise, Bob Barber became an All Black but his career in Oamaru was brief.
The loquacious Ford makes my team.
Public picks: Ross Hay and Johnny Taieloa.
Meikle's picks: Ross Hay and Paddy Ford.
LOCK
The second-rowers won't like hearing this but lock has arguably the shallowest pool of players for this exercise.
An issue in the early days was that players in the forward pack tended to skip around a bit, and specialist locks were not a huge part of the game.
Ian Barber (Bob's brother) was probably the first star North Otago lock, and he was good enough to play for the South Island and in an All Black trial, though the latter appearance was at prop.
Melvin Dunne shone briefly for Kurow, and Phil Hope and Craig Ross gave way to a handful of very good locks in the 1990s and 2000s such as Hunter Darry, Campbell McKenzie, Nathan Archibald, Robert Borst, Eric Duff and Taua Limuloa.
This is a tough one, but Barber has the pedigree and McKenzie the talent.
Public picks: Campbell McKenzie and Robert Borst.
Meikle's picks: Campbell McKenzie and Ian Barber.
PROP
Plenty of workhorses to select from here.
Bill Simpson, Dave Finlay, Doug Grant and John Borrie were the early bookends to shine, Jeff Matheson was an All Black elsewhere but still a fine player when he returned to the Old Golds, while Jeff Wilson, Billy Laing and Gary Byrne were key men in the resurrection of North Otago rugby in the 1990s.
Modern stars, in an era dominated by Pasifika power, ranged from try-scoring machine Hotili Asi to wannabe first five Ralph Darling to big boppers Palenapa Mafi and Melikisua Kolinisau.
Ralphie gets one jersey, obviously. The other, at a pinch, goes to Matheson.
Public picks: Ralph Darling and Melikisua Kolinisau.
Meikle's picks: Ralph Darling and Jeff Matheson.
HOOKER
Light 'em up, Foxy.
With all due respect to 1960s star Brian Lewis, yeoman rakes Peter Fogarty and Shane Curle, and current captain Sam Sturgess, Barry Fox is our greatest hooker.
Public pick: Barry Fox.
Meikle's pick: Barry Fox.
COACH
North Otago has been blessed in the modern era, the Greg Shipton-Peter Cook combination paving the way for national title winners Glenn Moore, Barry Matthews, Mike Mullins and ''young'' Jason Forrest.
But the coach of this mythical XV simply must be Ken McLeod, who had a phenomenal run with North Otago in the 1960s that included victory over Australia and wins over Canterbury, Otago and Southland in the space of a week.
Public pick: Barry Matthews.
Meikle's pick: Ken McLeod.