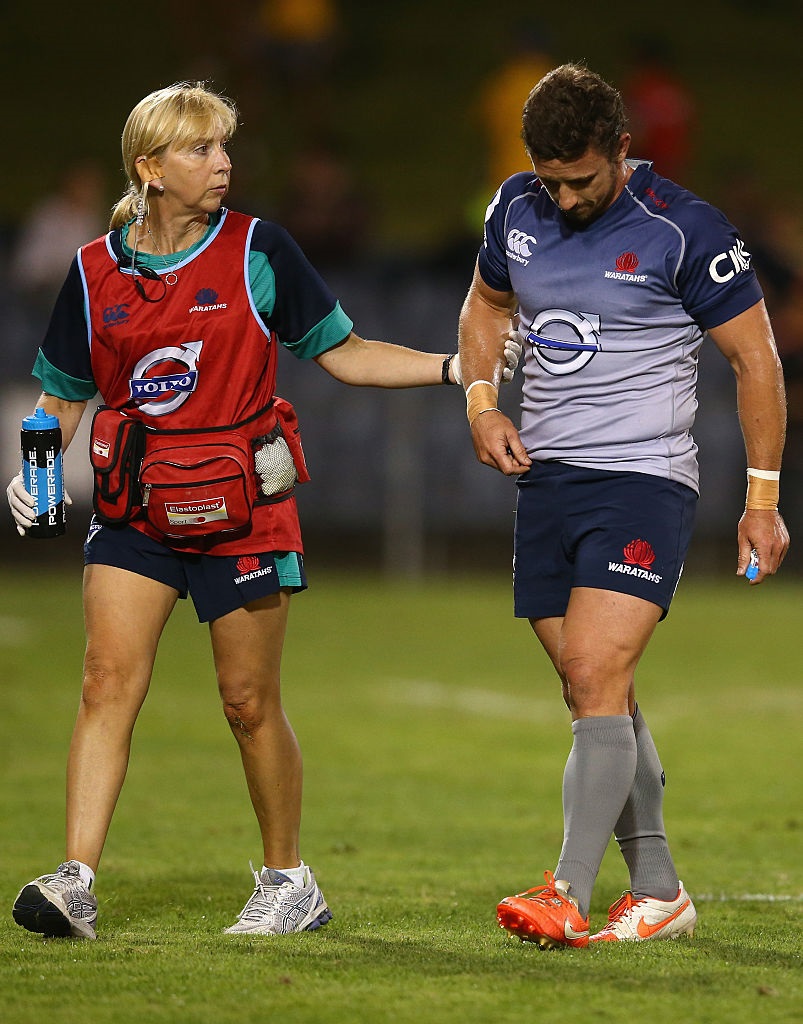 Waratahs team doctor Sharron Flahive attended Southland Girls' High School which is right beside Rugby Park where the side's Super Rugby match against the Highlanders will be played tomorrow night. Rugby writer Steve Hepburn talked to Flahive who has been everpresent for the Waratahs since the 1999 season.
It is a homecoming for Waratahs team doctor Sharron Flahive.
Flahive, who has been the team doctor for the Sydney-based franchise for 20 years, grew up in Invercargill, and went to Southland Girls' High School which is right beside Rugby Park where the Super Rugby match between the Highlanders and the Waratahs will be played tomorrow night.
Flahive, the daughter of former Invercargill pharmacist Noel Flahive, has been everpresent for the Waratahs since the 1999 season and is still busy running on to the field whenever a player goes down.
Flahive was born and bred in Invercargill and then attended Otago Medical School in Dunedin.
She then left to follow the path of so many New Zealanders and Australians, going to London. While there, she qualified for a diploma in sports medicine and returned to New Zealand.
She helped out assisting the Black Ferns and also various club rugby sides and rugby league sides in Wellington.
When she moved to Sydney, she joined the Gordon club as team doctor and also New South Wales under-21. In 1999, she became the Waratahs team doctor and has been there ever since.
It is an all-encompassing role but one she really enjoys.
"When I first started, Chris Whitaker was a player, the halfback, and now he is a coach,'' she said.
"When the competition first started, some teams did not have doctors attached but when the Crusaders were in Sydney I helped out and Daryl Gibson was a player for them. Now, he is the coach,'' she said.
She joked that at the start of her role she was like the sister to the players but now she was their mother.
She said it was a great job and the environment was a great one to be in. People were trying to be the best they could be and were highly dedicated and worked hard.
The players might have changed in name but they were still basically the same. The only major change was the players had got bigger.
Being in a sports team as a doctor was different from most medical roles.
"Generally, the people you are dealing with are really healthy and fit. They just want to be healthy all the time. With the introduction of the GPS units [players' training gets measured] you can really tailor your training to the player - manage their loads. That is a huge help.''
Bigger players meant injuries and she said there were more shoulder injuries.
Nutrition was different now as the emphasis was more on protein than carbohydrates.
"People always say the players have changed but I don't think so. They are no more precious than what they were 20 years ago. You might have a team and think `boy is it going to change when these guys leave'. But the next No5 comes along and he is a good person and you are just introduced to a new community of people.''
Being a female was not a hindrance at all and had never been an issue. If anything it helped, as the players might open up a little bit more.
She very much enjoyed being part of a team and that was a real difference from being a doctor in other roles.
You got to make decisions in consultation with other people. Most of all, it was a lot of fun.
Winning the Super Rugby title in 2014 was an obvious highlight but every day was one to look forward to.
"That win was a highlight but there are so many. When you go on tour there is a lot of laughter. A lot of fun. There are pranks all the time. You are away from family a long time so the team becomes your family.
"Things just happen. Recently, we had a player who would wear a pair of diamond earrings. He took them out for training and put them in the his asthma puffer.
"Then he went to have a puff and managed to swallow the earrings. He coughed one up but had to go to radiology to find the other one and it was in his bowel. He went to pass it and said he did but could never find it.''
Flahive shows no sign of slowing down and will be the team doctor for the the Australian women's rugby team, the Wallaroos, later this year.
She is married to Mike Dawson, a former Southland Boys' High School pupil, and has a daughter, Holly (18), who is in her last year at school.
Flahive said that growing up she had always wanted to be a doctor but was never a fantastic sportswoman.
"I was more of a skier. Went away on a few trips. I have done a lot of other sports, too, as a doctor, with martial arts and rugby league. But coming from New Zealand I think where rugby is the main sport is what drew me to it.''
She runs her own sports medicine business in Sydney treating everyone from weekend warriors to professional athletes and said it was a good distraction from the Waratahs.
Her parents now live in Arrowtown and she tries to get home as often as she can.
She was looking forward to getting back to Invercargill but hoped for better weather than the last time the Waratahs played there.
"It was back in 2010 and it was in the driving rain. Then they went and put us out on the other side of the field in the driving rain. That wasn't much fun.''