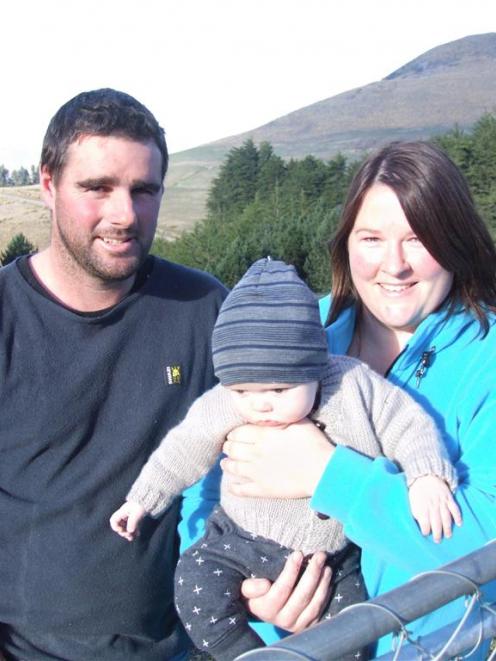 Growing up on a pig farm near Oamaru, David Smith wanted nothing else but to be a sheep and beef farmer.
Leaving school as soon as he was able, he worked on properties around the Waitaki district pursuing that dream.
"That was me. I always had a passion for it,'' Mr Smith said.
For the past 10 years, he and his wife, Sarah, have been farming Mt Watkins, a hill country property inland from Waikouaiti.
A further 500ha was added five years ago to the original 900ha block and the property now runs about 4200 ewes, 1150 hoggets and 450 bulls.
In March last year, Mr and Mrs Smith became part of the Red Meat Profit Partnership (RMPP) processor programme.
They were among a group of five Anzco Foods suppliers in Otago and Southland, each identifying areas they wanted to focus on specific to their business.
The first year of the RMPP's Pilot Farms programme has recently been completed.
Farmers worked alongside processors to increase their connection to the market, while building local networks to apply new technology and systems on their farms.
There were 66 farm businesses involved in the programme and three more were set to join to form a new group in the lower North Island.
Activities ranged from workshops with rural experts on tasks ranging from body condition scoring, using software for feed budgeting, soils, forage and nutrition through to one-on-one sessions.
Farmers were also learning from their peers with tours of high-performing farms in different locations and building mentoring relationships.
It was Mr and Mrs Smith's bull drafter who first mentioned the programme and the couple could not see any downsides to becoming involved.
It was good timing, as they had already made some changes to their business, and they welcomed the opportunity to get access to such expertise, Mrs Smith said.
Mrs Smith had also completed an Understanding Your Business course, run by the Agri-Women's Development Trust, which was "awesome'', and it all seemed a perfect fit, she said.
The couple could see potential to increase both their productivity and their profitability.
Areas they identified for focus were improving soil fertility, sheep production (lambing percentages and lambing weights) and lifting bull weights.
They were also keen to build a team around them, Mr Smith said.
Soil fertility was the first area they focused on, which meant taking full-farm soil tests to establish a fertility baseline.
They took 65 samples at a cost of $3000 but resulting savings in fertiliser costs amounted to between $50,000 and $60,000.
That was because soil fertility was better than they thought and allowed them to be more strategic with fertiliser applications.
One of the most significant changes made was in their sheep policy, after looking at various options.
Rather than breeding replacements, they were now buying in Romdale ewe lambs from three breeders and were putting all the ewes to a terminal sire.
They were all high-producing ewes and lambs adjusted to the property a lot quicker than buying older ewes.
That policy resulted in the average kill date moving forward by one month last season, and an increase in the average carcass weight of 1kg to 18.6kg, despite extremely dry conditions.
Mr Smith estimated changing sheep breed and policy and associated gains in performance and wool sales had added $60,000 to their bottom line.
Their goal was for 150% lambing, with an average 19kg lamb weight, and with an average kill date of March 1.
"If we get there, we'll be very happy with that,'' he said.
The third area they were focusing on was their bull beef.
Sourced through Anzco, the couple bought 450 Friesian bulls every year, weighing 350kg-400kg liveweight.
He believed fine-tuning their feed management would allow them to put an extra 30kg on each animal at a value of about $150.
To do that, they were using electronic identification tags to record weights of animals at regular weigh-ins.
That would give them an indication of which crops and forages were giving them the greatest weight gain at different times of the year.
For Mr Smith, being part of the RMPP programme had been a positive experience.
"At this stage, it's been very beneficial. It has opened my mind to lots of different things and there is a lot more to come out of it yet,'' he said.
One of the highlights had been the opportunity to visit top-performing sheep and beef farmers in North Canterbury.
Seeing how they operated, particularly in drought, was motivational and had given Mr and Mrs Smith further impetus to carry on fine-tuning their operation.
They have had 18 months of below-average rainfall but had managed that "pretty well'' and fattened all their lambs.
"We farm to it; we're a dryland farm,'' Mr Smith said.
The farming operation was very much a team effort for the couple who have three young children, Hamish (5), Jack (3) and Wade (6 months).
Mrs Smith came from a farming family, shifting to Mt Watkins when she was about 10.
After leaving boarding school, she headed to Australia for a couple of years before returning to Dunedin to study marketing and management.
Before the arrival of the children, she was heavily involved on the farm. She shared her husband's love of being outside with dogs and stock.
When children came along, it made it harder for her to get out on the farm but the Agri-Women's Development Trust course made her realise she could still be very involved in the business.
"It really kicked me into gear,'' she said.
She was studying a diploma in agribusiness management through Primary ITO and managed to fit everything in "somehow'', she said.
Employing a young shepherd had proved to be a good move, meaning they had more family time, Mr Smith said.
They wanted to keep their farming system simple and also keep the "fun in farming''.
They were proactive when it came to things such as water plans and health and safety legislation, and urged farmers to "be ready'' for those sorts of things.
The Smiths had also been involved with the Otago Ballance Farm Environment Awards, winning farm stewardship, energy excellence and livestock awards in 2014.
Mr Smith remained a "very'' passionate sheep and beef farmer, saying it was a great lifestyle for the family, and the future looked good.
"What's lifestyle worth? We're sticking with it,'' he said.