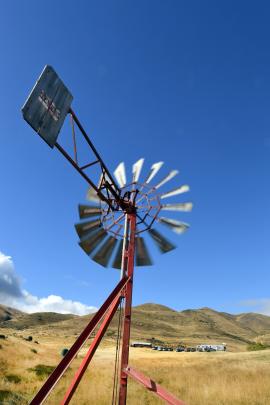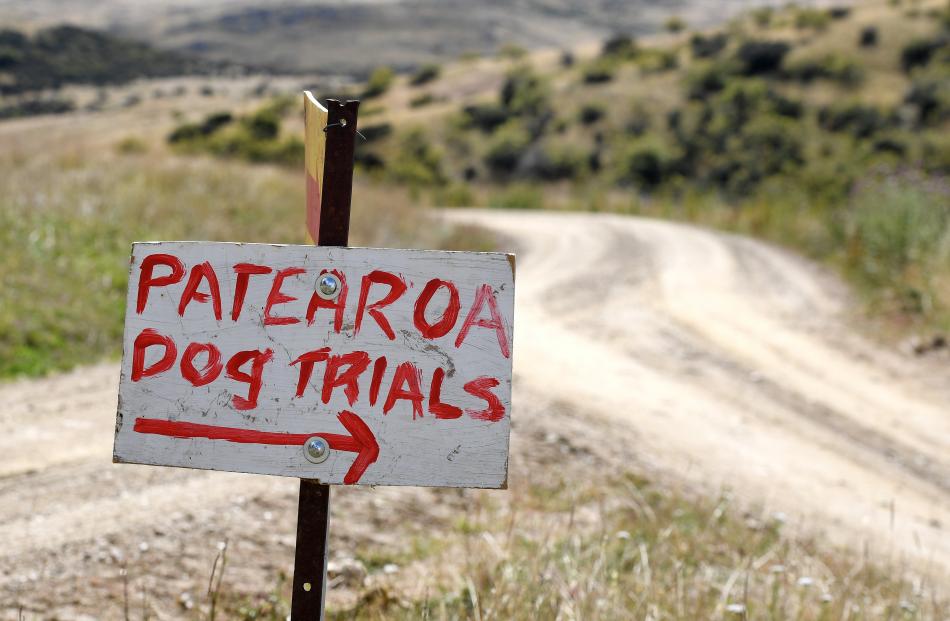 Holler for a Hore at the Patearoa dog trials and a few could appear.
For the Stonehenge clan is there in force, making a major contribution to ensuring the longevity of the Patearoa Collie Club.
Chas Hore was involved with setting up the club back in 1924 and, since then, successive generations have helped keep it running smoothly. This year's two-day trials were no exception.
Chas' grandson Jim, armed with a whisky, was in his usual role of running the short head and yard, a position he has held '' for bloody years''.
Jim's very capable wife, Sue, was at the helm of the cookshop, as food co-ordinator, although she reckoned it was her last year.
Sons Charlie and Andrew also filled important roles - Charlie as the club's president and Andrew running the bar.
Andrew's wife, Frankie, had been roped in as secretary and the couple's 2-year-old daughter, Esme, was armed with a broom, while Jim's brother, Neville, was competing.
And no trials would be complete without a visit from the club's patron, Jim, and Neville's mother, Donella (92), the family's remarkable matriarch.
There was a fairly relaxed atmosphere on the first day on a property on Hamilton Rd, the club's fourth venue.
Charlie's duties as president were not too arduous although, if an issue arose, he would ''try and sort it''.
''It's good fun. I enjoy it. It's all pretty relaxed,'' he said.
The club had a lot of good young members and it was encouraging to see about 18 at the pre-trials working bee.
He intended running a couple of dogs and, while he wouldn't mind getting a bit more involved in trialling in the future, he was busy enough with farming and children.
''You need to get a couple of decent dogs before you go and show them off,'' he said.
Acknowledging the strong Hore family involvement, Charlie quipped ''some of them have been better than others though''. ''It's only the old man and myself letting the team down.''
Jim, who was running ''a couple of average headers'', had his greatest trialling success with a second placing once with Nell in the straight hunt at the North Otago centre championships.
Brother Neville, from over in the Danseys Pass, has gone on to much greater things in the sport, representing New Zealand.
His name featured on the club's honours board, including winning the long head for the previous two years.
While Frankie acknowledged that watching a Tux dog biscuit advertisement was about the extent of her dog trialling knowledge - ''I haven't got a clue what's happening'' - she was happy to lend a hand.
She believed it was important to get involved in the local community and it was also a good social occasion and catch-up.
Asked whether she might catch the bug and get into trialling, she quipped that her previous life, prior to marriage and moving to the Maniototo, involved motorcycle racing and lecturing at university. Going from that to running dogs was ''possibly a step too far''.
''I know where my skills lie ... [but] I'm happy to help out with anything,'' she said, as she waited to take entries.
Her mother-in-law, Sue, became involved 44 years ago, when she married Jim, and was asked to provide a jar of jam for the dog trials. She had been involved with catering ever since but she was adamant that ''this is it''.
It had changed much over the years as, when she started ''95% of farmers' wives were at home and today they all work''.
The catering, which used to be a Plunket fundraiser, had been streamlined over the years and she enjoyed the good company in the cookshop.
One of her helpers was Debbie Kelly, from west Auckland, whose connection with the Hore family came through her husband, Grant, who drove the All Blacks bus.
He got to know Andrew, when he was All Blacks hooker, and also Jim. That led to Mrs Kelly, a keen horsewoman, coming south for musters on Stonehenge and also to take part in the Goldfields Cavalcade.
This year, she stayed on for a few more days after the cavalcade was finished to help out at the dog trials, an event she had ''only ever seen on Country Calendar''.
The inimitable Donella's involvement dated back to 1948 when she married Chap and moved to Stonehenge. Sometimes, she still dried the dishes in the cookshop.
Jim was the club secretary for 25 years - ''but Mum did it'' she said - and she later spent 11 years as North Otago centre secretary.
Leading a busy and active lifestyle, still playing bowls and bridge, she also continued to do all the Stonehenge darning - not only Jim's socks and jerseys, but also outside contracts.
''I go to embroidery [club] and the president brings her husband's socks and I darn them, too,'' she said.
And the last word on the dog trials must go to the quick-witted doughty nonagenarian.
''It's a proper Hore-y outfit,'' she declared.