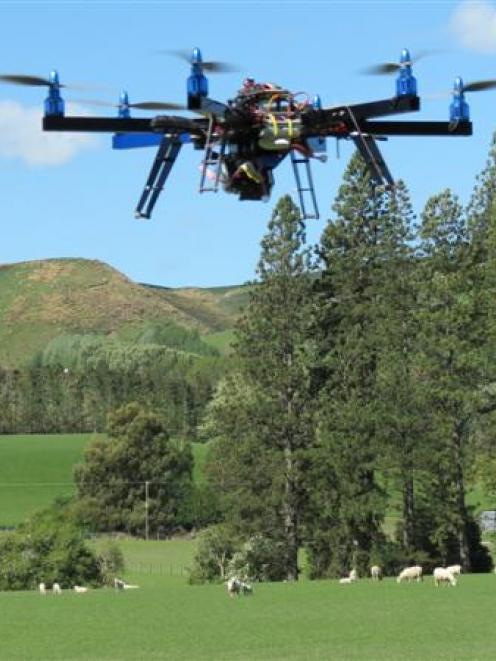 Drones will be the next big innovation in farm work, Mark Gardyne says.
Mark (13) has been exploring the use of a six-propeller hexagonal drone on his parents' Neil and Philippa's 466ha sheep, beef and cropping property at Otama since July as part of a Beef and Lamb New Zealand (BLNZ) trial.
Mr Gardyne imported the drone from Mexico after seeing their effectiveness on televised overseas war footage and he and Mark have been working with BLNZ and AbacusBio, of Dunedin, to collect data and establish the drone's effectiveness as a farm tool.
''We are looking at improved efficiency and safety and reducing our carbon footprint,'' Mr Gardyne said. The drone plus spare parts cost him $4000.
''We think it will provide about $15,000 in savings per annum, and another $35,000 added value by allowing us to make much better [on-farm] management decisions,'' he said.
It provided greater efficiencies when monitoring stock, by reducing the need to travel. He left the operation of the drone to his son, as Mark was far more adept at dealing with computers than he was.
''We estimate it has about 40 applications,'' Mark said.
''I believe it is as big for agriculture as the mobile phone is.''
Mark learned how to operate the drone in less than an hour, had only crashed it once and had given demonstrations for BLNZ and at his school. The drone carries several sensors and a camera, and can either be directed by remote control or programmed to automatically fly to certain points on the farm to perform ''missions'' such as monitoring stock.
It flies in a similar manner to a helicopter, and the camera sends images back to the operator's laptop or smartphone either in real time or for later playback. Mark wears goggles that allow him to see exactly what the drone is seeing in real time.
Downloadable software is available and they are co-ordinating the programs they want, to tailor the drone to meet their requirements.
Using the drone saves Mr and Mrs Gardyne considerable time when checking on stock, fences or water troughs.
If they see a problem on screen, they can then drive out to fix it.
''Checking the water troughs takes an hour-and-a-half job on the four-wheeler and it takes 10 minutes by drone,'' Mr Gardyne said.
They use it to monitor stock during calving or lambing, or for cast sheep, or check if there is sufficient feed in a paddock.
The drone's infrared camera provides thermal imaging.
One software program takes an image of a flock or herd in a paddock and then counts the number of stock and sends a report back.
The farmer can immediately see if some are missing, rather than finding out during the next muster. A future application will see it identifying porina, grass grub and aphid infestations.
''The Holy Grail is ... dry-matter measuring and we are well on the way to get that,'' he said. ''It will be able to go from paddock to paddock to estimate the dry matter and will help us make proactive rather than reactive decisions.''
Mr Gardyne said there would need to be some operational rules, to deal with, for instance, crossing property boundaries and privacy concerns.
---
SPECIFICATIONSANDCAPABILITIES
Weight: 1.8kg.
Top speed: 100kmh.
Range: 3km by remote control or further on automatic.
Flying height: Can reach 1000m (3000ft).
---