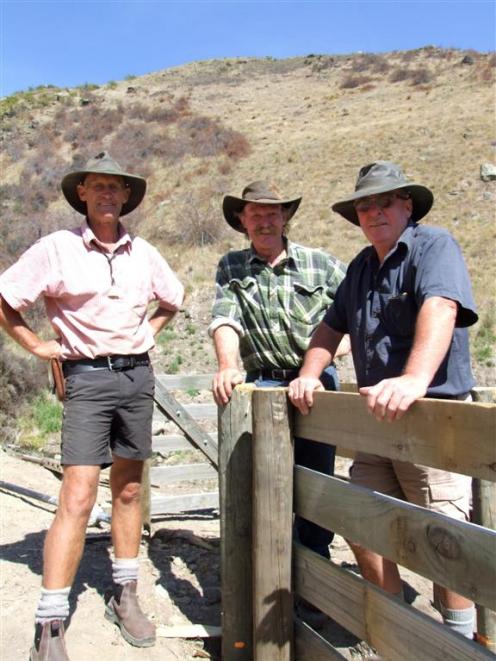 Alistair Campbell has clocked up a few kilometres perusing gullies on Earnscleugh Station - all in the search of the perfect dog-trial course.
The Omakau-Earnscleugh Collie Club's annual trials will for the first time be held at the station, on February 21 and 22.
Mr Campbell, himself a keen dog triallist, said he had done ''some miles'' trying to find the right spot, even waking in the middle of the night thinking he had found it - only to find out, in reality, he had not.
The difficulty was finding four courses - for the long head, short head and yard, zigzag hunt and straight hunt - close together on the vast property.
Mr Campbell reckoned three of the courses eventually settled on were outstanding and one - ''we'll find out''.''It's not your average long head but it's a terrific mustering course,'' fellow club member Bill Hinchey said.
The club, which dates back between 70 and 80 years, was based in the Waikerikeri Valley for the past decade or so. Before that, it was at Chatto Creek.
When the Campbell family said it was keen to host the trials, the club jumped at the opportunity. With Alistair and his son Duncan both keen triallists, it was an ideal arrangement.
Also, given the size of the Earnscleugh operation - about 20,000ha - there were plenty of sheep available for the trials.
The club was justifiably proud of its new venue and Mr Hinchey and fellow club member Barry Murphy heaped praise on the Campbell family for their huge input.
The best part was that the family wanted them to be there, Mr Murphy said. ''We're looking forward to it personally but we're a little bit biased,'' Mr Hinchey laughed.
The trio believed the venue was capable of one day hosting the New Zealand championships, and that was ultimately what the club hoped for.
Extensive work has been done for the trials, including access tracks laid by contractor Jack Samuel.
Interest is expected to be high, with the courses likely to attract more competitors than usual.
Last year, the club's trials were cancelled due to extremely dry conditions, and the Earnscleugh team in particular was ''pretty gutted'', Mr Campbell said.
The station employs four shepherds besides Mr Campbell and Duncan, who is in charge of day-to-day management of the property.
Their young shepherds had been training their dogs with the aim of competing at their local trials.
Competing locally first had made them keen to go to other trials, Mr Campbell said.
On an expansive high-country property like Earnscleugh, dogs were an integral part of the farming operation. ''We couldn't run the place without them,'' he said.
If they showed an interest in dog trials they tended to attract good young shepherds who were keen on training their dogs, he said.
Earnscleugh had its own cup, which was up for grabs by its shepherds. Two had never run a dog at trials before but it was a matter of ''having a go'', he said.
He hoped the venue would work well. A marquee was being used as a base this year but if the courses worked well, then the club might look for sponsorship for a building.
Some huts had been shifted on to the courses for the judges to sit in rather than suffer the searing Central Otago heat in a vehicle.
Sponsorship had been obtained from Vetlife in conjunction with Eukanuba, W.S. Hickey, Affco and Mighty Mix, which had helped out considerably.
It would be a merino trial, as they felt it was important to have a few merino trials in New Zealand because the breed was an essential part of the economy, Mr Hinchey said.
Mr Campbell first began dog-trialling in the 1960s, as ''everybody'' mustering on stations attended dog trials.
He spent about 40 years away from the sport when it became secondary to his farming operation but took it up again six or seven years ago.
Quipping that he was ''not the boss now'', he attended quite a few trials throughout the season and he had noticed some big changes from four decades ago.
Huntaways were ''light years better'' than when he first started trialling, and there were ''dozens and dozens'' of good young triallists with top dogs, which was not the case back then.
Despite the fall in sheep numbers in that time, there were more triallists running dogs than in the 1960s and 1970s and the quality was ''miles better''.
Usually, he kept about five dogs and the one or two ''weakest links'' moved on each year. ''It's like racehorses; you've got to turn them over to get a good one,'' he said.
Not every dog was going to be a top dog and about one in a hundred was a ''really top dog''.
Fellow club member Barry Murphy, who farms between Lauder and Omakau, is from a family that is synonymous with trialling in New Zealand.
He is a third-generation triallist but said it did not look likely that there would be a fourth generation, as they were not interested.
Mr Murphy was a teenager when he started trialling, although he said he probably attended trials before he could walk.
An island or New Zealand championship still eluded him and was something he was always keen to achieve.
Mr Hinchey said he was a little like Mr Campbell; he spent about 10 or 12 years trialling and then ''life got in the way'' and he was out of the sport for 25 years. He started again in the last decade and loved the sport.
He spent 20-odd years gold-mining and decided he wanted a decent-sized farm so he could ''go dog trialling'', he laughed.
He has since leased part of his farm, running about 1000 stock units himself, and still did a little prospecting.
He said he had enjoyed a ''fairly good run'' in recent times, with a couple of good dogs.
In 1986, he won a North Island zigzag hunt title with Ben at Te Aute and was second in the same event at Hakataramea in the New Zealand championships with the same dog that year.
He missed out on a New Zealand title by a quarter of a point and it was always his ambition to ''go and correct that one''.
The club is part of the North Otago centre, which is hosting the South Island and New Zealand championships at Omarama from May 30.
● The Omakau-Earnscleugh trials will be signposted 300m south of the Alexandra bridge.