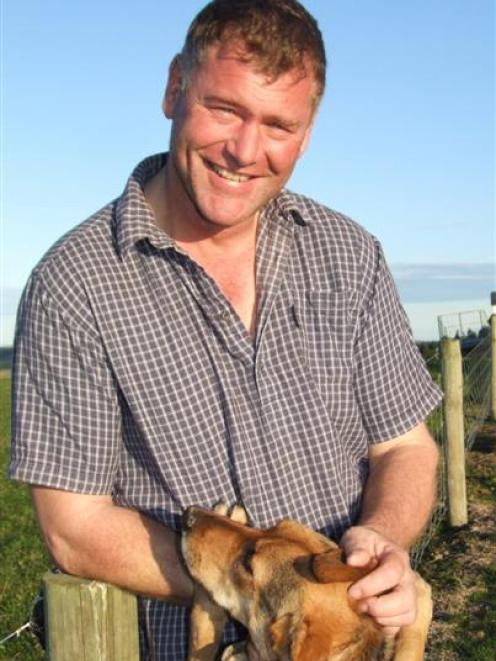 Dairy farmers have been again urged to "pull the belt buckle in" after Fonterra sliced 30c from its previous forecast range for the 2012-13 season to $5.65-$5.75.
The dairy co-operative has mostly blamed the continuing strength of the New Zealand dollar for a lower farm-gate milk price of $5.25 a kg of milk solids, down from $5.50, and a lower forecast net profit after-tax range of 40c-50c, down from 45c-55c a share.
It represented an estimated $500 million drop in revenue for the New Zealand economy and followed Westland Milk Products' 70c/kgMS downwards revision to its season forecast payout, which was now $5-$5.40.
While some recovery in global dairy prices was anticipated, Fonterra did not know how strong that recovery would be or when it would kick in and farmers were advised to continue to plan cautiously, chief executive Theo Spierings said.
Yesterday's announcement did not come as a surprise, as some economists had previously forecast as low as $5.50.
While it would be "tight, uncomfortable but not impossible", for some farmers it could be "really break-even stuff, to almost losing if they don't pull their horns in", North Otago Federated Farmers president Richard Strowger said.
The global economy was fragile and it was going to continue to be so and farmers were going to have to "pull the belt buckle in" and look at their costs, Mr Strowger said.
While there had been improving prices in recent GlobalDairyTrade trading events, the strength of the dollar was eroding any gains, Fonterra chairman Sir Henry van der Heyden said.
Overall, the GDT trade-weighted index was up 4.1% across the past four events, underpinned by a 7.8% rise on August 15.
However, prices were low compared with a year ago and the NZ dollar remained strong against the US dollar.
Fonterra's consumer businesses were under pressure because of unfavourable foreign exchange translation effects in many markets, and a difficult retail environment affecting the Australia-New Zealand business, chief executive Mr Spierings said.
There appeared to be some early signs of strengthening dairy prices, partially driven by global weather events.
A serious drought in the United States was pushing up the price of grain, which seemed to be affecting dairy production and tightening supply.
Weather conditions in Europe, with extreme wet in the northern regions of the continent and a heatwave in the south, were also affecting grain production, while the Indian summer monsoon was also off to a slow start, with rainfall about 20% below normal, Mr Spierings said.
Federated Farmers dairy chairman Willy Leferink said most farmers would have prepared two budgets based on a mid and low $5 payout and farmers should now realign their lower-end budgets down to $5.
It had been a "hell of a wet season" and, with calving still in progress, farmers were under "immense pressure".
Those under financial stress needed to be "completely open" with their bank manager and should also put their hand up if they needed help.
"If you feel yourself overwhelmed, don't be stoic. Talk to your family, your neighbours and to us at Federated Farmers," Mr Leferink said.
Fonterra Shareholders Council chairman Ian Brown said farmers' resilience and early signs of a turnaround in commodity prices should help soften the news.
At some stage, the "massive effort" farmers had been putting in, the record volumes they had been producing and the product they had been moving needed to positively affect the payout, he said.