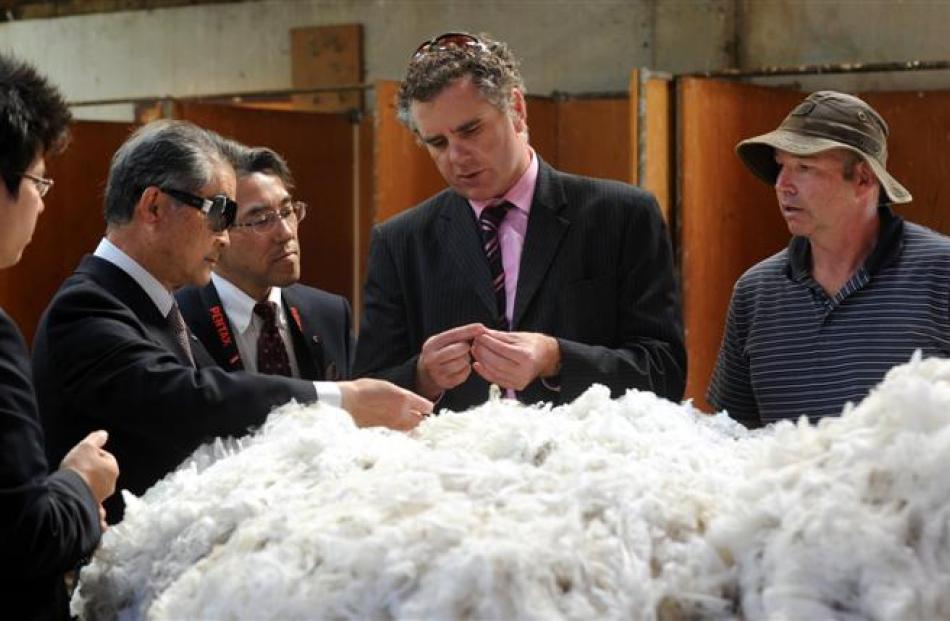 On a gloriously sunny autumn day in the Maniototo this week, a small Cessna aircraft landed on a farm strip at Gimmerburn. Agribusiness reporter Sally Rae was on hand to discover more about the visit.
It was, as they say, a flying visit.
Alighting from the plane, in that most rural Central Otago landscape, were three Japanese gentlemen, bedecked in suits.
They had made a special trip from Japan to meet the Clarke family from Closeburn Station.
The visit by Konaka Co Ltd chief executive Kensuke Konaka, technical adviser Mitsuo Hori, and Kento Nagao, from wool trading company Nagao Shoji, was a goodwill gesture.
Ultra-fine 15-micron merino wool from Closeburn will replace cashmere in a new winter range being designed by Konaka, an apparel company with more than 300 retail outlets throughout Japan.
The delegation flew out to have a look around the property and record the deal with the Clarke family in person.
The deal was brokered by H. Dawson NZ senior trader Craig Smith, who said matching hand-picked growers to specific overseas clients was proving attractive to all involved.
For the client, the driver was two-fold - telling the origin-of-wool story as well as the quality-of-fibre story.
For the grower, it was being rewarded for farming practices that often took years of investment to perfect, he said.
Closeburn Station has been in the Clarke family for 90 years and three generations. Now farmed by Tony Clarke, his wife Rebecca Crawford and their two children Anna (9) and Hayden (7), the property comprises 3800ha in three blocks.
It runs 2200 merino ewes, 1400 merino wethers and 1300 merino lambs, along with 3400 Corriedale ewes and 800 hoggets, and 230 cattle.
The family showed the visitors their property, their sheep and their wool, along with treating them to lunch on the farm with fillet steak, merino chops, sausages and salads on the menu.
At the end of the visit, when the delegation was on its way back to Christchurch, Mr Clarke declared it had been a "very positive day".
A memorandum of partnership had been signed and the visit was recorded on film, which would be used as part of a national Japanese television media campaign.
That campaign would focus on the origin of the fibre in the fabric, something that was seen as a strong selling point.
The company was "looking long term" and that was extremely exciting, Mr Clarke said.
It was back in January that he got a call from Mr Smith, who was in Japan, to say "we might have something".
From there, things had moved quickly and it was in February that he learned of the company's intention to visit.
Mr Clarke's other passion, apart from farming, is karate. A 4th dan black belt in the martial art, he has visited Japan. It was a country that he had an affinity for.
Using duck-shooting terminology - that favourite Central Otago pastime - he said the ducks were "lined up".
The micron he was producing was what Konaka wanted, he wanted to sell to the Japanese and they wanted to buy from him. The company also wanted to have that personal connection "which suits me down to the ground".
The fineness of the wool achieved by Mr Clarke, over a 13-year-long breeding programme, was a major factor that clinched the deal.
Konaka believed the 15-micron New Zealand wool offered greater softness, bulk and durability.
"Sourced from" Closeburn Station was a major part of the company's marketing "story".
Customers wanted to know the story behind the fibre in their fabric, from the grassroots to the garment, Mr Konaka said.
The corporate garment market in Japan was highly competitive and Konaka believed using Closeburn's wool offered them the opportunity to present something new to the market - a fibre beyond cashmere.
That quality of fibre that Closeburn had achieved was impressive. In many ways it was equivalent to cashmere and, in some ways, it was superior, he said.
The deal followed careful matching of the grower to the buyer by H. Dawson, based on the exporter's knowledge of both sides of the market. It was part of the company's Merino Initiatives programme.
"Deals such as this offer a win-win for everyone. We specifically seek to build long-term partnerships that are financially beneficial to growers and buyers both now and for years to come," Mr Smith said.
Closeburn was getting about double the current price of the clean weight per kilogram for its product, while Konaka was getting the assurance of the quality it was after.
Konaka had trialled the Closeburn wool with positive results, Mr Smith said.
Mr Clarke, who took over running the property in the mid-1990s, said Closeburn had gone out of merinos for about 20 years. About 1989, it started getting back into them.
An artificial insemination breeding programme started in 1999, using sires from Moutere Station, and was done for 11 years.
Mr Clarke said the Japanese visitors "absolutely loved" being at Closeburn.
The weather played its part and he took them up the hill, with expansive views, on the back of the ute.
They were also "very, very happy" with the wool and sheep they were shown.
They asked lots of questions and were very interested in the property, particularly the fact that mulesing had never been done there. There was even talk of Mr Konaka returning for a muster.
Mr Clarke was hoping it would be a long-term relationship between Closeburn and Konaka, enabling him to "make this into a better place for the next generation".
He was enjoying probably the best season ever in his farming career although, being a Central Otago farmer, he was realistic that it would not last forever.
"That old term, make hay while the sun shines, is very apt," he said.