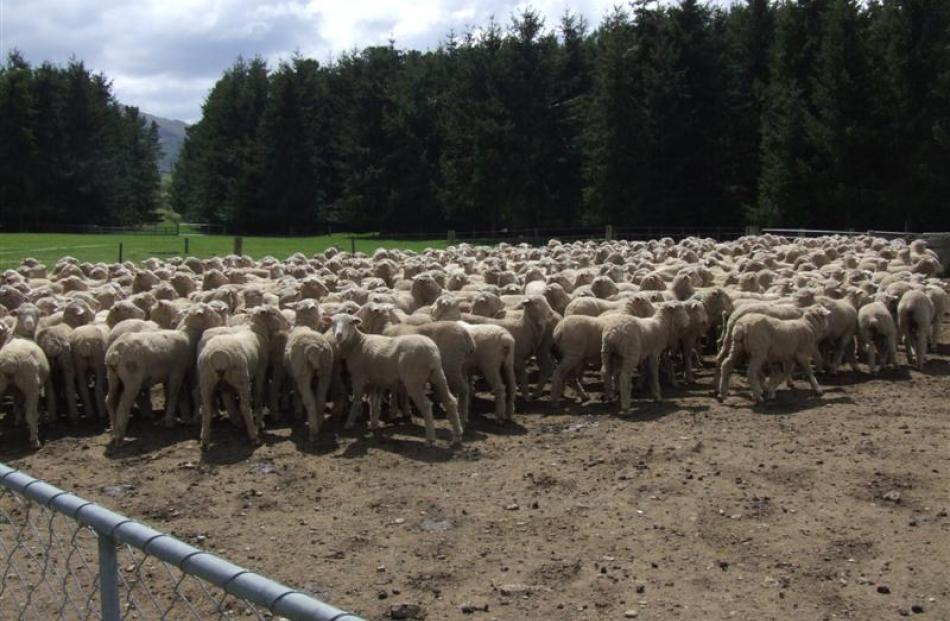 Barbara Annan admits she knew very little about farming when she found herself widowed with three young children and a station to run.
Until her husband John's sudden death in 1990, her role on Lindis Peaks Station, a 3759ha property near Tarras, had been limited to driving an old Austin truck feeding out, helping with tailing, and driving the Land-Cruiser, with the children on board, raking hay.
While she had wonderful help from friends and neighbours, she felt ''extremely inadequate''.
''I was devastated and didn't quite know what to do,'' Mrs Annan recalled, during a field day organised by the Otago Merino Association at Lindis Peaks on Friday.
Lindis Peaks was drawn from the Morven Hills ballot by her children's great-great-uncle Nelson Young in 1910 and he later bought additional land.
When Mr Young died in 1940, her father-in-law, Charlie, took over. John Annan took over in 1975, when the couple married.
Mrs Annan believed both her husband and her father-in-law were quite innovative. Charlie Annan did a lot of cropping, while John Annan got a land development encouragement loan, did fencing up on the hill and worked up the native ground on the downs. He also started to chop lucerne into silage.
Following a conversation with a friend whose property was run under a board structure, Mrs Annan decided to implement that initiative at Lindis Peaks in 1997.
She believed it was a very effective way of running the business. Meetings were a ''wonderful vehicle'' for being able to discuss what was going to happen and the vision of farm manager Tom Moore. He was able to suggest what machinery he would like to buy, any grievances could be discussed, and expert opinions could be garnered from ''all sorts of people'', she said.
''It's a business model that I think works really well for this property,'' she said.
Mrs Annan met Mr Moore every two weeks and they went through the accounts and discussed what was happening on the farm.
The rest of the time, he was responsible for all the day-to-day running and any long-term changes he would like.
Mrs Annan was now stepping back a little and daughter Lucy was taking over as farm secretary. The team worked effectively together, she said.
Mr Moore looked after the stock work, while Lucy's husband, Simon Maling, was investigating irrigation development options.
Lindis Peaks is a dryland property, ranging from 300m to 1300m, and comprising hill country, rolling downs and flats.
This year, stock wintered comprised 9200 ewes, 6000 hoggets, 135 cows and 100 rising 2-year cattle. The main emphasis was on fattening hoggets.
The property used to run halfbreds but, about 25 years ago, they started putting merino rams over the halfbred ewes. Bloodlines were Malvern Downs and Armidale and most of the wool went to Icebreaker. About 3500 ewes went to a terminal sire.
Mr Moore, who came to Lindis Peaks in 2003, after seven years at Bendigo Station at Tarras, said there was still a lot to do but he really enjoyed his job.
Mr Maling, a former Otago All Black, acknowledged he was ''pretty new'' to the agricultural industry and had been shepherding at Lindis Peaks for a couple of years.
Looking at irrigation options for the future had been an interesting exercise. They had done some modelling on irrigation and how it could work for the property, the focus being on how best to maximise sheep farming, he said.
Farm consultant Peter Young outlined factors to be considered when assessing the value of irrigation. Those included water source location, quality and reliability, design and planning, capital costs, whether the development was complementary to the existing farm system, financial analysis, looking at the purpose of the development and what return was acceptable, and management.
Some highly successful extensive farmers struggled with the intensive nature of irrigation. They had to be prepared for super-intensive management if they were to get the most out of the development.
''You can't afford not to,'' he said.
Zella Smith, from Environment Canterbury, and Bruce Monaghan, from the Otago Regional Council,
spoke about their respective councils' water plans.
The proposed Canterbury land and water regional plan, which was going to affect the development of farming in the region, set the framework for managing to environmental limits within catchments in terms of water quality, Ms Smith said.
The plan was notified last year and the extent to which an individual property owner was affected depended on their operation.
Before July 1, 2017, the focus was on raising awareness of nitrogen-leaching losses from farming activities. Farmers should be keeping records of how things operated on their farm, particularly using Overseer. It was expected that by July 2017, specific leaching limits for different farming activities would be established.
Farmers who complied with the limits, once established, would continue to farm as a permitted activity. If they could not comply, they might require a resource consent, she said.
Dave Anderson, from Bog Roy Station, near Omarama, said things were ''going to get worse'', with more intensive agriculture and more nutrient leaching and loading.
''You'd be betting on long odds to say compliance will get more lenient and less expensive,'' he said.
Richard Subtil, from Omarama Station, believed it was important to not just ''whack it in the bottom drawer'' if your nutrient budget looked good. Spending money getting it peer-reviewed could be the ''cheapest thing you do'' as, when it got picked up in the next edition, it could be ''just so far off the other side of the scale it's not funny''. Getting the right answer from Overseer in one edition could be ''riding for a fall'', Mr Subtil said.
Mr Monaghan outlined the Otago Regional Council's proposed plan change 6A which was near to being finalised.
It remained an effects-based plan for permitted activity. The way farmers farmed was over to them, as long as they met the standards specified in the plan.
The objectives were to achieve good water quality, make sure farmers could run an economic business, and provide for recreational opportunities, he said.
When speaking to sheep and beef farmers on undulating rolling hill country around Otago, the part of the plan that gave the most concern was stock access to water, because of the uncertainty of whether they had to fence off waterways, Mr Monaghan said.
Stock could have access to any waterway in Otago providing they were not causing discoloration or contamination and there was no pugging, slipping and slumping.
Stock could be taken through through waterways if there was no crossing or bridge, but farmers needed to make sure it did not cause contamination or discoloration of water.
When that comment brought murmurs from those attending, he said a reasonable amount of discoloration had yet to be worked through.
The council would be holding roadshows and there would be liaison and guidance to meet the water quality standards, he said.
Mr Subtil believed farmers should be doing their own water quality tests. It would mean when ''some trigger point set by somebody else'' was activated, the farmer would have reliable, historical data on what impact they had had on that waterway.
''Otherwise, people come along and point the finger and you don't have information to counteract what they're saying,'' he said.