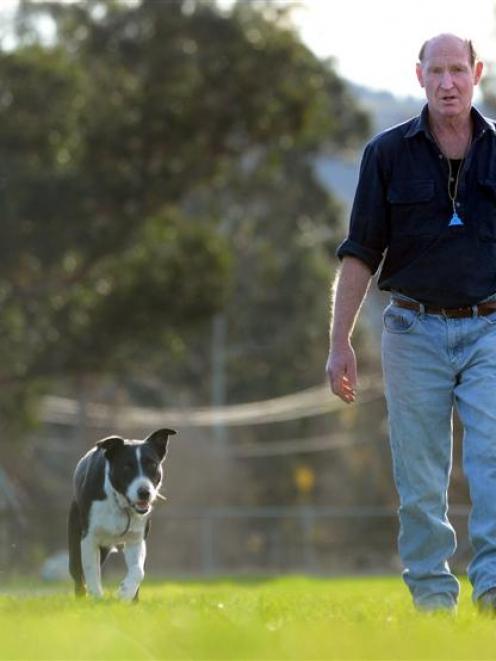 Newly elected New Zealand Sheep Dog Trial Association president Graham White may have a big year ahead of him - but he will still fit in some dog trialling.
''Too right'', Mr White (64), who already has several judging appointments for the next season, said. His involvement with dog trials spans more than 40 years and he has been vice president of the association for the past four years.
Originally from Waikouaiti, he estimated he would have been aged 12 or 13 when he first went along to a dog trial, as a spectator, and was ''just fascinated'' by the sport.
Mr White was working at Lambhill Station at Hindon when he was first encouraged to have a go at trials.
He has had a long involvement with the Taieri Collie Club, including serving as president, and he has been treasurer for about 23 years.
He has also served as president of the Otago centre and been a delegate, representing Otago, to the New Zealand council of the association.
The best part of dog trialling was all the good, like minded people you got to meet, along with an opportunity to see other farming operations, he said.
He had travelled throughout the country, attending trials from as far afield as Mt Linton, in Southland, to Northland.
His greatest thrill was winning the New Zealand short head and yard title with Pearl, at Omarama in 1996. He got Pearl from Alice Scorgie, following the death of her husband, top triallist Bill Scorgie, from Lee Stream, who was also a member of the Taieri club. That made the win even more special, he said.
He qualified a dog for this year's New Zealand championships, held last month at Moawhango, near Taihape, and while pleased with its performance, it was not good enough to make the run off.
After farming for 36 years at Hindon, Mr White and his wife Shelly were now living near Mosgiel where he still had land on which to run sheep and work his dogs, while he also gave other farmers a hand.
''I'm supposed to be slowing down but I'm finding it hard to do,'' he laughed.
Most of his dog training was undertaken in his everyday work, but the finer points needed to be touched up to get to the top level. The level of competition had lifted ''a heck of a lot'' over the past few years, he said.
There were 161 dog trial clubs throughout New Zealand, encompassing about 4500 competitors.
Numbers went down a few years ago but there had since been a resurgence and it was also pleasing to see the number of young women competing, Mr White said.
Dog training days were a good way to get people involved and then go on to compete at dog trials. It was important to help and encourage young enthusiasts, he said.
When it came to his new position as president, it was a bit like why he was happy to judge at events - it was good to give something back to a sport that he had got so much fun out of. It was also a privilege to be asked to be president. The position was usually a four year term, he said.
While the dog trial season had finished, Mr White was busy working on the transtasman challenge against Australia which will be held in Taupo later this year.
Meanwhile, it will be a big year for the North Otago centre next year when it hosts the South Island and New Zealand championships at Omarama.
This year's New Zealand championships went ''extremely well'', despite snow on the first day, he said.
The association's annual meeting was held the same week and, since returning, he had received many congratulatory calls, an indication of the fellowship involved in the sport, he said.