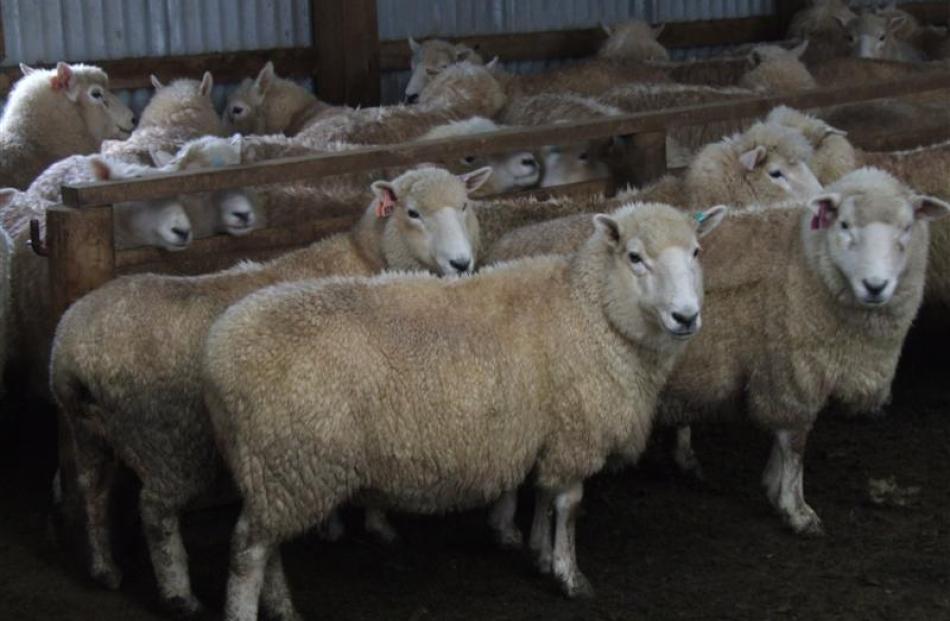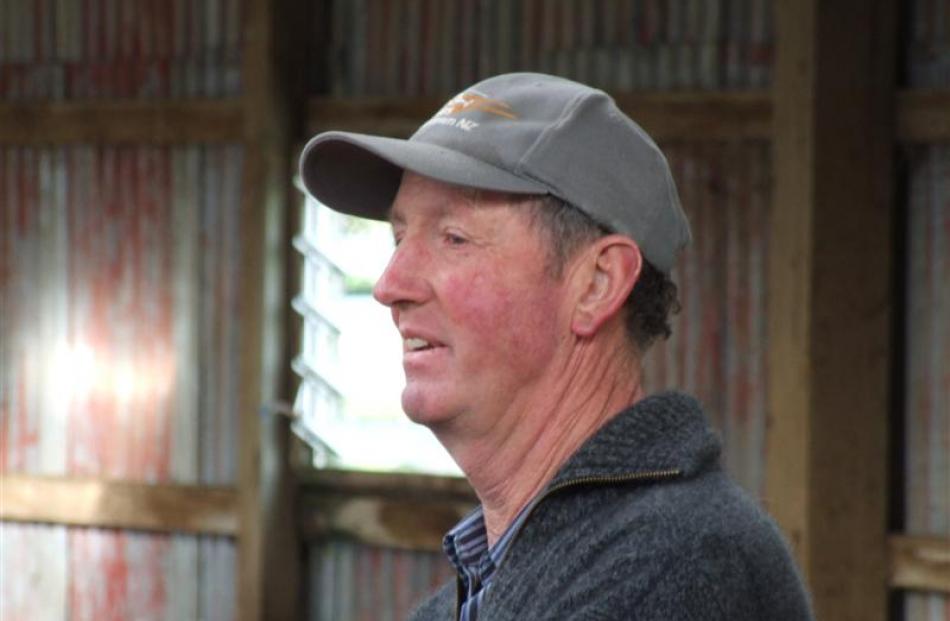 The Mitchell family, from Clinton, have been highlighted as an example of what the ''Perendale spirit'' is all about.
On Friday, Rae Mitchell was made a life member of the Otago Perendale Breeders Club, during the Farmlands Perendale New Zealand national conference in Otago.
During a conference tour visit to the Mitchell family's farm, home of the Hillcrest Perendale stud, PerendaleNZ chairman Tim Anderson said it was a family farm, working together and producing top sheep.
Mr Mitchell was ''very humbled'' by the presentation, saying involvement with the breed had played a major role in his family.
There had been ups and downs, but also a lot of highs, and they had made many friends.
The 640ha property, farmed by Rae, Roslyn and Scott Mitchell, runs 3300 breeding ewes and 900 hoggets, plus cattle.
The Perendale stud, established in 1972, comprised 230 ewes, 100 ewe hoggets and 120 ram hoggets.
Stud ewes were run commercially except at mating and lambing. All ewes had been under a nil drench programme since 1989.
The selection policy was for survivability, fertility, white quality wool and well-muscled rams.
A Cheviot stud was added in 2003 and the Mitchells had found them to be ideal for hogget mating.
Another life membership was conferred during the tour, on Clyde Gardner, who established a Perendale stud in South Otago in 1973.
Mr Gardner's son Howie, daughter-in-law Marion and grandson Rhys, along with two full-time staff, now run a 12,000-stock-unit sheep and beef property in the Puerua Valley, which includes the 550-ewe Perendale stud flock.
Awakiki Ridges comprised about 1550ha (1150ha effective), with 200ha in native bush and 200ha in production forestry.
It was mostly rolling and medium hill country, a little flat land, and some steep faces.
The size of the property was virtually doubled in 2006 with the acquisition of a neighbouring farm - one of the very best moves he had ever made, Howie Gardner said.
A farm tour, made possible due to a well-roaded layout, showed an impressive farming operation and Mr Gardner said they now had ''pretty much'' all the infrastructure they wanted.
It had been a very long process to get the property to the standard it was at now, which he considered to be ''reasonably advanced''. A feed pad for cattle had proven to be a good move.
While the property was largely free of problem weeds, Mr Gardner spoke of the effects of the damaging clover root weevil, which has become prevalent in the South.
The family's vision was for Awakiki Ridges to be a leading sheep and beef farming business, achieving optimal production and financial returns.
That would be achieved by continuing to improve stock genetics and always striving for best-practice stockmanship.
Lambing percentage ranged from 112% to 143% and the average lamb finishing weight was 17.5kg. The property produced 55,000kg of wool a year.
Mr Gardner has a particular interest in the wool industry and he is a director of both Primary Wool Co-operative and joint venture Elders Primary Wool.
He questioned why there should be three farmer-owned entities operating in the wool industry.
There should be only one grower entity - that was a ''no-brainer'' for such a tiny industry, he said.
Elders Primary Wool chairman Stuart Chapman urged farmers to keep their wool quality up and keep their faith in the product.
''Please don't talk about it as a by-product,'' he implored.
No-one was happy with the returns farmers were getting but they were doing their best to improve it, Mr Chapman said.
The Just Shorn programme had been running for four years and it had been a ''long slog'' and taken a lot longer to get established than first anticipated.
The United States market was chosen as a focus because, historically, broadloom carpet had sold extremely well there.
In the 1960s, broadloom wool carpet made up to 96% of the soft flooring market and now it was between 2% and 3%.
To ''allow synthetics to clean us out'' was a ''huge tragedy''. The company was now picking up 40 years of neglect and it was not an easy process, he said.
Both consumers and retailers needed to be educated about wool and its many attributes, he said.
There was ''definitely a drive away from oil'' and he believed a great opportunity existed. The company was targeting the middle to high end of the market.
Eugene O'Sullivan, from Pastoral Measurements Ltd (PML), a field-based service that measures wool and other animal fibre, said other markets needed to be looked at, rather than ''throwing it in a heap''.
Mr O'Sullivan established the company in 1998 after farming all his life. PML produced the first mobile fibre analysis laboratory and developed its own fibre analysis software.
It was fascinating seeing so many different types of wool and the different appreciations of wool that farmers had, he said.
He was positive about the future, saying there was ''huge potential''.
Former shearer and farmer Don Morrison, who works for the company, said wool needed to be pointed to the highest possible value.
''We can't play in the bargain basement.''
Elders Primary Wool supply relationship manager Roger Fuller said wool prices were moving forward and hopefully that would continue. The market looked encouraging and was certainly better than it was last year.
The tour also included a visit to AgResearch's Invermay Research Centre, where Dr Michael Lee spoke about the new Beef and Lamb New Zealand Genetics entity.
One of its aims was to set up the industry for the future and research would include ensuring rams were bred to fit the environment their progeny were expected to perform on, he said.
Dr Neville Jopson, managing director of AbacusBio, outlined the hill country Central Progeny Test. While it was early days, and it would not be until 2016 that they would start to get useful information, a start had been made, he said.
Dr Tricia Johnson, from AgResearch, also spoke about facial eczema, which was no longer isolated to ''a pocket of New Zealand''. Testing had found spores in Canterbury and it was a trait that was going to be increasingly important, she said..
Several awards were made during the conference, including the Sir Geoffrey Peren Cup, which was won by Adam Lindsay, his partner Jules Blanchard and his mother Karen Lindsay.
The trio farm a 2000ha sheep, beef and dairy grazing property at Kyeburn that runs about 9600 Perendale ewes.
The Struan Trophy, for contribution to the Perendale breed, was awarded to North Otago farmer David Ruddenklau.
In presenting the trophy to Mr Ruddenklau, his friend and fellow breeder Robert Gardyne spoke of his integrity, adherence to principles, stockmanship, tenacity and sound thinking.
Mr Ruddenklau founded the Newhaven Perendale stud in 1972 and it has since grown to become the largest SIL-recorded Perendale flock in New Zealand. He was the inaugural chairman of the Perendale New Zealand national progeny trial.
As well as his involvement with the Perendale breed, Mr Ruddenklau has also had a strong involvement in the North Otago community.