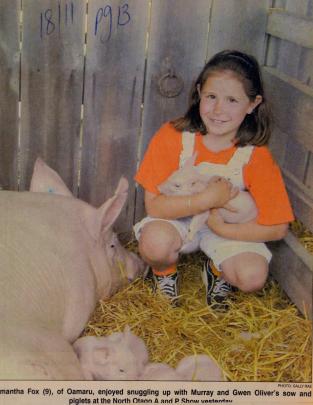 An inspirational North Otago mother-and-daughter duo who run a busy pig-farming operation are proof that women can do anything.   Sally Rae reports. 
"Pink definitely belongs on the farm,'' Sam Fox reckons.
Sam (24) can be found most days in hot-pink overalls, working alongside her mother, Debbie, at their North Otago piggery.
''She says that's the boss' colour,'' her mother says, while Sam quips she needs a badge to identify that she is ''chief executive'' of Rayburn Farm Ltd.
The pair's obviously strong relationship goes deeper than the usual mother-daughter bond because they are also business partners, together running an intensive farming operation.
And while Sam wears her pink overalls with pride, her mother is proud to don the more usual blue ones to keep herself clean.
''Gary was the blue overalls king,'' Debbie (48) said, referring to her late husband and Sam's father, who died in September last year, aged 50, after a battle with cancer.
The two women, who share an infectious smile and a positive approach to life, have continued to run the piggery, while the surrounding farm has been leased out for some time.
A major expansion was undertaken during Mr Fox's illness, which substantially increased numbers to up to 2000 pigs.
Debbie Fox spent her early years in Dunedin, moving with her family to Oamaru when she was 11. She had always enjoyed the outdoors and her first job was as a land girl for Trevor and Gail Meikle.
She became a farmer's wife when she married Gary 28 years ago and she loved the rural lifestyle, living on the 93ha farm her husband had had since he was 19.
Sam, who shared a rural upbringing with elder brother Jeffrey, was animal mad from a very young age.
Describing herself as her father's ''right-hand man'', she has always had a collection of pets including horses, dogs, cats, hens - and two pet lambs ''that come and eat my roses'', her mother said.
''But if you've got a farm, you've got to fill it,'' Sam said.
Sam left school partway through year 13, aged 17, after she got a job at an accountancy firm in Oamaru.
She applied to gain the experience of going through the interview process, but landed the job.
About three years ago, Sam's father asked her if she wanted to work in the piggery. She traded her office clothes for her overalls and while it was initially going to be temporary, she has never left.
''As soon as I was here, I found my place. I'm working towards something. This is where I want to be; I can't imagine me anywhere else, actually. It's just a special place,'' Sam said.
While the two women had some casual help, it was mostly just them - and there was always ''Grandad Fox'', Gary's father, Ray, who was ''fabulous'' when it came to helping.
''He's my fixer-upper,'' Sam said.
But the pair tried to find their own way ''because we're actually girls''.
''I know it sounds weird but men and females do things their way. Sometimes they'll tell you what way to do it, but you end up finding your way of doing it,'' Debbie said.
''You need to find what works for you. I'll always give it a crack and, if I can't, I call Grandad,'' Sam added.
''We've had to learn a bit. We can fix things,'' Debbie said, while Sam added that she was a ''pig-farmer-cum-plumber''.
Debbie reckoned her husband would be proud of what they had achieved and she was proud of her daughter.
''We keep a nice, clean, tidy piggery and do our best. That's our main aim - look after our animals,'' she said.
While they had got over the ''hard hurdles'', it was not always easy - ''they are still there, don't get me wrong, because I miss him [Gary] every day'' - and they were very grateful for the support of family and friends.
Coping with the demands of a piggery while also having such an ill husband had been very difficult and stressful. Debbie acknowledged that she went through a stage where she felt like it had robbed her of her time with her husband, but she had ''got over that'' and she was enjoying what she was doing.
''Most days, we have very good days. Sam and I get on very, very well. There's not many days we can't be together.
''If she's not having a good day, or I'm not, we just do our own thing, then come back the next day and it's another new day,'' she said.
Sam reckoned it was the ''perfect lifestyle'', while her mother did not ''want it any other way''.
''I'm seeing my way clear a bit better. I try to put a smile on because [you] want people to be able to talk to you.''
It was a seven-day a week operation and the two women took turns at working weekends. Sam, who lived in Oamaru with her partner, still had fun with her ''really great bunch'' of friends, but she did not forget her responsibilities, her mother said.
Debbie took Wednesdays off to spend time with her young grandson Jake, who was already showing a strong interest in animals.
Both women took an active interest in the pork industry, which was a great industry to be part of, Sam said.
It was like a big family and everyone they dealt with was ''just fantastic'' and looked after them, Debbie said.
The two encouraged the public to buy New Zealand pork, and shun imported products. They could not understand how imported pork could be allowed into New Zealand.
It was a busy lifestyle for the two women, with lots of visitors popping in during the week.
''My kitchen is busy, it's the simple way of putting it,'' Debbie said.
But ever a good, capable rural woman, ''if you've got eggs and a bit of bacon, you can do anything'', she said.