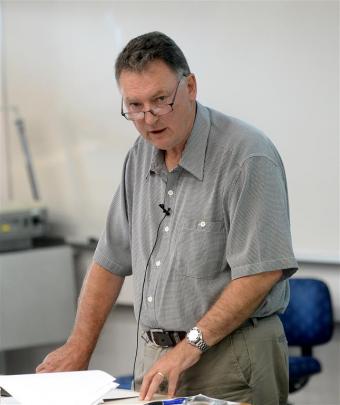 The challenge of achieving sustainability and growing pressure on New Zealand's rural landscape were highlighted during a national geography conference at the University of Otago yesterday.
New Zealand Geographical Society president Emeritus Prof Harvey Perkins, of Auckland University, and Prof Eric Pawson, of Canterbury University, gave a joint keynote presentation on New Zealand ''going global''.
They also focused on ''the tensions of rapidly shifting external relationships and the remaking of domestic rural landscapes''.
The talks, at the society's national conference, reflected on rural environmental pressures arising from ''the stark emergence of dairy super-productivism'' in the Mackenzie Country and also on ''the subtle complexities of post-productivist merino landscapes in Central Otago''.
The speakers contrasted the approaches taken in dairy commodity exports and in higher value-added merino wool production.
Conference participants also undertook a series of field trips yesterday afternoon, including to the Orokonui Ecosanctuary, to Dunedin's Warehouse heritage precinct and to nearby beaches.
In an earlier keynote address, Prof Graciela Metternicht, of the University of New South Wales, spoke on the challenge of implementing the United Nations' 2030 Agenda for Sustainable Development.
About 180 people are attending the conference, which ends today.