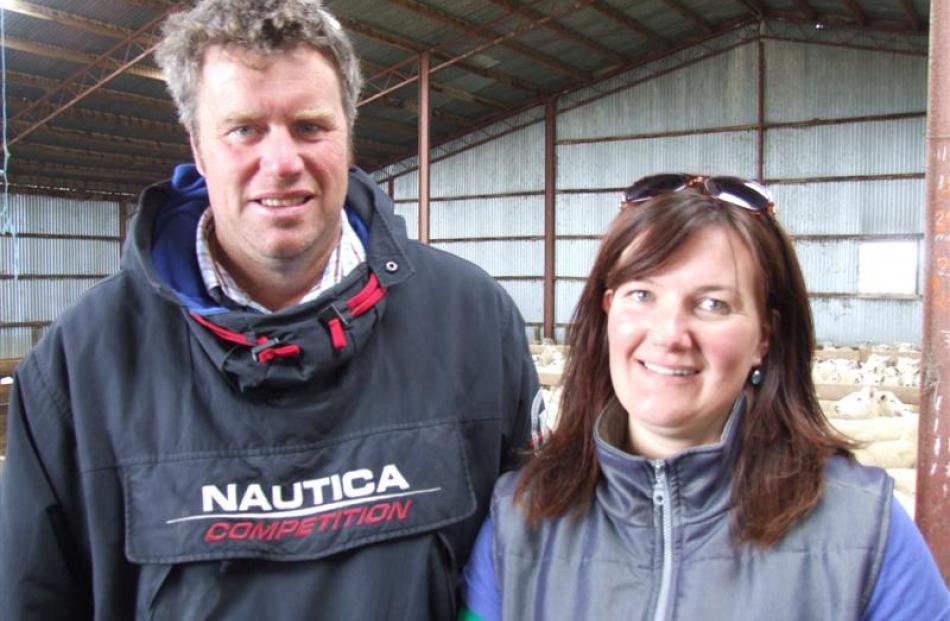 Reward for effort.
That is a common saying in the Engelbrecht household in East Otago, applied to anything from farming to the sports field.
''That sums up everything in life,'' Simon Engelbrecht told those attending a field day at his farm last week.
Mr Engelbrecht, who farms at Stoneburn, near Palmerston, with his wife Kirstin, was a firm believer in ''do it 100% or don't do it''.
The couple were the winners of this year's New Zealand ewe hogget competition. First-time entrants in the competition, they won the crossbred section with their Coopdale hoggets and the flock performance award, before winning the overall title.
When the judges of the national final arrived at the property, it ''wasn't much of a day'' but it was not long before Mr Engelbrecht proclaimed he had the best job in the world, national convener Stephen Rabbidge recalled.
''It didn't take me very long to realise Simon actually meant it. He was full of passion and with a really good, positive attitude and that goes for Kirstin as well,'' he said.
Describing the operation as a hard-working family unit, Mr Rabbidge said the clear message they came away with was ''hard work does bring rewards''.
It was very much a family affair with the couple's children Oscar (16), Sam (14), Anna (12) and Charles (10) all actively involved on the farm.
Originally from Waimate, Mr Engelbrecht leased farms for 10 years before moving into farm ownership.
The family moved to Stoneburn nearly 10 years ago, having sold a farm at the top of the Hakataramea Valley.
The property had been farmed by the previous owners for 50 years and they had done a ''great job'' with established shelter and good infrastructure.
With between about 15 and 20km of shelter belts, that was a key selling-point for Mr Engelbrecht.
''I wouldn't have bought the farm if it didn't have trees on it,'' he said.
Core stocking on the 611ha property was now about 3200 ewes, 850 hoggets and 60 cows.
Corriedales were farmed by the previous owners but the breed was not Mr Engelbrecht's ''thing''.
For the past five or six years, they have been farming Coopdales. Having looked at at various breeds, he felt Coopdales were the best fit for the property.
Rams were bought from Alastair Cocks in the Clinton Gorge. When it came to buying rams, Mr Engelbrecht wanted a ''Coopdale that looks like a Coopworth''.
He was also looking for good-woolled sheep with good bone and length and a long history of fertility and survivability.
This year, they scanned 182% and lambed 170% and the ewes were ''great mothers''. More than half the ewes went to a terminal sire.
Lambing was ''pretty intensive'', with mothering-on done, and it was all about ''lack of wastage'' which meant more kilograms of meat per hectare, he said.
Contractors did all the agricultural work on the property, apart from spraying. Mr Engelbrecht enjoyed stock work and would rather be doing that.
He was a firm believer in buying the best genetics possible, whether rams or bulls, feeding stock well and, as a result, getting results.
Ravensdown key account manager Nicky Hand said Mr Engelbrecht was focused on ''doing the basics right'' and that was something that he did very well.
Crop and new grass paddocks were priorities. He did a lot of soil testing and working with his fertiliser representative to discuss the best options, she said. Mr Engelbrecht said he did not hold back on fertiliser, as he saw it as an investment rather than a cost.
The national final was judged by Preston Hope, from Deep Stream, Nic Clarke, from Ranfurly, and Stewart Morton, from the North Island.
Mr Hope was impressed with the ''really positive'' atmosphere at the Engelbrechts, even before they had viewed the stock.
When it came to the final judging, there were five other flocks very close behind, all within one point. That showed that sheep farmers today were trying ''extremely hard''. The take-home message from Mr Engelbrecht was he was ''doing the basics right'' and planning, Mr Hope said.
While quipping that he did not think he qualified as a young farmer any more, Mr Engelbrecht encouraged young farmers to ''have a crack'' at entering the ewe hogget competition.
''I'm rapt I did,'' he said.
Entries for next year's competition close on March 20.