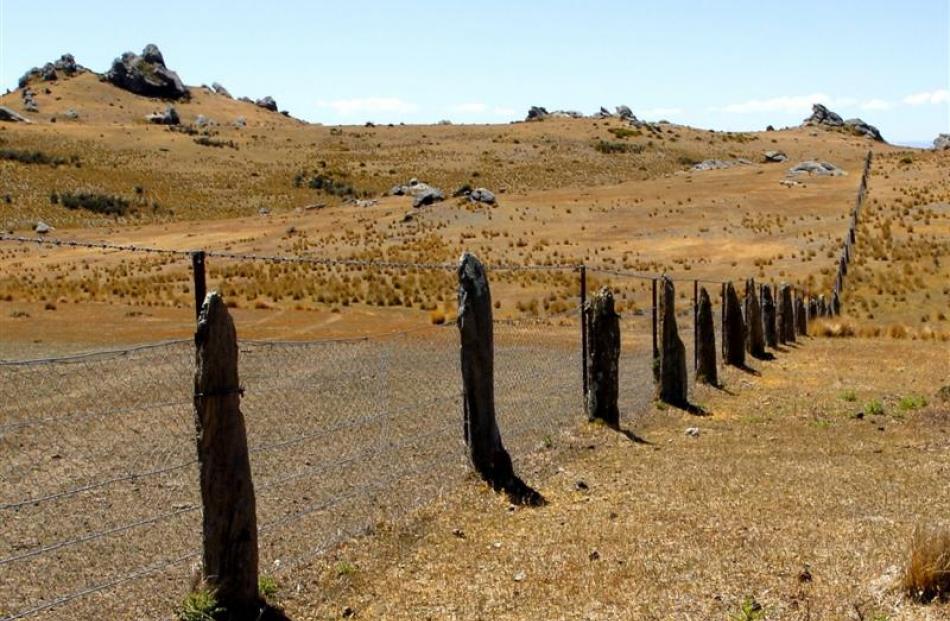 Stonehenge spreads beneath the big blue sky of the Maniototo. Neal Wallace takes in a high country property that has been in the Hore family for 99 years.
The telephone was anchored between her shoulder and ear as Sue Hore spoke to the All Black captain while seamlessly continuing to prepare lunch for six hungry men.
Son and All Black hooker Andrew, helping himself to an entree of several sandwiches to satisfy a hunger created by a morning mustering rams, killing sheep for the farm dogs and helping hay contractors, paused between mouthfuls to take the call from his other boss, Richie McCaw.
Mrs Hore's day had started with the 30-minute drive to Ranfurly to do some chores, including buying groceries for the never-ending task of feeding large, hungry men.
In between constant interruptions from visitors and a telephone that never stopped ringing, she had managed to start the housework and prepare a typical farmer's lunch.
Husband Jim had that morning organised the hay contractors, got 480 stud rams ready to be inspected by a vet, and shifted the irrigation, in between issuing instructions and fielding questions from staff.
It might look chaotic, Mrs Hore said, but most days on Stonehenge, near Patearoa in the Maniototo, were this busy.
Despite impressions to the contrary, it was quite organised.
Jim and Sue Hore are a matter-of-fact, unassuming couple.
Dig a bit deeper and there is genuine warmth, generosity and interest and, although not obvious, emotion.
It is emotion built on pride - pride in the family's 99-year association with Stonehenge, pride in the way successive generations have created a high-performing large-scale station and business, pride in the way they have tended and conserved the environment and history, and pride in their high-achieving family.
The Hores are a template for many in rural New Zealand - people with an affinity, love and respect for the land, the environment and their animals, for which they get little or no public credit.
They just quietly get on with the job of balancing conservation of the land with the need to make a living.
Get Jim Hore to give you a guided tour of his 7600ha property and a little emotion escapes from behind a facade beaten by the weather and years of manual work.
He is generous and proud as he shows the area's history - the stone fence posts built by his father and grandfather, a gold dredge recovered from the river, the original Dunstan Trail track which snakes its way through the farm, and numerous stone buildings in and around Stonehenge dating back to the late 1800s for which he relays stories passed down the generations.
Loyalty, history and the legacy they will leave sons Charles and Andrew and their families are extremely important to Mr and Mrs Hore.
That is displayed in spades by plans this year to celebrate the centenary of the arrival on February 24, 1910, at Stonehenge of Charlie (Chas) Hore, Jim Hore's grandfather.
A year earlier, Chas Hore had drawn marble 13 in a Government ballot to break up the massive 40,000ha Linnburn Station which spread from Lake Onslow to the Taieri River.
A book is being written on the history of Stonehenge, there will be a social gathering and in November they intend replicating the delivery of four bales of wool from Patearoa to Dunedin by horse and dray over the Dunstan Trail.
Mr Hore struggles to conceal his almost boyhood excitement at repeating the journey taken by his ancestors.
Chas Hore arrived on what was an unnamed 7400ha property and quickly associated the rocky outcrops and towering tors of Central Otago with Stonehenge in the United Kingdom, adopting its name.
Other than rocks, it was a landscape laid bare by rabbits and he soon had six men employed trapping the pests.
The farm was later fenced into three blocks and some paddocks around the woolshed to control his 1800 halfbred (a cross between merino and Lincoln sheep breeds) ewes, from which wool was his main source of income.
Lambs were sold in store condition at the Waipiata saleyards.
Mr Hore said his grandfather had a tough life, initially living in a tent and then a two-room hut before the initial homestead was built in 1913.
After serving with the Otago Battalion in Europe in WW1, he returned and in 1920 married Rowan Inder.
Charles Edward (Chappie) was born later that year.
When the large high country stations were split up in to smaller farms, those successful in the ballot were given two distinct types of land - summer country that was generally high in altitude and not as prone to drought, and winter country, lower altitude land that was not as prone to snow.
Having this balance was crucial to farming in the high country, ensuring the land and the environment were not put under year-round pressure, could handle weather extremes and that the farms were economical.
Stonehenge also has that distinctive split, with its run block, which at its peak was 1000m above sea level, was an hour's drive away and lay to the east of Lake Onslow.
The home block, between Patearoa and the Styx Valley, has 800ha of flat land with the balance gentle rolling, ranging from 400m to 700m above sea level.
Like his father, Chappie Hore also went to war, serving in the infantry in the Pacific during WW2, after which he returned home to the farm and married in 1948.
Rabbits remained a problem and Mr Hore recalled his father lambing ewes on the run block because the pest animals had eaten all the vegetation on the home block.
His father's legacy to Stonehenge was further development, including more fencing .
Sheep numbers reached 4500 by 1960, the high quality plant lucerne was introduced - it thrived in the dry climate - and, in 1969, merino sheep, for which the property would gain an enviable reputation, were introduced.
He also introduced fertiliser and the aerial spread of seed to improve pasture quality.
Mr Hore said the shift from halfbreds to merinos came from a love of wool and an acknowledgement the clean, fertile country and dry environment suited the fine wool breed.
Jim Hore took over Stonehenge in the mid-1970s, and at about the same time he and Sue were married.
On the day of their wedding the Government agreed to allow the family to freehold what had been a leasehold property.
Jim Hore continued to develop the property by fencing the flats and paddocks, but there would be two significant milestones - the fattening of lambs made possible because of lucerne and in 1985 the arrival of water for irrigation from the Maniototo Irrigation Scheme which allowed them to introduce cattle.
Today, 250ha is irrigated which guarantees all lambs and cattle can be sold prime instead of in a store state - sold to someone else to fatten.
Mr Hore recalled his father each year driving 500 cull ewes and 1500 store lambs to the Waipiata sale yards which existed because of its proximity to the railway line.
When water came, major management changes were made at Stonehenge.
These changes included the introduction of cattle to control and improve the quality of the pasture the water created.
Today, Stonehenge runs 9000 merino ewes, 700 Romney ewes, 5000 hoggets, 1800 merino wethers, 380 cows and their calves, which are sold as 2-year-olds.
All stock are sold in prime condition and in addition the Hores sell 450 merino and Romney-merino cross halfbred rams to farmers to use over their flocks.
Another change has been the contract sale of virtually all 90,000kg of merino wool to the clothing manufacturer Icebreaker.
Traditionally, wool was sold at auction but Mr Hore said fluctuating prices encouraged him to seek the greater certainty of supplying wool under contract.
His contract price is currently $2 ahead of the auction price.
One thing that has not changed is the use of horses and musterers camping out in huts for the autumn and weaning musters.
While Mr Hore loves the tradition and the peace and quiet of riding horses, there was a practical side.
"It is easy to work stock, you can control your dogs, you can see more [from a horse] and I don't like walking through wet tussock," Mr Hore said by way of explanation.
A crew of eight musterers and a cook spend three nights on the run in a hut for the musters.
They are friends and former staff who love the camaraderie, its history and the nostalgia.
Mr and Mrs Hore are now preparing to hand the business and family legacy on to the next generation, to sons Charlie and Andrew and their families who are both working on the farm, Andrew when rugby commitments allow.
Mr Hore says he never tired of his environment.
The Rock and Pillar, Kakanui, Ida and Rough Ridge mountain ranges are all visible and regularly display and change their moods and personalities.
The Maniototo community and the climate are equally strong attractions.
Mrs Hore said it was a supportive community, with the roots of many families going back several generations.
And life has become easier.
When Mrs Hore first moved to Patearoa, it was a toll call to the nearby Styx Valley and rural delivery was three days a week, the school bus bringing mail and the newspaper on the other days.
Now they get mail five days a week and if they place an order by 11am, they can get goods delivered from Dunedin to Ranfurly by 2.30pm.
"We don't know any other way of life," Mr Hore said.
You get the distinct impression they do not want to know any other way of life.

---
Merino paradise sweet, clean, fertile land
Jim Hore's father, Chappie Hore, always said if the country's merino sheep could migrate to any farm in the country, they would choose Stonehenge.
In farmer lingo, the land is sweet, clean and fertile, the environment warm and dry in summer and cold and dry in winter - the ingredients needed to produce that clean, long, brilliant-white fine-wool crimp prized by clothing and knitwear manufacturers around the world.
From the outside, the fleece of a merino is grey and looks dirty.
Open the tight and compact fleece and it is dazzling white.
Each Stonehenge merino ewe produces about 5kg of wool, wethers 5.5kg and hoggets 4kg.
The wool has a micron thickness of between 17 and 18.5.
Romney wool, which is used for carpets, is usually stronger than 30 micron.
Mr Hore breeds merino rams for sale to other studs and for use over commercial flocks, but to breed the perfect sheep requires patience, planning, an eye for detail and stockmanship - skills which usually come naturally and are hard to acquire.
Stockmanship was being able to see the potential in animals - that their off spring would be superior in quality - knowing when to shift animals and determining early on if stock were losing condition and acting quickly.
---