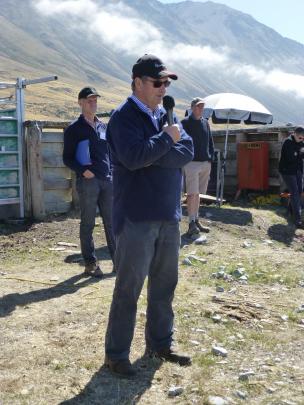 Beef cattle farmers should not put their faith only in what they see if they want to get the best returns, Bill Austin, of Austin Ultrasound, says.
Mr Austin and his wife Judy gave a demonstration of how ultrasound scanning technology can be used to reveal desirable economic traits in cattle.
About 130 people viewed the demonstration at a Beef and Lamb New Zealand South Canterbury Farming for Profit field day at Godley Peaks Station, Lake Tekapo, last week. There were still some beef breeders who relied on visual assessment alone to select stock, Mr Austin said.
They were not using the Estimated Breeding Values (EBV) index, a system which ranked breeding animals for specific genetic traits, to find animals best suited to their farming systems.
Scanning offered an opportunity to ''see under the skin'', to reveal marketable qualities like eye muscle area (EMA) and intra-muscular fat (IMF) and to use this information to improve the herd through selection.
In his experience, scanning quickly identified which sires were not delivering. Farmers were making better selection decisions as a result and a ''cumulative improvement'' of the herd through generations was emerging.
''You have to adopt technology to get the best animal.
''Not all black cattle, not all red cattle are good. It's what's under the skin that matters.''
As an example, the eye muscle area was a ''purely genetic'' trait and could not be improved through feeding - only through selection.
There was now enough data available in the EBV system to give good information and it should be used, he said.
It was possible to select for traits which suited different classes of country - ''that info is all available''.
Look at the index values then look at the animal, he said. He recommended farmers ask breeders for the average EBV for their breed and to be wary of those who did not present them.
Ultimately, it was returns that mattered, Mr Austin said.
Orari Gorge Herefords, Romneys and RomTex owner-manager Rob Peacock said it was ''very important'' to get the message across about the sort of financial gains possible by using EBVs.
The index gave farmers the ability to select for growth rates, carcase traits and calving ease, ''important economic traits, hard to see unless you study the figures'', Mr Peacock said.
- by Ruth Grundy