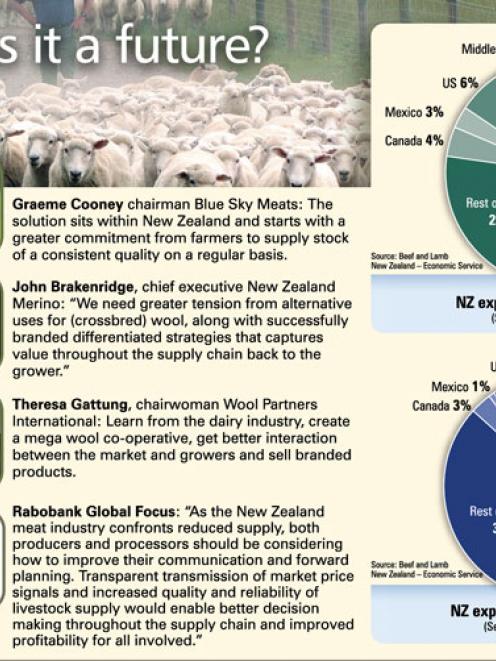 There is no simple answer to reverse the continual erosion of the sheep industry, but as agribusiness editor Neal Wallace reports, in the second part of a report on the sector's future, those solutions require a change in behaviour.
The future of the sheep industry starts with farmers but ends with processors.
The solution is a complex matrix of changing behaviour, greater industry co-operation and commitment, new technology, more consumer focus and Government help.
For a start, sheep farmers need to shed the victim mentality and realise they control the industry's future and that they can only command premium prices for their products once they add value.
That value will come from producing the type of products wanted by consumers, when they want it, which may not be aligned to the pasture-growth curve, which governs farm management now.
Processors need to be more innovative, develop new higher-valued branded products for new markets, invest more in new technology, co-operate to address the problem of excess processing capacity and - importantly - change their behaviour in markets.
There is ample evidence that in the clamber to make a sale, the 19 meat exporters to Europe were responsible for the decrease in prices paid by supermarkets.
The appalling state of the crossbred wool industry must be fixed to once again make sheep a true dual-income animal, but many feel this is the sector's last chance to cement a future.
The rewards are great - double the price of wool and farm incomes would be much healthier.
Agriculture Minister David Carter revealed in the Otago Daily Times last week he was prepared to help the industry, and it is an offer that must be grabbed and used to aggregate meat companies and reduce the large number of exporters operating in Europe.
It is in the country's economic interests this happens, and any legislative move must prevent new players starting up to replace those that close.
Farmers need to end the practice of playing companies off for a few extra dollars, instead aggregating supply to a meat and a wool company that acts in the sector's best interests.
 Alliance Group chairman Owen Poole put it bluntly last week when he said if farmers wanted to own the industry and drive change, they needed to aggregate livestock through a farmer-owned company.
He said a 30% shift in supply to a farmer-owned meat company would have the same effect as a medium-sized aggregation of the meat industry.
Blue Sky Meats chairman Graeme Cooney was also frank in his assessment, saying if the bulk of farmers agreed to a set of remedies and stuck to them, the industry would progress.
Along with that loyalty, meat and wool processors needed to make that commitment financially worthwhile and use the opportunity to change the industry model.
Not all companies agree, but successive analyses of the industries say change is needed in the way we present and market produce using branding and link consumers to growers.
One who does not agree is ANZCO Foods managing director Graeme Harrison, who said his company tried doing that in the 1980s and 1990s, but market returns did not cover the extra processing costs.
"We would still do it today if that was the way. We would seam-bone every leg - why wouldn't we?"
Lamb was the world's most expensive protein, and the focus should be on making sheep a dual-income animal by improving wool prices, he said.
Mr Harrison also rejected suggestions amalgamating the meat industry would fix its problems, saying four companies already accounted for three-quarters of beef and sheep-meat exports.
The sheep industry was going through a cycle - a cycle he witnessed as a boy when dairying almost disappeared from Canterbury as farms converted to the more profitable sheep farming.
"No amount of hand-wringing will bring about the added income to be able to compete with dairying in the current environment on certain land types," he said.
There was no silver bullet.
"This is land-use competition. You can't turn back the clock."
As sheep numbers fell around the world, lamb would become an even more valuable niche product and present new opportunities, Mr Harrison said.
Silver Fern Farms (SFF) chief executive Keith Cooper takes a different view, believing the industry needs to be more closely linked to consumers through branded products, a transformation similar to that which occurred in the 1980s, when it moved from selling frozen carcasses to primal cuts.
"There needs to be a quantum change again, and our interpretation of that is consumer products."
He believed earlier attempts to address issues with the sheep industry had been wrong in looking at industry structure before considering strategy.
"Let's find the ultimate strategic direction for the product and then a model to support that strategic position."
Mr Cooper said farmers needed to end the fragmented way they supplied stock.
"The industry has to step up and do something different, as do farmers in terms of their supply behaviour."
That industry commitment was revealed last week with the announcement of a collaboration between SFF, PGG Wrightson and Landcorp to pool their expertise and identify high-quality meat products wanted by consumers and develop the farming systems to supply them, a lesson learnt from the dairy industry.
Mr Poole said it was wrong to assume the meat industry was not changing, and the Invercargill co-operative had already adopted many aspects of the suggested solutions of branded products and an integrated supply chain, but any investment had to add value and be sustainable and enduring.
He said the number of exporters must be reduced from the present 19 operating in Europe and surplus processing capacity must be closed, but he argued Alliance had done its bit by closing 21 sheep-meat chains.
His chief executive, Grant Cuff, said products were prepared according to the requirements of individual markets, and not all of these wanted consumer-ready, branded products.
"None of this is new. We provide product as customers demand and returns warrant."
At present, traditional markets were paying the highest prices for lamb, but Alliance was still looking for new markets, including China, where it has operated for 10 years and has a joint-venture partner.
In 1997, Alliance developed a strategy which was based on customer needs and included assisting farmers to identify sheep genetics that produced superior carcasses and payments based on yield.
"This vision and strategy remains as valid today as a decade ago. It's not new," Mr Cuff said.
Mr Cooney said the ideal business model for the meat industry did not resemble its current operation.
That model would entail developing clearly identifiable products, ensuring reliable supply and high-value portions of a consistent size and finding ways to push up retail prices.
To that end, a processor had to have minimal specifications, innovative labour and technology, plants that operated 24 hours a day, seven days a week, with all parts of an animal going to high-value cuts.
Also important were consistently low inventories and low transport costs.
Mr Cooney said to even start meeting the terms of that model farmers had to regularly supply livestock of consistent specifications - not 25kg lambs one year and 15kg the next - and that meant finding ways of working around weather extremes and improving management ability.
"While we continue with the mentality of killing what a farmer wants, we will not move forward."In the wool industry, the two main players, Elders Primary Wool and Wool Partners International, were both embarking on similar strategies of developing relationships with carpet retailers and manufacturers, using their own brands.
Wool Partners International (WPI) chairwoman Theresa Gattung said Fonterra provided the sector with a business model of strength in numbers.
"We can do the same with the wool industry with what has been done in the dairy industry.
"It is a very big vision that sits alongside a more direct relationship between the international market with growers and brands."
She said wool's time had come as people looked for renewable, natural products and this interest was reflected in an increase in the number of inquiries.
Farmers were ready to change their behaviour and consolidate the clip for the wider benefit.
About half the crossbred clip is sold at auction, with the rest sold privately or under contract.
"More and more, they are seeing that unless we unite, we're going to get more of the same."
A measure of whether that view had substance would come in the next few months, when WPI went to farmers for capital to develop the business, she said.
Elders managing director Stuart Chapman said the solution to wool's problems was in developing more branded retail products, using New Zealand's advantages to add value, and in farmers no longer selling wool through third parties or wholesalers.
Mr Chapman said focusing on branded products took time and money, but he was convinced it was the way of the future.
New Zealand Merino chief executive John Brakenridge said developing branded wool products took a long time, and he felt part of the sector's solution also lay in developing alternative uses for wool to increase competition for what was still a large volume of raw product.
Mr Brakenridge said the sector also needed some fresh thinking from people outside the industry.
The sheep industry needs to abandon the search for a silver bullet - there is not one.
Achieving progress means altering the behaviour of farmers and processors and only then will the sector begin to realise the potential of sheep meat and wool.
Without a change in behaviour, all we can expect is more of the same.
Ten steps to prosperity
1. Farmers realise they control the industry's future and commit to supply stock to processors and marketers that will make a difference to the industry's future. Shed the victim mentality.
2. Fix the wool industry - meat cannot be left to determine farmer profits alone.
3. Processors be more consumer focused and innovative. This is more than the current lip service attention it gets now.
4. Farmers improve on-farm productivity so they start supplying product wanted by consumers when they want it, even if it does not fit the pasture growth curve.
5. Companies financially recognise this commitment. We are not talking procurement premiums.
6. Exporters to brand meat and wool products - after all we are told it is the world's best.
7. Meat exporters to reduce reliance on European markets - the 227,000-tonne sheep meat quota has not made us rich yet.
8. Reduce the number of meat exporters - farmers can do this at no cost to them.
9. Meat and wool processors to start thinking and acting for the wider industry good and grab the Government's offer to help industry consolidation. This is too good to refuse.
10. Find an industry leader to drive change. A difficult, thankless task that could make or break a career. Is John Roadley free?