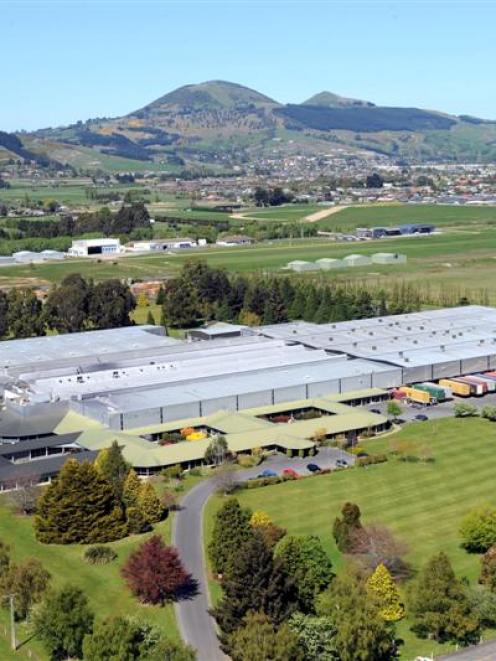 Fonterra will consolidate its Dunedin cool and dry store operations on the Fisher and Paykel site at North Taieri, creating more than 30 new jobs in the process.
The dairy giant announced yesterday it had bought the 16.45ha site from the whiteware manufacturer, and work would begin in July on a new 45,000-tonne dry store and 17,000-tonne coolstore incorporating the existing buildings.
Fisher and Paykel will lease back the site until June 30 next year, by which time the manufacturing of its ranges and dishwashers will have been moved to Mexico and Thailand.
The price for the North Taieri site was being kept confidential, but in an announcement to the New Zealand Stock Exchange, Fisher and Paykel said together with its East Tamaki site, the sale of the properties would net $34.7 million, and a gain before tax of $9.4 million.
The Taieri site has a rateable value of $23 million.
The sale went unconditional last week, and Fonterra's director of group manufacturing and supply chain, Gary Romano, said the development would allow Fonterra to make more use of rail, eventually reducing by 30,000 truck movements a year the movement of dairy products between Southland, North Taieri and Port Otago.
Cheese produced at Stirling near Balclutha would also be stored at North Taieri.
Fonterra is building a fourth milk drier plant at Edendale in Southland, and Mr Romano said the Taieri development would cater for the extra production from what would be one of the largest milk powder plants in the world, capable of handling more than 15 million litres of milk a day.
"For Fonterra, the development will mean a much simpler supply chain network in the South Island."
It will consolidate the company's coolstore operations in Dunedin, currently on the site of the Otago Stadium at Awatea Street and also at Kitchener Street, and a number of dry stores around the city, all of which would move to North Taieri.
Along with dry storage and coolstorage facilities, container packing and the existing rail head spur would be upgraded at North TaieriFonterra's group supply manager Rob Rogers said in an interview more storage facilities were needed to cater for the extra Edendale production and dairy growth in Southland.
Dairy products would continue to be packed into containers at Port Otago and the port would remain its major export facility in the southern part of the South Island.
Mr Rogers said the site would initially be brought up to food handling standards and would be able to accept milk powder and other dry products soon after July.
Eventually the structure would extend beyond its existing footprint, covering 40,000sq m.
Fisher and Paykel chief executive John Bongard said the company hoped to announce before Christmas that it had completed negotiations for a site in the city to house up to 70 engineers and a 40-worker international customer call centre.
"We're confident we'll get the space we require."
He said there had been plenty of interest in the North Taieri site.