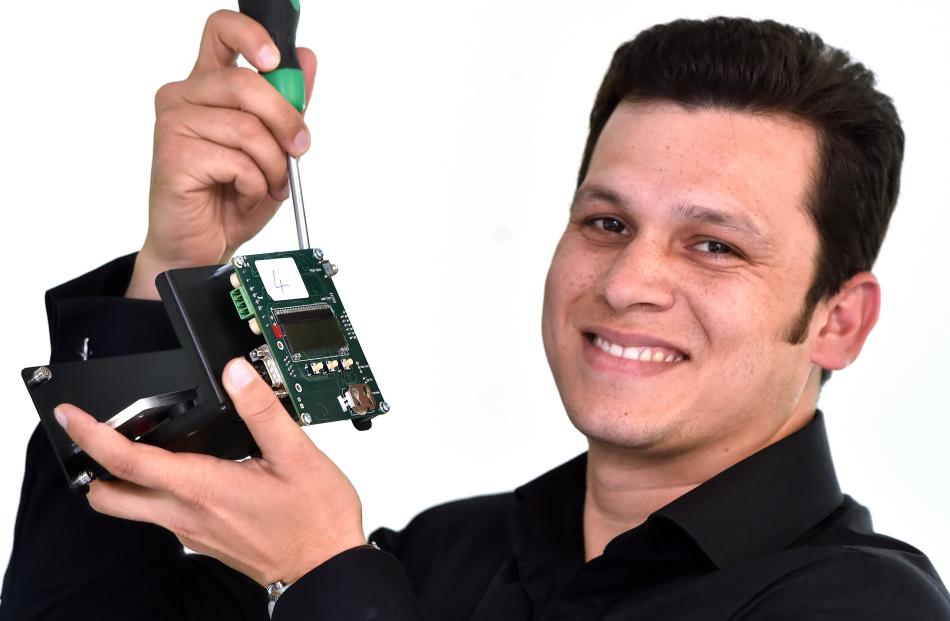 Little-known University of Otago spin-off company Photonic Innovations is about to launch into commercialisation of its cutting-edge laser gas detection devices in April. Simon Hartley talks to Photonic's chief executive Dr Ojas Mahapatra about the company's outlook and its target of raising up to $1.5 million in coming weeks. 
Photonic Innovations is one of about five companies around the world developing laser gas detection devices - and its concept has already sparked interest from big industry players in the United States, and even space agency Nasa.
Headquartered in the University of Otago's Centre for Innovation in Dunedin since 2014, Photonic is launching both its first commercial product in April, and also announcing a drive to raise between $1 million and $1.5 million capital.
The technology was initially developed by Prof Andrew Wilson's research group at the Jack Dodd Centre for Quantum Technology and the Department of Physics at Otago in 2005.
However, Prof Wilson later left and the project was shelved for almost three years, then ''revived'' in 2014, Photonic chief executive Dr Ojas Mahapatra said.
While laser spectroscopy has been used for about 20 years, the concept of using lasers, as opposed to chemicals, to identify gases has only been around for about half that time.
The issue now is to miniaturise the devices, either as fixed-to-walls detectors or as mobile devices.
Dr Mahapatra said the ''core'' of the development was providing ''peace of mind for employees going into confined spaces where dangerous gases could be present''.
Photonic was concentrating initially on fixed ammonia detection devices, then in 2017 would move toward mobile devices, to target ammonia and methane.
Last week Photonic was announced as one of three finalists in the annual KiwiBank awards, in the category, Innovator of the Year.
In lay terms, an invisible laser is bounced constantly between two mirrors, just a few centimetres apart, with the laser calibrated to detect a designated type of gas, which could be one of six gases chosen for a particular customer's needs.
''What we're looking at is coolstores at present,'' Dr Mahapatra said of the current emphasis on ammonia, and testing to temperatures below -20degC.
Since being revived in 2014, private investment group PowerHouse Ventures and the Governments's New Zealand Venture Investment Fund have supplied more than $700,000 in research and development funding.
PowerHouse and the Venture fund each have a 36.6% stake in Photonic, the university's commercialisation company Otago Innovation Ltd has 20.9% and Dr Mahapatra 5.8%.
At present Photonic has just 2.5 fulltime-equivalent staff - Dr Mahapatra, a research scientist and a part-time electronics engineer. Dr Mahapatra said he was keen for initial manufacturing to be undertaken in Dunedin, which could encompass up 20-30 jobs, making several thousand units annually.
Next week a fixed ammonia detector was being trialled at Silver Fern Farms' Finegand meat processing plant in Balclutha, and Contact Energy was keen to trial methane devices in the near future, he said.
While developing links for domestic use, Photonic has piqued the interest of US giants Honeywell and Industrial Scientific, multi-billion dollar companies rated about first and third in the world as the main suppliers of gas detection devices, but heavily reliant on the historical chemical-based type of detectors.
Honeywell is a Fortune 100 company with 2015 revenue of $US38.6 billion ($NZ57.8 billion). It designs and manufactures technologies covering energy efficiency, clean energy generation and safety and security, with about 132,000 employees, including 21,000 engineers around the world.
Industrial Scientific specialises in gas detection devices, and operates globally with turnover in the hundreds of millions, and hundreds of staff.
''Honeywell is the biggest gas detection distributor company in the world,'' Dr Mahapatra said.
He had visited Honeywell, and in a comparison test of their respective devices, Photonic's was a ''huge success'' and Honeywell had since provided more of its devices to be tested against Photonic's, in Dunedin.
Powerhouse Ventures Dunedin regional general manager Steve Silvey said there was always the potential for Photonic to be sold outright to either of the large companies.
However, at present he viewed the developing relationship as them providing Photonic ''with a route to market'' and to establish ''beach heads'' in several countries and industries.
''With every [type of] gas a new industry opens up,'' Mr Silvey said of its potential.
Of the money being sought from private investors, Mr Silvey said the company was expected to be attractive to both domestic and international investors, but noted it was not of a scale to consider listing on the stock exchange.
With no revenue, Photonic cannot really be valued, but Dr Mahapatra was confident once revenue streams were established it should be worth ''several million dollars''.
Dr Mahapatra visited Nasa in Pasadena last year, and it was interested in potentially using a Photonic device in a mission to Mars, scheduled for 2020.
''For space [exploration], the emphasis is on lightweight devices,'' Dr Mahapatra said.
Closer to home, an unnamed Australian mining company has also shown interest in the detection devices, which will also have applications in the oil and gas industry.
While sticking to industrial usage, Dr Mahapatra said in the long term the company could develop home gas detection devices, given reticulation of LPG was being introduced in some New Zealand cities.
What gave Photonic an edge over its competitors was not only miniaturisation of the device but its pricing and low maintenance costs.
While Photonic's purchase price would be between $4000 and $5000 per unit, it would have a life of 15 years and not incur recalibration and maintenance costs.
While competitors' devices were 50% cheaper, they incurred $6000 in maintenance costs over only a six-year lifespan, he said.