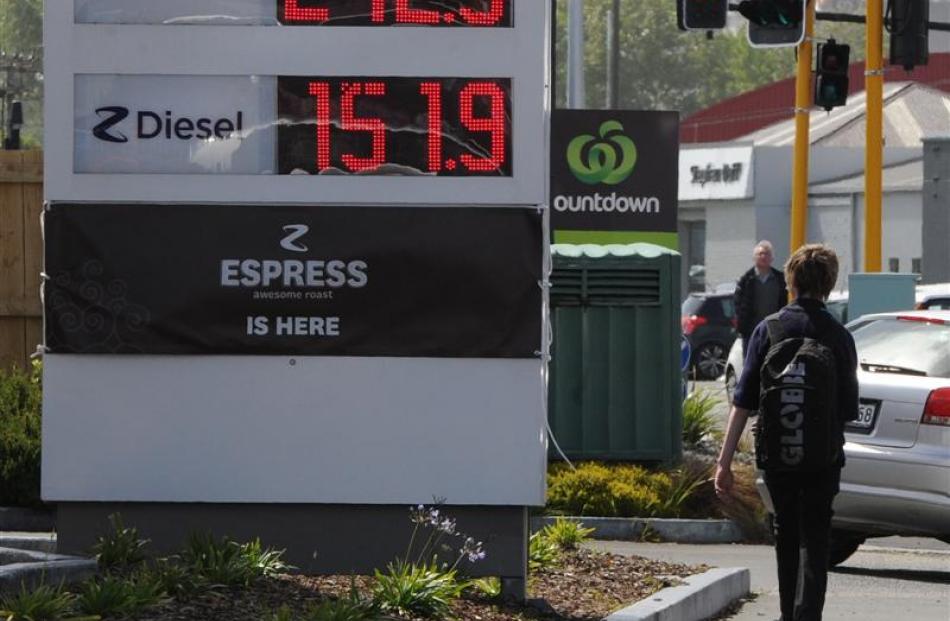 Global crude oil prices may have slumped this week but a recent 4c a litre increase in the cost of refined petrol was yesterday passed on by Z Energy.
The 4c increase did not affect diesel.
Since early November, New Zealand prices had been steady around $2.09 for a litre of 91, $2.17 for 95 and $1.52 for diesel.
Z Energy advised the Automobile Association of yesterday's hike. Other companies followed with an increase at the pumps.
Oil prices have slumped more than $US2 ($NZ2.46) a barrel on fresh economic strains caused by a downgrade to France's credit rating, and on easing Middle East supply concerns amid hopes of an Israel-Gaza truce, analysts told AFP.
The AA's senior policy analyst, Mark Stockdale, said the same geopolitical tensions were responsible for the 4c increase in the refined price that was passed on by Z Energy yesterday.
"Motorists have seen refined prices stable most of the year.
Its now a 'wait and see' for motorists," he said of the potential for other fuel company price hikes.
He highlighted that the global cost of crude oil did not drive pump prices, but the cost of the refined petrol did.
He said northern hemisphere winter heating demands had not yet kicked in, and demand and prices would come under pressure shortly.
Diesel prices had not been affected globally because there was "poor demand" for diesel, Mr Stockdale said.
West Texas light sweet crude for delivery in January slid $US2.61 to US$96.67 a barrel, and Brent North Sea crude for January shed US$2.30 to US$109.40 a barrel in late London deals.
Oil prices were sliding a day after surging on fresh concern about supplies from the crude-rich Middle East.
Oil prices had struck one-month highs on Monday after gains of about $US2 a barrel on the Israel-Gaza violence, AFP reported.
"Today, there's a bit more of a risk-off theme with the French downgrade and a bit of profit-taking on the back of yesterday's big [price] move," IG analyst Jason Hughes said.
France came under fresh economic pressure after ratings agency Moody's cut the French government bond rating by one notch from the highest level to "Aa1" and warned an additional downgrade was possible.
The downgrade put France behind euro zone partners such as Finland, Germany, Luxembourg and the Netherlands, which have retained top AAA ratings, although they all have a negative outlook from at least one of the three agencies.