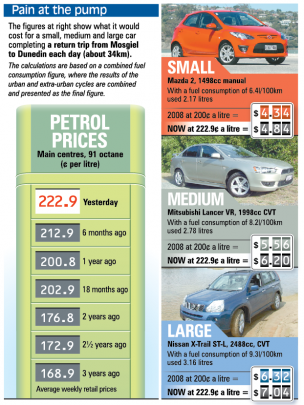 Outram may seem like an unlikely spot to find the cheapest petrol in the Dunedin area, but the owner of Outram Garage Ltd believes he probably offers the lowest prices in town.
Outram Garage owner-operator Ray Warnoch said he tried to keep his fuel prices 3c below the competition.
A litre of 91 sells for $2.19 at Outram Garage Ltd, 95 at $2.27 and diesel at $1.549.
He said he was yet to find anyone in the Dunedin area with cheaper prices and it was quite likely his were the cheapest in Otago.
"I've never said it is the cheapest in Otago, but you will probably find it is anyhow," he said.
He hoped record petrol prices would attract more "bargain hunters", but said a lot of customers would remain oblivious to the price.
"Half of our regular customers wouldn't have a clue what the price of petrol is. They work on the theory that they need it and [so] they buy it."
A "big reason" why he sold his petrol at reduced rates was to increase turnover.
"When [Challenge] drop 20,000 litres in the ground for me, it's got to be paid for in four working days and if the volume is very low I've got to find the money to pay for that [when] I've still probably got $10,000 sitting in the ground unsold."
He previously advertised his prices by putting up a blackboard sign saying "cheapest fuel on the Taieri" and was about to put up a sign saying "save 3c per litre".