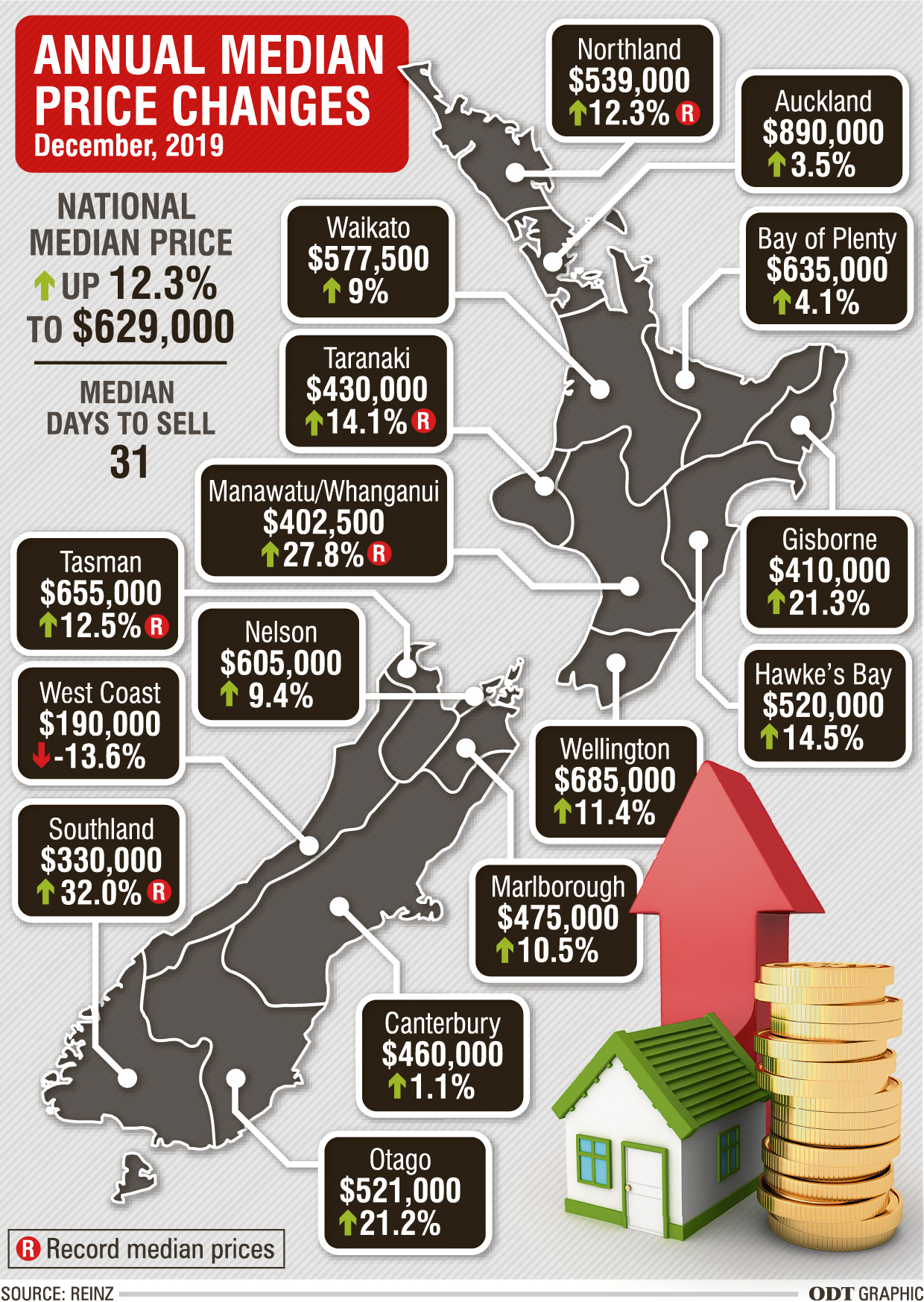 The final month of the decade proved to be a bumper one for home sales, the Real Estate Institute of New Zealand says.
Nationally, more than 200 homes changed hands every day during December, a 12% increase to 6285 sales for the month.
Real Estate Institute chief executive Bindi Norwell said the extra 22 houses sold each day during the month was not an "insignificant" number.
"It suggests that buyers are being more definitive when it comes to purchasing as they are aware of the need to move quickly on properties and areas with high demand."
This was backed up by the decrease in the median number of days to sell, which was at its lowest point for three years.
In Otago, where the average home sold within 28 days, the median price was up more than 21% year on year to $521,000 from $430,000 at the end of 2018, though this was slightly off the $540,000 peak in November.
Despite a high number of cheaper apartments coming on stream, house prices remained highest in Queenstown-Lakes, listing at $979,000 on average.
This was followed by Central Otago at $576,500 and Dunedin city, which was at $485,000 for the month. Average house prices across Waitaki and Clutha were up 13.8% and 1.8% respectively year on year.
Institute commentator Liz Nidd said price trends in Dunedin had been influenced by the return of expats and new buyers being attracted to the city.
"Building activity has also started at the hospital, which is attracting engineers and architects. Student enrolments are up, interest rates are low and Dunedin is seen as being very desirable as a place to live and bring up a family," she said.
Bayleys Cromwell branch manager Gail Hudson said while the average price was down in the district, volumes had increased 51% year on year.
She said a lack of listings was likely to be holding the market back, as buyer numbers and inquiry were strong.
"Loan-to-value rates are keeping first-home buyers and investors in the market, but lending criteria is still making it hard for buyers," she said.
"We expect the Queenstown-Lakes to follow the lead of Auckland as it does traditionally, especially Queenstown, with a lift in activity in early 2020. However, this is also dependent on more listings coming on to the market."
In Southland, the average house sale price jumped almost a third, from $250,000 to $330,000, year on year. This was led by Invercargill, which hit a record average price of $336,000 during December.
Ms Norwell said despite concerns over the Tiwai aluminium smelter closure, property continued to move quickly, with the lowest number of days to sell at 21.
Kiwibank senior economist Jeremy Couchman said the record-low mortgage rates had helped stoke demand.
"In addition, New Zealand continues to face housing supply and demand imbalances, exacerbated by population growth remaining well above average."
Otago Chamber of Commerce chief executive Dougal McGowan said the demand reflected increased population growth in the area.
"However, it has the potential to push rental costs higher and undermine affordability in Otago as wages and salaries aren't keeping pace with property prices."
Statistics NZ data released this week showed a 3.4% increase in rental costs in the year to December.
Harcourts business manager Sarah Warhurst said rentals were at a "crisis point" in Dunedin.
"Demand for quality residential housing continues to increase, aligned with a lack of available property, pushing rents further upward."
The lower-income sector was feeling the pinch in particular, median rents across the city having risen substantially over the past 12-24 months.
"Renters have been affected by several factors, such as first-home buyers purchasing stock that historically may have been purchased by investors and investors selling off stock to benefit from the increased sales prices."
In addition, the increase in compliance and insurance costs had put many off holding rental properties, she said.
In the city's current market, typically an average of 10 to 15 groups, or more, came to viewings and a large proportion of them applied for the property, Ms Warhurst said.
"Every time we accept a group or family for a property, we decline several other suitable tenants, which is concerning because there does not appear to be enough stock in the market to meet the demand, particularly in the rental range of $350-$450 per week."
Where more upmarket properties were concerned, property being bought by non-residents had had an impact.
"This group of tenant accepts that they cannot purchase a property until they obtain residency, and therefore they are prepared to pay a higher amount for a quality home. Finding rental property that meets their expectations can be very difficult."