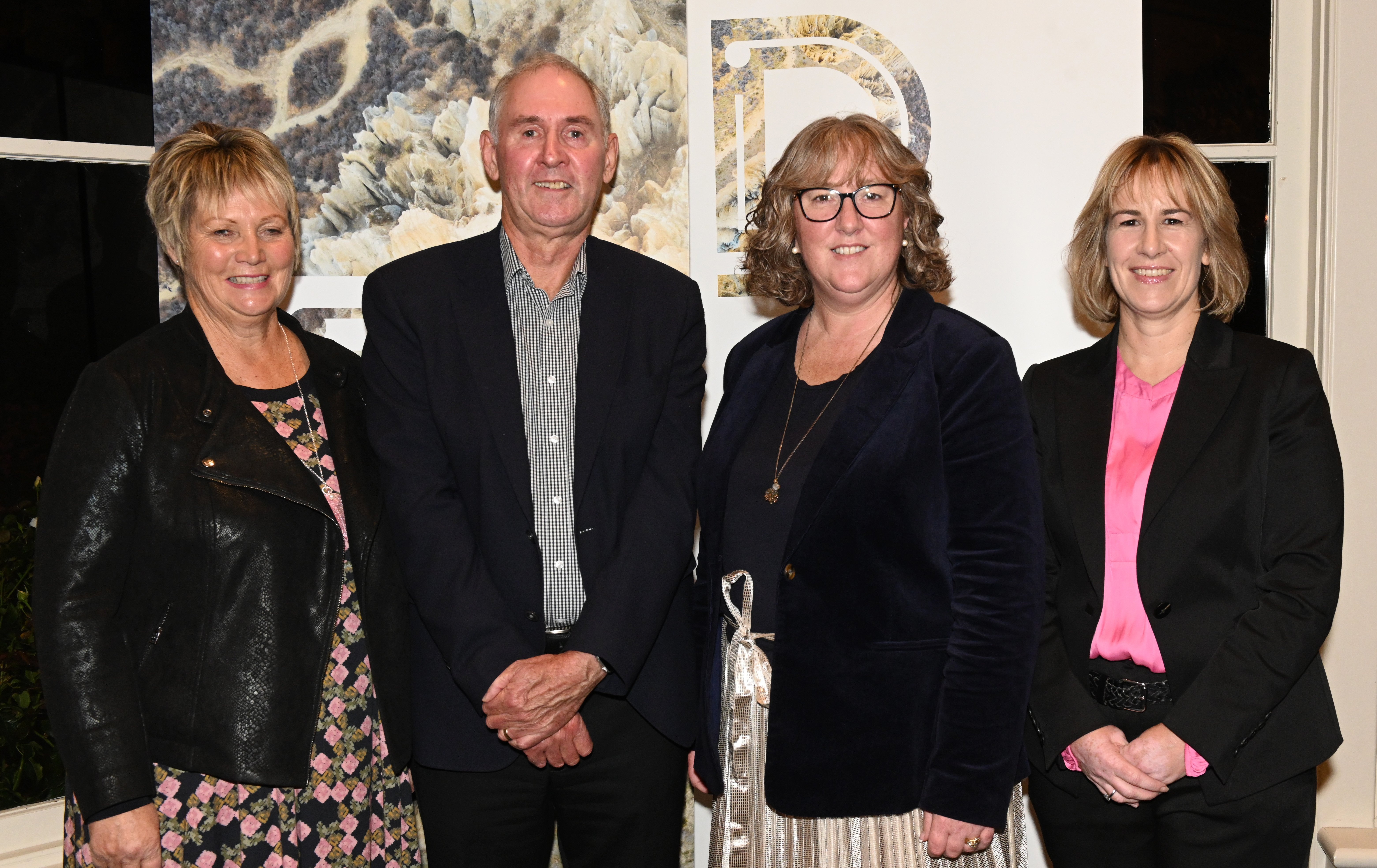 Institute of Directors chief executive Kirsten Patterson was in Dunedin this week to give recognition to three Otago business leaders who have been named chartered fellows of the IoD. She talks to business editor Sally Rae about the importance of good governance.
If Kirsten Patterson could turn back the clock to the beginning of the Covid-19 pandemic, she would remember to take her office chair home.
It might seem silly now but, as she said, it served as a reminder about just how temporary people — including herself — thought the pandemic was going to be.
Recently marking her fifth anniversary at the helm of the Institute of Directors (IoD), New Zealand's professional body for the governance community, Ms Patterson quipped she was not sure whether the last two years counted — or counted as double.
"On one hand, nothing happened and, on the other hand, everything happened," she said.
As far as governance was concerned, so much had changed in that landscape during her tenure with the IoD.
"We don't notice change in the moment we're in it, that's probably why the pandemic was so confronting and disruptive. Normally, change sneaks up on us."
One of the biggest shifts had been concerning climate. When she first started, even a conversation about whether boards should have climate on the agenda was "very much on-the-edge" thinking. Now it was one of the main items.
Ms Patterson recently did a review of 19 vacancies advertised on a recruitment website and four were asking for climate competency as a key skill. Five years ago, that would never have happened, she said.
It was well established now that directors needed to be focused about climate. Shareholders and communities were saying "Why aren't you? rather than why?", she said.
Asked what appealed to her about the job at IoD, Ms Patterson said she was very interested in "trying to make a better New Zealand" and, as twee as that might sound, if the country wanted to have great businesses and communities, then that had to come from boards, she said.
Born in Christchurch — she still considered the South Island to be home — Ms Patterson grew up in Whakatane. Her parents were both funeral directors and originally that was her career path.
But her father could see it was not going to be enough for her, that it was not enough of a challenge, and he said he would only give her a part-time job in the family business if she went to law or medical school.
Law school was a shorter time than medicine — "that's how I chose, as only a teenager can do", she said.
While completing her law degree at the University of Waikato, she also did her funeral director qualifications and that was how she met her funeral director husband.
Her "a-ha" moment came in her last year of law when she discovered employment law, recognising it could become her passion.
She moved to Wellington, where her husband runs a funeral business in Lower Hutt, and her first job was with the Employers and Manufacturers Association.
That was followed by bus company Stagecoach New Zealand and then almost 10 years at the New Zealand Rugby Union, where she was corporate services general manager.
It was a great time to be there, coinciding with the Lions Tour and the 2011 Rugby World Cup, being responsible for the off-field components of rugby — "all the very boring bits", she laughed.
Never sporty at school, it was her first introduction to the game so she was brought in for her specialist skills, rather than her rugby knowledge.
"Diversity in action, right?" she said.
Sport did "amazing things for people and communities" and she continued her involvement with rugby, serving on the board of the New Zealand Rugby Foundation, which supported seriously injured rugby players.
From there she was the country head of Chartered Accountants Australia and New Zealand before joining IoD.
Ms Patterson's first exposure to the governance community was through her local Plunket where she served as president and went on to the regional Plunket board.
It was a path that many governors took and provided recognition of what governance was and the impact it could have.
For change happened at boards. Every issue was a governance issue "if you think about it deeply enough" — from supply chains and the gender pay gap to climate change and this week's Budget.
Good governance had really come to the fore in the past couple of years, and there had also been social changes.
It was not just about profit, but a much broader perspective was being taken — being a good employer, and also building long-term success for businesses — as the pandemic had changed expectations.
Only two years ago, the discussion about the future of work involved robots taking over people's jobs and what was going to happen to those displaced employees.
Now, there was a "huge shift" as the experience of the past couple of years had proved that "we do need people", even though AI would continue and robots would still arrive.
The future of work was changing — where it was done, how it got done and how to manage and lead people. What that new settling in would look like, she was not sure.
Personally, she could not see herself going back to the office five days a week; she expected she would travel less and work from home more. Plus she had installed a stand-up desk at home.
During the pandemic, there was recognition of how valued and important the country's critical workers were.
While she was "tucked up cosily at home", her husband had the heartbreaking task of dealing with bereaved families amid the pandemic's rules.
"It's important we remember a lot of the sacrifices that have been made along the way," she said.
Asked how IoD fared through Covid-19, Ms Patterson said the organisation was fortunate to have both a great board and great people who helped guide it through the challenges — and a lot of its work could be done from home.
But a huge part of IoD was running courses and events, which it had been unable to do, so it was about ensuring it was getting support and content to the director community. It was also heavily involved with advocacy with the Government.
The first 12 months were "pretty tough" for the organisation, which had to downsize staff. Staff also took pay cuts which were repaid in time. Also, on top of the global pandemic was the uncertainty of market conditions.
Plus, there was the need to care for IoD's people, keeping them safe and doing all that from a distance. Many were working from the kitchen table in their homes, while also caring for children.
But it had not been all bad; the pandemic had taught people a lot, particularly about keeping talent and people strongly in focus.
It was a reminder of the importance of supplier networks, and the recognition of "a little bit of resilience" in systems, supply, reserves and people was incredibly important.
She believed organisations were more resilient, stronger and fitter as a result.
At the moment, areas IoD was focused on included Chapter Zero; IoD was hosting Chapter Zero New Zealand, the national chapter of the Climate Governance Initiative.
That was about helping directors upskill regarding climate responsibilities.
There was a lot of information out there and it could be very overwhelming. IoD was making that available to the whole director community, not just IoD members.
Talent was an area that boards were very focused on, including how closing borders had affected talent.
Cybersecurity and health and safety were also "absolutely critical" and then there was conversation about board character; boards were leading the tone from the top, in terms of the culture of organisations. There was also recognition among the director community about upskilling more to understand and engage with Maori.
A strong advocate of diversity, Ms Patterson was a founding member of Global Women's "Champions for Change", a group of senior executives and directors who commit to diversity in the workplace, and a founding member of WiSPA, an organisation promoting women in sport.
There was some movement with diversity on boards; while it might get measured on the basis of NZX-listed companies, because that information was publicly available, there was "huge" diversity in the not-for-profit sector.
IoD's Mentoring for Diversity programme had been going for a long time and the organisation also had a Future Directors programme which aimed to develop the next generation of directors.
IoD's membership was becoming increasingly diverse and the age demographic was also changing on boards. Boards were also looking for regional diversity, seeking representation outside of Auckland and Wellington for national roles.
Ms Patterson was still personally involved in governance; she previously served as chairwoman for the Wellington Homeless Women's Trust, a small charity which did "amazing work".
She is on the board of Voices for Hope, a youth mental health charity which was co-founded by Jazz Thornton who was appearing in the latest series of Dancing With the Stars, chairs an advisory board at Victoria University with regards to ethics committees, and is on an advisory panel for the External Reporting Board.
Ms Patterson got a lot of inquiries from people wanting to get involved in governance and wondering where they should start.
Starting in a not-for-profit, it was important to be involved in something they were passionate about, she said.
For it would involve nights, weekends, take you away from family and your work. And they were also not just there for the mechanics of governance; it was about connections and understanding the "why" of the organisation — "that's where the magic happens".
Governance was often talked about being a team sport — the board came together and worked as a team — but directors were individual athletes and with that, came individual liability, so it needed to be thought through carefully.
People should not seek to go on a board if they did not like reading; while boardrooms might appear to be the hub of governance, hours were spent at home reading, and people had to be able to consume large portions information.
Being a director needed to be taken seriously; it was "not just an adjunct or add-on" to something to do, or to look good on a CV, it was an active role.
But it was also incredibly rewarding for people if, like Ms Patterson, they were interested in what was happening in different businesses and what the various challenges were.