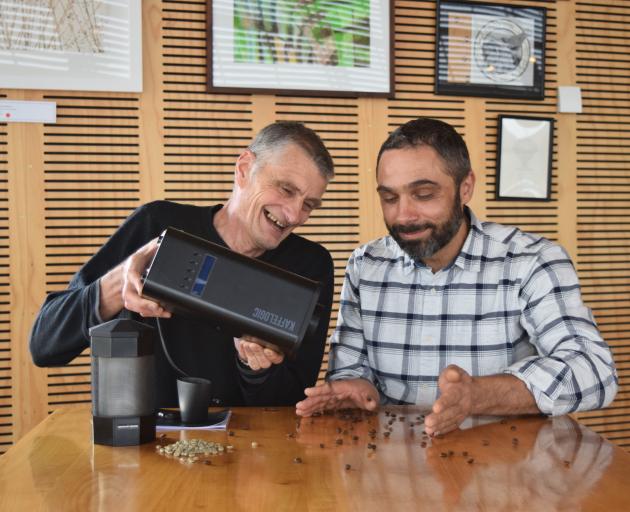 A Dunedin coffee-tech start-up venture has discovered an unexpected market.
Kaffelogic founder Chris Hilder, of Dunedin, said he launched his micro coffee roaster venture late last year.
Since launching, about 130 of his Kaffelogic Nano 7 coffee roasting systems had been sold.
About half of the machines were sold directly to customers and the rest were bought from the 14 retailers selling them in New Zealand.
A distributer had recently been secured in Australia, he said.
The people buying the product were different from what was initially expected.
``Originally we thought our main market would be coffee aficionados who would like to roast their own beans at home but we've found that commercial coffee roasters also want the mini roasters so they can try out new blends without having to waste so many beans.''
A Kaffelogic could roast beans in minutes, where a commercial roasting machine could take up to four times longer.
Cafes were using the new technology to roast dozens of samples of coffee beans to decide what beans to buy in bulk.
The test roasts of the small samples of beans helped cafe owners determine if the beans could produce a consistent flavour profile.
Mr Hildre gave a Kaffelogic Nano 7 to Orokonui Ecosanctuary last week for Horopito Cafe manager Simon Kitchingman to use on site.
``We like what these guys are doing here and Simon wants to be a bit adventurous so we wanted to get involved.''
Mr Kitchingman said he introduced a commercial air roaster to the cafe last year in a bid to reduce costs.
He would use the smaller Kaffelogic roaster to experiment with different flavour profiles, without having to waste about 1kg of beans for each test.
A Kaffelogic used about 100g of beans a test, he said.
``You can do 10 experiments for the same cost as you can using 1kg of beans, which opens up all sorts of possibilities.''
Any money the cafe saved helped the ecosanctuary be more sustainable, he said.
SHAWN.MCAVINUE @thestar.co.nz