Otago and Southland areas have kept ahead of the annual 7.3% national property value gains, as national sales numbers are up for the month but most value growth is subdued across the country.
Quotable Value spokeswoman Andrea Rush said, of the main centres, Dunedin led the way with annual growth of 9.4%, while Auckland and Christchurch's housing markets had had little value movement during the past year.
The Auckland region slowed from 12.3% in March last year to just 1%, while Christchurch was down 0.6% during the past year, Ms Rush said.
Residential property value growth remained subdued compared with recent years but March had the usual seasonal pick-up in sales volumes and activity, she said.
''It's the regions that continue to see the highest value growth driven by demand from people looking for more affordable homes or investment properties outside of the main centres,'' she said.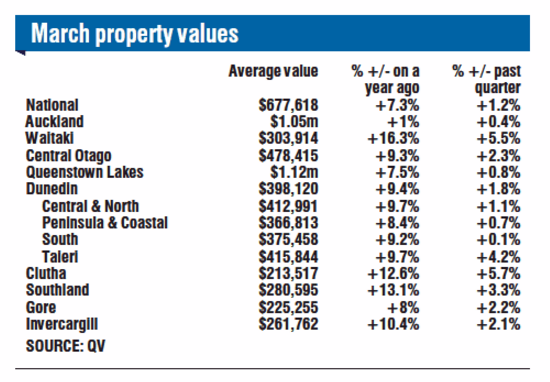 QV Dunedin property consultant Aidan Young said Taieri had the strongest growth as values were up 9.7% year on year and 4.2% over the first quarter of the year.
''The average value there is now $415,844, contributed to by the larger number of new builds in this area,'' he said.
''The mid to upper end of the [Dunedin] market is seeing good levels of activity with out-of-town investment remaining consistent, in addition to local buyers selling and moving up the property ladder,'' he said.
Mr Young said it appeared activity in Dunedin had already slowed during March, more so than during the first two months of the year, so that trend might continue throughout autumn and winter, he said.
Ms Rush said as restrictions on finance were being eased by the retail banks, it had been a little easier for some investors and home buyers to gain finance to purchase.
''First-home buyers appear to be capitalising on subdued investor activity.
''Some are finding they can purchase more easily without the same level of competition from multiple property owners if they are not already priced out of the market,'' she said.
Around the South Island, Ms Rush said values rose in most areas, the strongest growth being in the lower South Island as a flow-on from recent strong growth in Queenstown Lakes, Central Otago and Dunedin.
Waitaki values rose 16.3% year on year and 5.5% over the past three months, the Southland district rose 13.1% year on year and 3.3% over the past three months and Clutha rose 12.6% year on year and 5.7%.
She said elsewhere values had decreased in most areas of Christchurch as well as in Buller and Hurunui Districts.