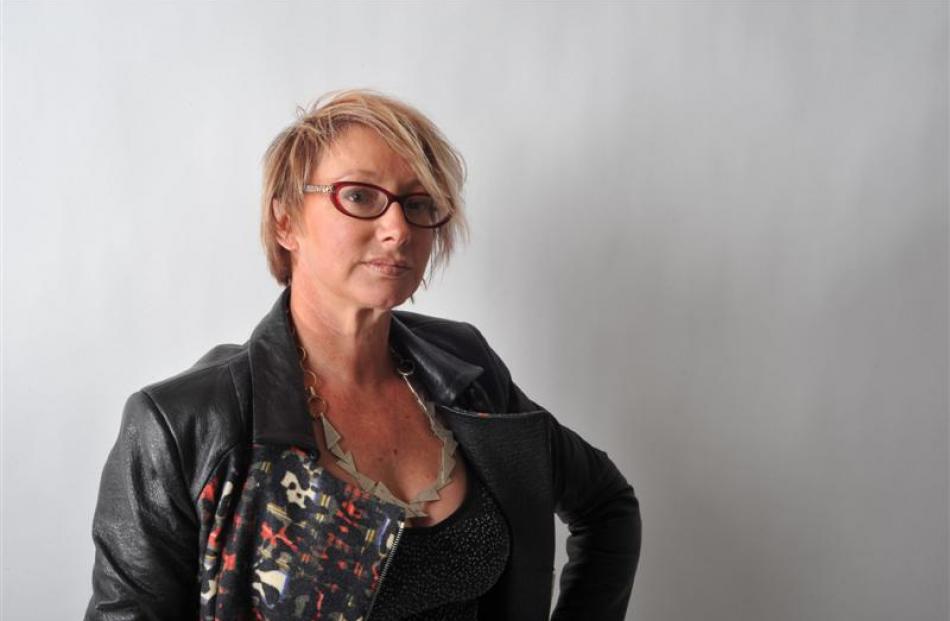 Debra Fallowfield's contemporary designer jewellery has adorned the likes of actress Tilda Swinton and rocker Jon Bon Jovi's wife. Now based back in Otago, she talks to business reporter Sally Rae.
When jeweller Debra Fallowfield says she can get inspiration from cracks in the ground, she is not kidding.
In fact, Ms Fallowfield has even managed to create an earthquake series, featuring subtle cracks in the middle of the rings.
The Christchurch earthquakes were to have a major effect on her, as they caused the loss of her studio-gallery in Lichfield St, in the heart of the city's red zone.
But she has bounced back and is relishing being back in Otago, her home province - she grew up on the Taieri. She creates her contemporary designer jewellery from a Port Chalmers villa.
Art has always been a passion for Ms Fallowfield, although she has no formal art qualifications.
Now in her 40s, she recalled being very shy at school and all she wanted to do was art, despite being questioned why she was not taking ''serious subjects'' like typing.
She was in the top three for School Certificate art in New Zealand. After leaving school, she worked for Hughes Lithographics in Dunedin before heading to Sydney - ''with 200 bucks in my back pocket'' - and continued to work in lithography.
After a night-class in jewellery she became hooked on the craft.
When she became pregnant with her now 16-year-old son, she returned to New Zealand and ended up settling in Christchurch.
Ms Fallowfield had only had her Lichfield St studio for about 18 months when the big earthquake hit on February 22, 2011.
It was at the height of production for her, during ''wedding ring season'', with about 10 customers due that day to pick up rings.
She admitted she was very lucky she had left the studio 30 minutes earlier, to return to home following a call from animal control about her two dogs who were ''going mental''.
Her car had been parked in a building across the road that later ''pancaked'' when the earthquake hit.
After dealing with the animal control officer, she had just walked out the door when ''bang - all hell broke loose'', she recalled.
She ran back into town and tried to get to her studio, but was unable to, so she ''trudged home'' through liquefaction.
Her husband Dean, whom she described as her ''rock'', managed to talk to some police officers just before the cordon was established and recovered her finished work and gems.
Following the earthquake, Ms Fallowfield came down to Otago for a few weeks and found the support ''amazing''.
She then bought a new set of very basic tools - ''like going back to student days'' - and started working from home.
About a year ago, she started contemplating moving to Dunedin and, after looking at three properties, fell in love with the third, a big villa on the top of the hill at Port Chalmers, and shifted south in December.
Much had changed in the years since she left Otago as a young woman, she said.
''The Dunedin I left in the mid-80s was quite depressing, to be honest. There was nothing happening. It's such a creative hub now.
''[Port Chalmers] it's not that grotty little town it kind of was when I grew up. Things are happening down there,'' she said.
Ms Fallowfield hopes to establish a concept store and retail outlet at some stage but she was fortunate she was not reliant on retail space, she said.
She had a ''huge customer base'', as far afield as Sweden, Finland, the United States and Australia.
She did a lot of custom work, particularly engagement and wedding rings, and said she enjoyed working with clients from design through to completion. She also did a lot of restyling jewellery.
She tended to attract clients who wanted something ''away from the mainstream'' and something ''with a little bit of `them' in there as well''.
Known for her honesty and directness, Ms Fallowfield said she would not take on work unless it fitted with her design aesthetic.
People could visit her at her home studio, which was casual and ''nice and personal''.
When living in Christchurch, she once had a knock on the door from Academy Award-winning actress Tilda Swinton.
Swinton, who was filming The Lion, The Witch and the Wardrobe in New Zealand, was ''just cruising'' through the Arts Centre market one day, where Ms Fallowfield had a stall.
She visited the stall with the film's director, Andrew Adamson, ''and some other people I should have known, but I didn't know who they were''.
Swinton, whose hair was bleached white to play the White Witch, was lovely and down-to-earth.
She had to go back on set but asked if she could visit.
''She came to my house and sat at my kitchen table and bought jewellery to take back to Scotland,'' Ms Fallowfield recalled.
Her jewellery also adorns the wife of rocker Jon Bon Jovi and some Australian soap opera stars, while she has made wedding rings for several All Blacks.
''I haven't got anything on Lorde yet. I have to get something on Lorde,'' she laughed.
Ms Fallowfield particularly enjoys working with coloured diamonds, such as cognac diamonds. She loves warm and vibrant gemstones, and she also loved working with gold, particularly rose gold.
Her inspiration came from '' anywhere and everywhere'' and, at the moment, she was getting inspired by a cemetery at Port Chalmers and Dunedin's architecture and buildings.
She was thrilled to be part of such a creative community and where there were some ''world class'' jewellers.
She was hoping to collaborate with a Dunedin fashion label and to do some exhibition work which was ''a little bit more avant-garde''.