Supermarkets in the South have started getting busier following the return to Alert Level 2 at noon today although shoppers do not appear to be "mass panic buying".
Supermarkets in Queenstown have experienced a busier than usual Wednesday after the announcement Alert Level 2 would come into force.
Staff at New World at Remarkables Park Town Centre and Countdown in Frankton confirmed it was busier than usual, but there was not "mass panic buying".
At the two stores, and Pak'nSave in Frankton, gaps in shelves had started to appear where toilet rolls, flour and pasta was normally kept.
Staff at the stores could be seen restocking shelves with pallets of goods.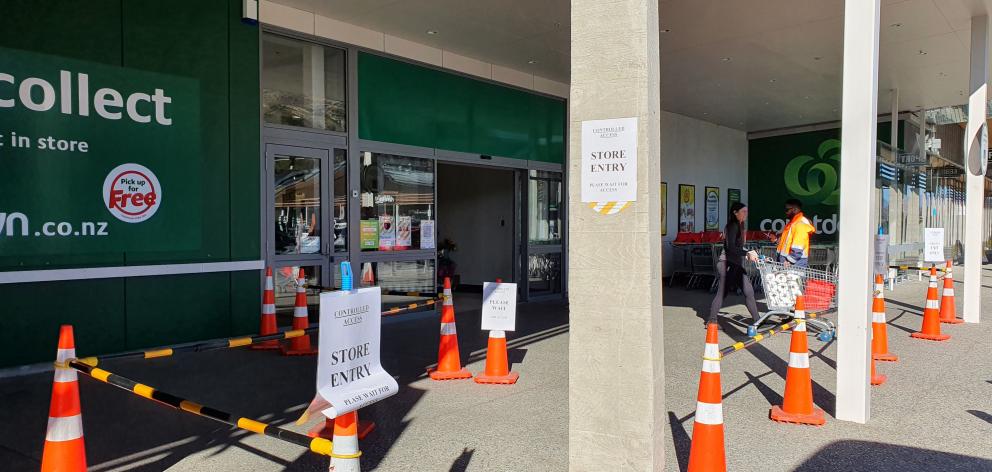 Masks and hand sanitiser were also placed in prominent positions for sale.
At Countdown, a security guard was monitoring one way access to the store and ensuring use of hand santiser. This was not done at New World or Pak'nSave.
The Warehouse in Frankton had placed barriers outside the store and a warning limiting the number of hand sanitiser, masks and gloves to two per customer. 
At about 12.45pm a reporter at Centre City New World in Dunedin said it appeared busier than usual.
Despite, this queues at the checkout were not too long.
Although bags of flour seemed popular, there were few empty shelves in the store.
Staff members were all wearing masks and one said that it was "a lot busier" than usual.
Other than staff, there were very few people wearing face masks.
There was a queue outside Countdown in Central Dunedin as shoppers waited to enter the story this afternoon.
Countdown spokeswoman Kiri Hannifin said Countdown would be limiting the number of people able to enter stores to ensure 2m social distancing could be maintained.
"We'll be closing every second checkout to ensure we're getting 2m at the checkout, we'll be doing heightened hygiene and cleaning throughout the stores."
Hannifin said Countdown would be taking these measures nationwide, rather than just in Auckland.
She said the online system which would allow the most vulnerable people to stay home was available again.
"The thing that I'm not confident about is how our team cope in terms of morale and resilience and their wellbeing and I guess what we can all do is if we're kind to Countdown workers and essential workers."
Countdown also announced that its opening hours would be changed to 8am-9pm.
"To make sure there is plenty for everyone, we have put a limit of one on all boxes of masks and a limit of three on the following Categories: Flour, Rice - Bags, Dry Pasta, Canned baked beans & spaghetti, UHT Milk, Frozen Vegetables, Toilet Paper, Paper Towel, Personal Wash, Hand Sanitiser, Paracetamol, Household Cleaner, Period Products, Baby Formula. There will also be a limit of six on Wine & Beer."
All deliveries will also return to being contactless.
New World sent out an email to customers this morning reminding them of what restrictions there were for shoppers in Alert Level 2.
It told customers there was no need to stockpile and they should just shop normally.
"In recognition of the fact that the rest of New Zealand is now in Alert Level 2, customers outside of Auckland can expect to also see increased sanitisation and safety measures when they visit their local New World. "
Earlier
Earlier today the car park was full at Dunedin's Pak'n Save just before 9am.
A steady line of shoppers entered the building however there was no queuing outside.
The Otago Daily Times spoke to five shoppers with full shopping carts as they were leaving the supermarket.
All five said they were just doing a normal shop.
One shopper said the supermarket was busier than they expected it to be.
Another said they were limited to four bottles of milk, despite normally buying six at the store. 
A reporter in Alexandra said it did not appear as though people were panic buying at all.
There was no sign of panic buying in Balclutha this morning, although the town's New World supermarket appeared busier than usual, a reporter said.
The store's car park was about three-quarters full at 8.30am, and many elderly residents appeared to be taking the opportunity to stock up in advance of renewed Level 2 Covid-19 restrictions at noon, he said.
Shelves were well stocked, and shoppers remained calm despite queues at checkouts.
 - additional reporting RNZ