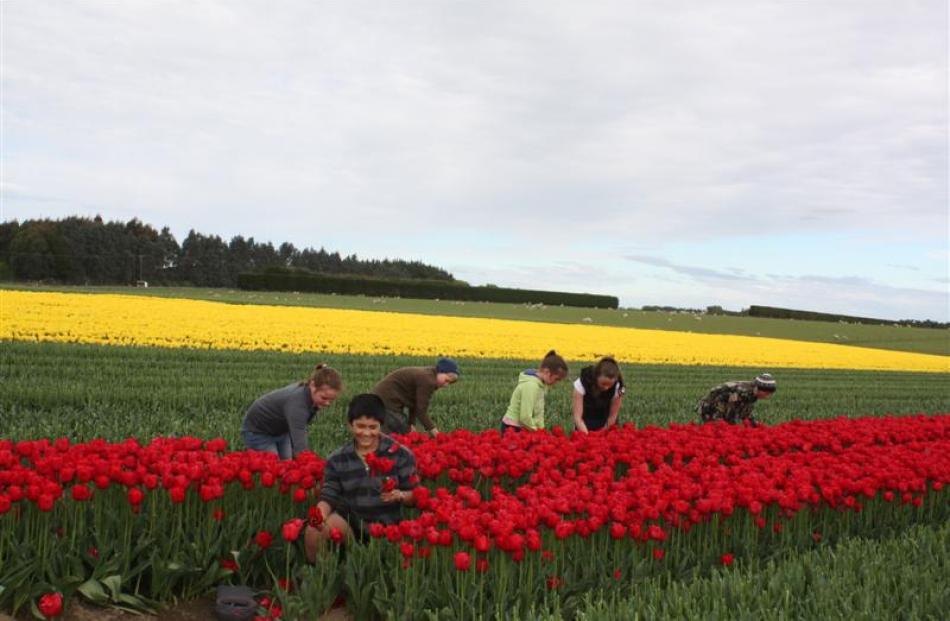 Spring brings magnificent swathes of colour to Southland as hundreds of hectares of tulips bloom. But for tulip producers, the flowers are a byproduct and the real value of the plant lies in its bulb. Reporter Allison Rudd talks to one of the van Eeden family about the changing industry.
For many decades, van Eeden Tulips was the only tulip bulb producer in New Zealand of any significance.
For 45 years, it supplied most of the bulbs grown by commercial flower growers, home gardeners and council parks and reserves departments, before branching out into exports in the late 1990s.
It still produces about 14 million bulbs annually from about 25ha of plants, exporting about one-third to the Netherlands and one-third to the United States and selling the remainder in this country.
But a relatively sudden shift in the industry has seen van Eeden Tulips slide from being the largest producer in the country to the smallest.
Sales and administration manager Philip van Eeden is one of four brothers employed fulltime in the business started by their father Jacques. He said rival companies began establishing themselves in the South - the only part of the country suitable for large-scale tulip production - about 20 years ago.
The first was Tulip International and its successor Global Bulbs, based at Tapanui, both of which are now in receivership. Some of Tulip International's staff moved to Edendale 13 years ago and established a New Zealand branch for the major Dutch producer Triflor.
Those growers ''did not tread on each other's toes'', Mr van Eeden said, but respected each other's businesses.
But the competition got tougher about three years ago with the arrival of several more Dutch companies leasing large tracts of land for significant crops.
Flowering plants are sensitive. Trying to get a northern hemisphere bulb to flower outside of its normal growing season only confused the plant and perfect blooms might not result, hence the strong demand for the southern hemisphere bulbs, he said.
''It's all about money. We grow good bulbs here and the major Dutch companies want to get in on that.''
Mr van Eeden said there were three growers in Southland a decade ago, with an estimated 100ha of tulips. By this year, that had increased to six growers and about 200-250ha of tulips.
Most of the growing happens in southern Southland, but a cluster of Dutch companies has also set up an operation at Balfour in Northern Southland.
The past year had been particularly difficult for van Eedens, Mr van Eeden said, although the company had not lost any of its loyal clients.
''We've got our own little niche market and our favourite end users.''
Triflor general manager Rudi Verplancke said Triflor exported about 45 million bulbs annually, mostly to the US and Canada. Its production had increased from 10ha to 80ha over the past decade and would probably rise to 90ha within the next few years.
The newer companies were at present supplying their parent companies in the Netherlands, Mr Verplancke said, but added he would not like to see too many more companies establishing presences here.
''It's all right at the moment because they are not selling in the same markets we are. But it could be a different story if prices for Dutch bulbs drop and they try and dump bulbs on the US market.''
Mr van Eeden said he and his brothers became involved in the family business from an early age.
All except Eric are still involved fulltime. Each has their own responsibilities - Michael processing and production, Peter mechanical matters and harvesting, Philip administration and sales, and John production management. Eric, an accountant, does the books.
But Mr van Eeden said he and his brothers might be the last van Eedens in the business, both here and in the Netherlands, as none of the next generation looked likely to become involved.
''The three boys are not interested, and I wouldn't encourage the girls - and there are a swag of them.
''The hours are long and it is a very physical industry.
''And with the competition, it is a very hard business to be in now.''
Back in the Netherlands, his cousins, uncles and great-uncles and their business partners had also ''called it a day'', he said. None were growing commercially now, although one of his cousins operated a tulip museum in Amsterdam.
---
The lifecycle of a Southland tulip
April/May: Bulbs planted.
September: Plants begin to grow.
October/November: Flowers bloom. After a few weeks, flowers removed and discarded to acelerate bulb growth.
January/February: Bulbs harvested, washed, dried and graded. Main bulb retained for sale or export. Smaller bulbs growing around the edge of main bulb, known as offsets, removed and kept for replanting. Bulbs exported to overseas markets, mainly the Netherlands, the United States and Canada in refrigerated containers.
April/May: Bulbs planted by northern hemisphere flower growers. Bulbs kept frozen until about September/October, or a month before growers want blooms. Bulbs then transferred to greenhouses to produce cut flowers to sell during northern hemisphere winter.
---